Editor's note: This is a regular feature profiling senior athletes at Bryant High School.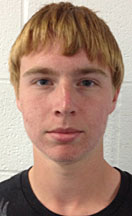 NAME: Jeremy Anderson
PARENTS: Paula and Tracy Anderson
SIBLINGS: I have one sister. Her name is Sarah and she's 14.
FAVORITE SUBJECT IN SCHOOL: Math
WHAT DO YOU LIKE TO DO IN YOUR SPARE TIME? I'm usually on the computer.
FAVORITE FOOD: Italian
FAVORITE MUSIC ARTIST OR GROUP: Drake
FAVORITE MOVIE: Alien vs. Predator[more]
FAVORITE TV SHOW: Big Bang Theory
WHAT WAS YOUR FAVORITE TOY AS A KID? I had this little race car track that I used to play with all the time.
OTHER THAN YOUR PARENTS, WHO HAS HAD THE BIGGEST INFLUENCE ON YOUR LIFE? Probably my friends all around me because they always help me move forward.
FAVORITE THING ABOUT SOCCER: That it's fun and I can play it a lot.
POSITION: I play wing.
WHAT DO YOU FEEL LIKE IS YOUR PRIMARY RESPONSIBILITY ON THE FIELD? To get out wide and support my teammates and give them good balls.
WHAT DO YOU THINK OF THE SEASON SO FAR? It's gone pretty well. We've done a lot better than past seasons.
WHEN THE TEAM'S PLAYING WELL, WHAT'S IT DOING? We're usually talking and we're passing pretty quickly, moving the ball around a lot.
WHAT'S IT GOING TO TAKE FOR THE TEAM TO BE SUCCESSFUL THE REST OF THE SEASON? We need to keep up what we're doing. We need to get better, have stronger passes, be able to talk a bit more, be able to know where everybody's at on the field.
INDIVIDUALLY, WHAT ABOUT YOUR GAME ARE YOU MOST CONFIDENT ABOUT? I'm most confident in my positioning.

WHAT DO YOU WORK HARDEST TO IMPROVE? I need to work on my touch a bit more.
AFTER YOU'RE THROUGH PLAYING SOCCER AT BHS, WHAT DO YOU THINK YOU'LL REMEMBER MOST FONDLY ABOUT IT? I'll think of all the fun we had throughout the season.