Editor's note: This is a regular feature profiling senior athletes at Bryant High School.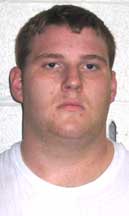 NAME: Jonathan Roberts
DATE OF BIRTH: Nov. 21, 1991
PARENTS: David Roberts and Michelle Roberts
SIBLINGS: None.
FAVORITE SUBJECT IN SCHOOL: Math
FAVORITE SPARE TIME ACTIVITY: Work out
FAVORITE FOOD: Steak.
FAVORITE MUSIC ARTIST OR GROUP: Rap[more]
FAVORITE MOVIE: Transformers 2
FAVORITE TV SHOW: Cops
WHAT WAS YOUR FAVORITE TOY AS A KID? Legos
WHAT ARE YOUR PLANS AFTER HIGH SCHOOL? Go to college. I'm going to try to go to Ouachita since they're starting wrestling next year. I want to study nutrition
OTHER THAN YOUR PARENTS, WHO'S HAD THE BIGGEST INFLUENCE ON YOUR LIFE? HOW? My coach from my other school Central Arkansas Christian, Coach Williams. He was always by my side during wrestling, helped me out.
WHAT'S YOUR FAVORITE THING ABOUT WRESTLING? Winning.
WHAT'S YOUR WEIGHT CLASS? 215.
WHAT'S YOUR APPROACH TO A MATCH? Just prepare myself, study my guy when he practices, get pumped up and just worry about what I'm going to do and not worry about what he's going to do.
WHAT'S BEEN THE HIGHLIGHT TO THE SEASON SO FAR? I've only lost one match and won 16 and I've pinned everyone.
WHAT'S IT GOING TO TAKE FOR THE TEAM TO BE SUCCESSFUL THE REST OF THE SEASON? Everyone get a pin. It's a one-man sport but it is also a team sport so you have to work together but also work independently.
WHAT ARE YOU MOST CONFIDENT IN YOUR ABILITY TO DO? I like taking the guy down first. It's what I'm good at.
WHAT DO YOU WORK HARDEST TO IMPROVE ON IN PRACTICE? Working from my back if I ever get in that situation.
WHEN YOU'RE THROUGH WRESTLING AT BRYANT HIGH SCHOOL, WHAT DO YOU THINK YOU'LL LOOK BACK AND REMEMBER MOST FONDLY ABOUT THE EXPERIENCE? Hopefully winning State.