Editor's note: This is a regular feature profiling senior athletes at Bryant High School.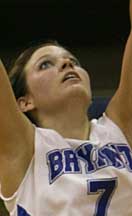 NAME: Jordan Armstrong
DATE OF BIRTH: Nov. 18, 1991
PARENTS: Audrey and Charlie Armstrong
SIBLINGS: I have a little brother who's 14. His name is Drew.
FAVORITE SUBJECT IN SCHOOL: Volleyball
WHAT DO YOU LIKE TO DO IN YOUR SPARE TIME? I don't have spare time
FAVORITE FOOD: Salad
FAVORITE MUSIC ARTIST OR GROUP: I'll listen to anything[more]
FAVORITE MOVIE: Glory Road
FAVORITE TV SHOW: Nitro Circus
FAVORITE TOY AS A KID: Polly Pockets
WHAT ARE YOUR PLANS AFTER HIGH SCHOOL? Go to college. I'll probably be at Henderson and hopefully play, maybe.
OTHER THAN YOUR PARENTS, WHO HAS HAD THE BIGGEST INFLUENCE ON YOUR LIFE? Probably my Grandma because she's a very strong lady.
WHAT'S YOUR FAVORITE THING ABOUT VOLLEYBALL? I love setting because I get to control everything going on. I like helping everyone out. That's what I like to do.
POSITION: Setter
WHAT DO YOU FEEL LIKE ARE YOUR PRIMARY RESPONSIBILITIES ON THE COURT? Mostly to lead the team and to always do my job.
WHAT ARE YOUR THOUGHTS ON THE SEASON SO FAR? I think that we should win every game that we play but, other than that, it's been a lot better than previous seasons. It's a lot of fun. We're actually winning games and we play as a team more.
WHAT'S BEEN THE HIGHLIGHT TO THE SEASON SO FAR? Beating North Little Rock.
WHAT'S IT GOING TO TAKE FOR THE TEAM TO BE SUCCESSFUL THE REST OF THE SEASON? Just playing as a team and everyone doing their jobs which we're all doing right now so if we just keep that up.
INDIVIDUALLY, WHAT ABOUT YOUR GAME ARE YOU MOST CONFIDENT ABOUT? Setting, controlling everything that I can control.
WHAT DO YOU WORK HARDEST TO IMPROVE ON? My hitting. Oh my gosh, my hitting.
WHEN YOU'RE THROUGH PLAYING VOLLEYBALL AT BHS, WHAT DO YOU THINK YOU'LL REMEMBER MOST FONDLY ABOUT IT? All the girls and how much fun everyone had together.