Editor's note: This is a regular feature profiling senior athletes at Bryant High School.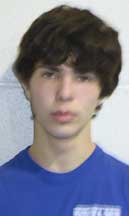 NAME: Jordan Harrison
DATE OF BIRTH: July 13, 1992
PARENTS: Cheryl and Eddie Harrison
SIBLINGS: One sister, Nicki Harrison. She's 21.
FAVORITE SUBJECT IN SCHOOL: Math
FAVORITE SPARE TIME ACTIVITY: Hang out with friends and play sports
FAVORITE FOOD: Steak.
FAVORITE MUSIC ARTIST OR GROUP: Jason Aldean[more]
FAVORITE MOVIE: The Fast & the Furious
FAVORITE TV SHOW: Sportscenter
WHAT WAS YOUR FAVORITE TOY AS A KID? Any Hot Wheels
WHAT ARE YOUR PLANS AFTER HIGH SCHOOL? Go to college at Pulaski Tech and go to work with my uncle in his business, Rent 'n' Roll.
OTHER THAN YOUR PARENTS, WHO'S HAD THE BIGGEST INFLUENCE ON YOUR LIFE? HOW? Probably my brother-in-law, just everything he's done, all the jobs he's ever been in. He's risked his life being a fire fighter and a police officer and in the National Guard. He's really influenced me and helped me in school and just motivated me.
WHAT'S YOUR FAVORITE THING ABOUT WRESTLING? It's a physical, contact sport.
WHAT'S YOUR WEIGHT CLASS? 125.
WHAT'S YOUR APPROACH TO A MATCH? Get in there and give my all, give 100 percent.
WHAT'S BEEN THE HIGHLIGHT TO THE SEASON SO FAR? None yet.
HOW DO YOU FEEL THE SEASON HAS GONE SO FAR? It's getting better. Hopefully, we'll be better by the State tournament.
WHAT'S IT GOING TO TAKE FOR THE TEAM TO BE SUCCESSFUL THE REST OF THE SEASON? Hard work and determination.
WHAT ARE YOU MOST CONFIDENT IN YOUR ABILITY TO DO? Shooting, not getting taken down, staying off my back.
WHAT DO YOU WORK HARDEST TO IMPROVE ON IN PRACTICE? My shots.
WHEN YOU'RE THROUGH WRESTLING AT BRYANT HIGH SCHOOL, WHAT DO YOU THINK YOU'LL LOOK BACK AND REMEMBER MOST FONDLY ABOUT THE EXPERIENCE? Probably the bus trips on the way to our meets. All the fun times and the laughs.