Editor's note: This is a regular feature profiling senior athletes at Bryant High School.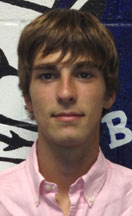 NAME: Josh Lowery
PARENT: John and Tara Lowery
SIBLINGS: I've got two sisters and one brother. Allison Lowery is doing a Master's program at Fayetteville. She's 22 or 23. Jonathan's 20 and Anna is 14.
FAVORITE SUBJECT IN SCHOOL: Probably math, it comes to me the easiest.
WHAT DO YOU LIKE TO DO IN YOUR SPARE TIME? Enjoy a round of golf.
FAVORITE FOOD: Chicken Alfredo[more]
FAVORITE MUSIC ARTIST OR GROUP: Taylor Swift
FAVORITE MOVIE: Dumb and Dumber
FAVORITE TV SHOW: Family Guy
WHAT WAS YOUR FAVORITE TOY AS A KID? Probably a basketball.
WHAT ARE YOUR PLANS AFTER HIGH SCHOOL? Go to Arkansas State, study chemistry or biology.
OTHER THAN YOUR PARENTS, WHO HAS HAD THE BIGGEST INFLUENCE ON YOUR LIFE? I'd probably have to say just my friends; they've steered me straight, let me know when I've messed up.
WHAT'S YOUR FAVORITE THING ABOUT FOOTBALL: I guess just watching the games, being out there, being a part of it.
POSITION: Kicker
WHAT DO YOU FEEL LIKE IS YOUR PRIMARY RESPONSIBILITY ON THE FIELD? Make all my field goals, try to get all my kickoffs in the end zone.
WHAT DO YOU THINK OF THE SEASON SO FAR? I think we're looking good.
WHEN THE TEAM'S PLAYING WELL, WHAT'S THE KEY TO THAT? Everybody rallies around each other, just keep the success going.
WHAT'S BEEN THE HIGHLIGHT TO THE SEASON SO FAR? Seeing Ian Shuttleworth catch a touchdown pass.
WHAT'S IT GOING TO TAKE FOR THE TEAM TO BE SUCCESSFUL THE REST OF THE SEASON? Keep our heads up and just keep going.
INDIVIDUALLY, WHAT ABOUT YOUR GAME ARE YOU MOST CONFIDENT ABOUT? Probably field goals.
HOW DO YOU PREPARE BEFORE TRYING A FIELD GOAL? Just think of what I've got to do to make sure it goes in.
WHAT DO YOU WORK HARDEST TO IMPROVE? I kick a lot field goals during practice and I kick a lot of kickoffs during practice.
AFTER YOU'RE THROUGH PLAYING FOOTBALL AT BHS, WHAT DO YOU THINK YOU'LL REMEMBER MOST FONDLY ABOUT IT? Probably beating Conway last year. That was pretty nice. (Editor's note: Lowery kicked the game-winning field goal against Conway.)