Editor's note: This is a regular feature profiling senior athletes at Bryant High School.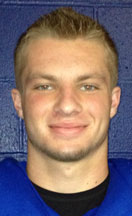 NAME: Justin Hollingshead

PARENT: Pam and Jess Hollingshead

SIBLINGS: I have a little sister. She's 14 and her name is Ashlan.

FAVORITE SUBJECT IN SCHOOL: Math

WHAT DO YOU LIKE TO DO IN YOUR SPARE TIME? I really love to fish and I'm really big into cars and riding four-wheelers. And, of course, football.

FAVORITE FOOD: I'd have to say Japanese food.

FAVORITE MUSIC ARTIST OR GROUP: Jason Aldean[more]

FAVORITE MOVIE: True Grit

FAVORITE TV SHOW: Sportscenter

WHAT WAS YOUR FAVORITE TOY AS A KID? Hot Wheels

WHAT ARE YOUR PLANS AFTER HIGH SCHOOL? I'm planning on playing college football and I want to become a petroleum engineer. I don't know for sure, maybe at Harding.

OTHER THAN YOUR PARENTS, WHO HAS HAD THE BIGGEST INFLUENCE ON YOUR LIFE? There's so many. My grandpa, definitely, because he's in better shape than most 40-year-olds. He's 75 and he out-works me sometimes when I'm working with him.

WHAT'S YOUR FAVORITE THING ABOUT FOOTBALL: The relationships I make with all my teammates and just getting to go out there and hit people. I love the contact.

POSITION: Defensive end

WHAT DO YOU FEEL LIKE IS YOUR PRIMARY RESPONSIBILITY ON THE FIELD? Just make sure and close every time I get a veer and make sure and get that quarterback when it's a pass.

WHAT DO YOU THINK OF THE SEASON SO FAR? I think that we've learned so much in the first few games and we just keep building and building. We learn more and more every week and I think that we're on the right path, the right track.

WHEN THE TEAM'S PLAYING WELL, WHAT'S THE KEY TO THAT? We're all on the same page. We all know what each other's doing. We all trust each other and we're making sure that we just do our job and don't worry about doing anyone else's job.

WHAT'S BEEN THE HIGHLIGHT TO THE SEASON SO FAR? Coming back from a 14-0 deficit against Benton in the Salt Bowl and just completely shutting them out after that would have to be the highlight so far.

WHAT'S IT GOING TO TAKE FOR THE TEAM TO BE SUCCESSFUL THE REST OF THE SEASON? Just continue to trust each other and grow closer and learn more and more every week.

INDIVIDUALLY, WHAT ABOUT YOUR GAME ARE YOU MOST CONFIDENT ABOUT? I feel like I know what I'm supposed to be doing and I feel like my speed and agility is what helps me since I don't necessarily have the size most people would recommend.

WHAT DO YOU WORK HARDEST TO IMPROVE? Getting stronger and getting bigger, gaining weight.

AFTER YOU'RE THROUGH PLAYING FOOTBALL AT BHS, WHAT DO YOU THINK YOU'LL REMEMBER MOST FONDLY ABOUT IT? I'll remember my coaches, for sure. They're all like a father-figure to me. And definitely all the friendships, definitely the lifelong friendships, that I've made.