Editor's note: This is a regular feature profiling senior athletes at Bryant High School.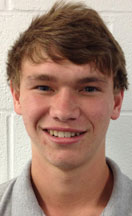 NAME: Justin Travis
PARENTS: Charlie Travis and Gary Travis
SIBLINGS: None
FAVORITE SUBJECT IN SCHOOL: Math
WHAT DO YOU LIKE TO DO IN YOUR SPARE TIME? Play tennis and hang out with friends.
FAVORITE FOOD: Pizza
FAVORITE MUSIC ARTIST OR GROUP: Drake
FAVORITE MOVIE: 21 Jump Street[more]
FAVORITE TV SHOW: Tosh.0
WHAT WAS YOUR FAVORITE TOY AS A KID? A soccer ball
WHAT ARE YOUR PLANS AFTER HIGH SCHOOL? I'm going to Central Baptist College and playing college soccer and study Business Management.
OTHER THAN YOUR PARENTS, WHO HAS HAD THE BIGGEST INFLUENCE ON YOUR LIFE? Coach (Jason) Hay because he's forced me to be a better player and he's forced me to be a better person and get business done.
FAVORITE THING ABOUT SOCCER: The people around me.
POSITION: I play midfield.
WHAT DO YOU FEEL LIKE IS YOUR PRIMARY RESPONSIBILITY ON THE FIELD? To assist people, help other people continue to do their job.
WHAT DO YOU THINK OF THE SEASON SO FAR? It's been a solid season, a few bumps but we're getting business done.
WHAT'S BEEN THE HIGHLIGHT TO THE SEASON SO FAR? Beating Rogers in the Cabot Tournament.
WHAT'S IT GOING TO TAKE FOR THE TEAM TO BE SUCCESSFUL THE REST OF THE SEASON? We've just got to keep our head in the game. We've got to keep practicing hard and not quit even though it's the end of the season. We've got to push through all the way to the end.
INDIVIDUALLY, WHAT ABOUT YOUR GAME ARE YOU MOST CONFIDENT ABOUT? My touch.
WHAT DO YOU WORK HARDEST TO IMPROVE? Stamina because it's not always the strongest. It's the most important, though.
AFTER YOU'RE THROUGH PLAYING SOCCER AT BHS, WHAT DO YOU THINK YOU'LL REMEMBER MOST FONDLY ABOUT IT? The memories made in the classroom watching tape.