Editor's note: This is a regular feature profiling senior athletes at Bryant High School.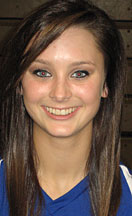 NAME: Kaylon Wilson

PARENTS: Bert and Stephanie Wilson
SIBLINGS: Madison Wilson, age 10

FAVORITE SUBJECT IN SCHOOL: Science

WHAT DO YOU LIKE TO DO IN YOUR SPARE TIME? Hang with friends.

FAVORITE FOOD: French fries

FAVORITE MUSIC ARTIST OR GROUP: Travis Porter

FAVORITE MOVIE: Taken[more]

FAVORITE TV SHOW: Spongebob

WHAT WAS YOUR FAVORITE TOY AS A KID? Hot Wheels

WHAT ARE YOUR PLANS AFTER HIGH SCHOOL? College

FAVORITE THING ABOUT VOLLEYBALL: The intensity

POSITION: Right side hitter
WHAT DO YOU FEEL LIKE IS YOUR PRIMARY RESPONSIBILITY ON THE COURT? Keeping heads up.
WHAT DO YOU THINK OF THE SEASON SO FAR? We have potential to be State champs
WHEN THE TEAM'S PLAYING WELL, WHAT'S IT DOING? Talking, good attitude, playing for each other.
WHAT'S BEEN THE HIGHLIGHT TO THE SEASON SO FAR? Beating Benton
WHAT'S IT GOING TO TAKE FOR THE TEAM TO BE SUCCESSFUL THE REST OF THE SEASON? Play for each other.
INDIVIDUALLY, WHAT ABOUT YOUR GAME ARE YOU MOST CONFIDENT ABOUT? Keeping my head up.
WHAT DO YOU WORK HARDEST TO IMPROVE? My swing on hitting
AFTER YOU'RE THROUGH PLAYING VOLLEYBALL AT BHS, WHAT DO YOU THINK YOU'LL REMEMBER MOST FONDLY ABOUT IT? The girls that I've played with.