Editor's note: This is a regular feature profiling senior athletes at Bryant High School.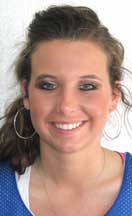 NAME: Kenzee Calley
DATE OF BIRTH: Jan. 6, 1992
PARENTS: Paul and Laryssa Calley
SIBLINGS: Kurt Calley. He's 14.
FAVORITE SUBJECT IN SCHOOL: Science
FAVORITE SPARE TIME ACTIVITY: Talk on the phone, get on Facebook, hang out with my friends
FAVORITE FOOD: Chinese
FAVORITE MUSIC ARTIST OR GROUP: I don't have a favorite group. I like rap and country[more]
FAVORITE MOVIE: Probably, The Notebook
FAVORITE TV SHOW: The Secret Life of the American Teenager
WHAT WAS YOUR FAVORITE TOY AS A KID? A doll.
WHAT ARE YOUR PLANS AFTER HIGH SCHOOL? Go to college and cheer at Henderson State University. I don't know yet what I want to study.
OTHER THAN YOUR PARENTS, WHO'S HAD THE BIGGEST INFLUENCE ON YOUR LIFE? HOW? God. This year, He's really shown through me. I've been a lot more positive in what I've been doing.
WHAT'S YOUR FAVORITE THING ABOUT BASKETBALL? Being with my teammates because they're all my best friends, really; playing with them.
POSITION: I play forward, the four and the five.
WHAT DO YOU FEEL LIKE YOUR RESPONSIBILITIES ARE ON THE FLOOR? Well, I play good post defense and I sometimes score. It depends on what day it is, I guess. I don't know.
WHAT DO YOU THINK OF THE SEASON SO FAR? I think we've been doing very good. North Little Rock, they're tough. I don't know if we can beat them but I think it might be close the next time they come here.
WHEN THE TEAM'S PLAYING WELL, WHAT'S IT DOING? We're all playing together and talking on defense and being intense.
WHAT'S BEEN THE HIGHLIGHT TO THE SEASON SO FAR? Beating Conway here.
WHAT'S IT GOING TO TAKE FOR THE TEAM TO BE SUCCESSFUL THE REST OF THE SEASON? I think we'll do good in the State tournament. We should get second in the conference and we should get far in the State tournament. We'll see how that goes.
TALK ABOUT YOUR GAME NOW; WHAT ARE YOU MOST CONFIDENT IN YOUR ABILITY TO DO? Right now, I'm shooting pretty good so I'm pretty confident about that.
WHAT DO YOU WORK HARDEST TO IMPROVE ON IN PRACTICE? My defense really, because it's hard to play good offense when your teammates know what you're doing.
WHEN YOU'RE THROUGH PLAYING BASKETBALL AT BRYANT HIGH SCHOOL, WHAT DO YOU THINK YOU'LL LOOK BACK AND REMEMBER MOST FONDLY ABOUT THE EXPERIENCE? The friends and coaches, the friendships we've developed throughout the years.