Editor's note: This is a regular feature profiling senior athletes at Bryant High School.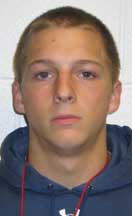 NAME: Logan Garland
DATE OF BIRTH: Oct. 22, 1991
PARENTS: Jim and Marty Garland
SIBLINGS: Two brothers and a sister. Joshua is 23, Clark is 13 and Holly is 20.
FAVORITE SUBJECT IN SCHOOL: Science.
WHAT DO YOU LIKE TO DO IN YOUR SPARE TIME? Hang with my friends.
FAVORITE FOOD: Chicken
FAVORITE MUSIC ARTIST OR GROUP: I like August Burns Red.[more]
FAVORITE MOVIE: 16 Blocks.
FAVORITE TV SHOW: Family Guy
WHAT WAS YOUR FAVORITE TOY AS A KID? I don't know. Probably a football.
WHAT ARE YOUR PLANS AFTER HIGH SCHOOL? Go to college and try to become a physical therapist, maybe to UCA.
OTHER THAN YOUR PARENTS, WHO HAS HAD THE BIGGEST INFLUENCE ON YOUR LIFE? My grandpa. He's just a good person to be around. He's fun to be with.
WHAT'S YOUR FAVORITE THING ABOUT FOOTBALL? Scoring a touchdown.
POSITION: Wide receiver.
WHAT DO YOU FEEL LIKE IS YOUR PRIMARY RESPONSIBILITY THERE? When Chris (Rycraw) has the ball, it's blocking but, other than that, catching the ball.
WHAT DO YOU THINK OF THE SEASON SO FAR? Besides Russellville, I think we've had a pretty good season and I think we should've beat Russellville. (The key has been) hard work.
WHAT'S BEEN THE HIGHLIGHT TO THE SEASON SO FAR? Beating Catholic.
WHAT'S IT GOING TO TAKE FOR THE TEAM TO BE SUCCESSFUL THE REST OF THE SEASON? We have to come together and we have to click on all cylinders. Everybody's got to play to the best of their ability.
INDIVIDUALLY, WHAT ABOUT YOUR GAME ARE YOU MOST CONFIDENT ABOUT? Since I played defense, I understand coverages, so that helps to know where to settle with the routes.
WHAT DO YOU WORK HARDEST TO IMPROVE? My speed and making my routes more precise.
AFTER YOU'RE THROUGH PLAYING FOOTBALL AT BHS, WHAT DO YOU THINK YOU'LL REMEMBER MOST FONDLY ABOUT IT? Playing at War Memorial and just that the entire town backs Hornet football. It's a good feeling.