Editor's note: This is a regular feature profiling senior athletes at Bryant High School.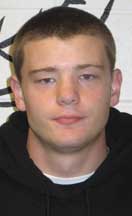 NAME: Mitchell Wise
DATE OF BIRTH: Jan. 2, 1992
PARENTS: Gary Wise
SIBLINGS: I have one brother and three sisters. Shawn is 23, Katie is 20, Wendy is 19 and Michelle is 17.
FAVORITE SUBJECT IN SCHOOL: Math.
WHAT DO YOU LIKE TO DO IN YOUR SPARE TIME? Hang out with my girlfriend.
FAVORITE FOOD: Pizza.
FAVORITE MUSIC ARTIST OR GROUP: Reliant K.
FAVORITE MOVIE: Facing the Giants[more]
FAVORITE TV SHOW: Ghost Hunters
WHAT WAS YOUR FAVORITE TOY AS A KID? A football.
WHAT ARE YOUR PLANS AFTER HIGH SCHOOL? To attend the University of Arkansas at Little Rock and become an elementary teacher.
OTHER THAN YOUR PARENTS, WHO HAS HAD THE BIGGEST INFLUENCE ON YOUR LIFE? My brother, Shawn. He has motivated me to reach goals that I set for myself and he's been there for me my whole life. He's very inspirational.
FAVORITE THING ABOUT FOOTBALL: The atmosphere and the competition. There's no feeling like it.POSITION: Defensive tackle.
WHAT DO YOU FEEL LIKE IS YOUR PRIMARY RESPONSIBILITY ON THE FIELD? Leadership and just tackle the ball carrier.
WHAT DO YOU THINK OF THE SEASON SO FAR? I'm really excited about it. It really surprised me. I mean, I knew we'd go far but we've done some things that nobody expected us to do and I'm really proud of our team.
WHAT'S BEEN THE HIGHLIGHT TO THE SEASON SO FAR? I guess the win over Cabot, beating them when they were No. 1.
WHAT'S IT GOING TO TAKE FOR THE TEAM TO BE SUCCESSFUL IN THE PLAYOFFS? Keep our focus, play as a team, just keep our heads straight on the goal.
INDIVIDUALLY, WHAT ABOUT YOUR GAME ARE YOU MOST CONFIDENT ABOUT? I'm most confident in my focus, in my ability to zone out and just focus on the game and do my responsibilities on special teams and defense.
WHAT DO YOU WORK HARDEST TO IMPROVE? Intensity, or just going play after play without getting worn down, without getting tired.
AFTER YOU'RE THROUGH PLAYING FOOTBALL AT BHS, WHAT DO YOU THINK YOU'LL REMEMBER MOST FONDLY ABOUT IT? Just the camaraderie, the teamwork, the family atmosphere about it and the encouragement from my teammates.