Editor's note: This is a regular feature profiling senior athletes at Bryant High School.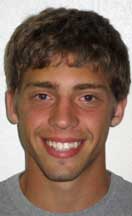 NAME: Peter Alverio
PARENTS: Peter and Michelle Alverio
SIBLINGS: I have one brother and two sisters. William is 9. My sisters are 22 and 26, Heidi and Teresa.
FAVORITE SUBJECT IN SCHOOL: History
WHAT DO YOU LIKE TO DO IN YOUR SPARE TIME? Just chill out and relax with the time that I have.
FAVORITE FOOD: I love pasta, any type of pasta
FAVORITE MUSIC ARTIST OR GROUP: I like Skrillex.[more]
FAVORITE MOVIE: It'd have to be Transformers
FAVORITE TV SHOW: That 70's Show
WHAT WAS YOUR FAVORITE TOY AS A KID? Legos
WHAT ARE YOUR PLANS AFTER HIGH SCHOOL? Hopefully, I'll go to college, hopefully Williams Baptist and hopefully go into coaching.
OTHER THAN YOUR PARENTS, WHO HAS HAD THE BIGGEST INFLUENCE ON YOUR LIFE? It'd probably have to be my grandfather. He's been through so much stuff, like strokes and everything, and he's just never given up.
FAVORITE THING ABOUT SOCCER: It keeps me in shape and just the upbeat energy. It's a pretty decent sport.
POSITION: Wing
WHAT DO YOU FEEL LIKE IS YOUR PRIMARY RESPONSIBILITY ON THE FIELD? Make runs and cross the ball in.
WHAT DO YOU THINK OF THE SEASON SO FAR? I think we've had a pretty good season. I think we can finish it out better than we started.
WHEN THE TEAM'S PLAYING WELL, WHAT'S IT DOING? No matter what we do, everything connects, everything happens like we want it to.
WHAT'S BEEN THE HIGHLIGHT OF THE SEASON SO FAR? Beating Russellville and winning the Bentonville Tournament.
WHAT'S IT GOING TO TAKE FOR THE TEAM TO BE SUCCESSFUL THE REST OF THE SEASON? Come out in the first half hard and don't wait until the second half.
INDIVIDUALLY, WHAT ABOUT YOUR GAME ARE YOU MOST CONFIDENT ABOUT? My crossing.
WHAT DO YOU WORK HARDEST TO IMPROVE? I just try to make sure I never stop running, quit — just giving it my all.
AFTER YOU'RE THROUGH PLAYING SOCCER AT BHS, WHAT DO YOU THINK YOU'LL REMEMBER MOST FONDLY ABOUT IT? All the work that's been put in. It's come a long way since we've started.