Editor's note: This is a regular feature profiling senior athletes at Bryant High School.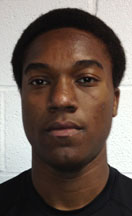 NAME: Sam Wallace
PARENTS: Laverne Wallace and Russell Wallace
SIBLINGS: I have one sister and four brothers. My sister is Sharia. My brothers names are Gabriel, Nathaniel, Will and Dee.
FAVORITE SUBJECT IN SCHOOL: Football
WHAT DO YOU LIKE TO DO IN YOUR SPARE TIME? Draw.
FAVORITE FOOD: Pizza
FAVORITE MUSIC ARTIST OR GROUP: Chief Keef
FAVORITE MOVIE: The Incredible Hulk[more]
FAVORITE TV SHOW: Everybody Hates Chris
WHAT WAS YOUR FAVORITE TOY AS A KID? A hawk toy
WHAT ARE YOUR PLANS AFTER HIGH SCHOOL? I plan on being a Drafter or a firefighter.
OTHER THAN YOUR PARENTS, WHO HAS HAD THE BIGGEST INFLUENCE ON YOUR LIFE? I would say, my grandpa. He tells me all the things that are good in life and things that are important to make it through life.
WHAT'S YOUR FAVORITE THING ABOUT FOOTBALL: Hitting everybody
POSITION: Fullback
WHAT DO YOU FEEL LIKE IS YOUR PRIMARY RESPONSIBILITY ON THE FIELD? Blocking, mostly, and catching the ball and making some yards.
WHAT DO YOU THINK OF THE SEASON SO FAR? It's going pretty well. We could've won those other two games but it is what it is.
WHEN THE TEAM'S PLAYING WELL, WHAT'S THE KEY TO THAT? Teamwork, always relying on each other.
WHAT'S BEEN THE HIGHLIGHT TO THE SEASON SO FAR? I just think we've been doing really good and we've dominated sometimes.
WHAT'S IT GOING TO TAKE FOR THE TEAM TO BE SUCCESSFUL IN THE PLAYOFFS? Hard work, listening to what we're supposed to do and how we're supposed to do it.
INDIVIDUALLY, WHAT ABOUT YOUR GAME ARE YOU MOST CONFIDENT ABOUT? Making the best out of it.
WHAT DO YOU WORK HARDEST TO IMPROVE?
Just listening.
AFTER YOU'RE THROUGH PLAYING FOOTBALL AT BHS, WHAT DO YOU THINK YOU'LL REMEMBER MOST FONDLY ABOUT IT? The brotherhood and the toughness.