Editor's note: This is a regular feature profiling senior athletes at Bryant High School.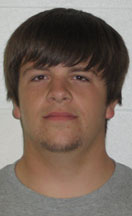 NAME: Sawyer Ivy
PARENTS: Marty Ivy and Butch Ivy
SIBLINGS: Nick Ivy is 20.
FAVORITE SUBJECT IN SCHOOL: Math
WHAT DO YOU LIKE TO DO IN YOUR SPARE TIME? Hunt and fish
FAVORITE FOOD: Mexican
FAVORITE MUSIC ARTIST OR GROUP: Three Days Grace.
FAVORITE MOVIE: Talladega Nights[more]
FAVORITE TV SHOW: Big Bang Theory
WHAT WAS YOUR FAVORITE TOY AS A KID? A Furby
WHAT ARE YOUR PLANS AFTER HIGH SCHOOL? To go to college at UALR and become a Pharmacist.
OTHER THAN YOUR PARENTS, WHO HAS HAD THE BIGGEST INFLUENCE ON YOUR LIFE? Probably my brother because I always look up to him and he's always been there for me.
FAVORITE THING ABOUT FOOTBALL: Being here with my brothers and having a good friendship with my buddies.
POSITION: Fullback
WHAT DO YOU FEEL LIKE IS YOUR PRIMARY RESPONSIBILITY ON THE FIELD? To benefit the team as best as possible and make sure I do everything right.
WHAT DO YOU THINK OF THE SEASON SO FAR? I think we're doing well. We've just got to stay on the same page and execute all parts of the game.
WHEN THE TEAM'S PLAYING WELL, WHAT'S THE KEY TO THAT? Offense, defense and special teams all coming together.
WHAT'S BEEN THE HIGHLIGHT TO THE SEASON SO FAR? The Salt Bowl, definitely.
WHAT'S IT GOING TO TAKE FOR THE TEAM TO BE SUCCESSFUL THE REST OF THE SEASON? To just become one and remember what we've got to do and accomplish our goals at the end of the day.
INDIVIDUALLY, WHAT ABOUT YOUR GAME ARE YOU MOST CONFIDENT ABOUT? That I can just benefit the team and knock someone's head off every play.
WHAT DO YOU WORK HARDEST TO IMPROVE? Strength and speed to be able to get to somebody and knock them off their feet as best as possible.
AFTER YOU'RE THROUGH PLAYING FOOTBALL AT BHS, WHAT DO YOU THINK YOU'LL REMEMBER MOST FONDLY ABOUT IT? All the friendships I've made and how I've become such a better man in responsibility and maturity.