Editor's note: This is a regular feature profiling senior athletes at Bryant High School.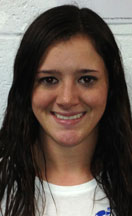 NAME: Skylar Combs

PARENTS: Tammy Woody and James Combs

SIBLINGS: Summer Combs, 23

FAVORITE SUBJECT IN SCHOOL: English

WHAT DO YOU LIKE TO DO IN YOUR SPARE TIME? Play basketball, hang out with family and friends.

FAVORITE FOOD: Donuts

FAVORITE MUSIC ARTIST OR GROUP: Maroon 5

FAVORITE MOVIE: Space Jam[more]

FAVORITE TV SHOW: The Voice

WHAT WAS YOUR FAVORITE TOY AS A KID? Rollerblades

WHAT ARE YOUR PLANS AFTER HIGH SCHOOL? Go to college to become a lawyer.

OTHER THAN YOUR PARENTS, WHO HAS HAD THE BIGGEST INFLUENCE ON YOUR LIFE? My friends. They help me keep my head up and encourage me to stay positive about every situation.

FAVORITE THING ABOUT CROSS COUNTRY: Knowing that after every race I gave it my all.

WHAT'S YOUR APPROACH TO A RACE (Strategy/Preparation)? I always try to get in a good stretch and focus my mind on running.

WHAT DO YOU THINK OF THE SEASON? We have a really good team that has a good chance of winning conference.

WHAT'S BEEN THE HIGHLIGHT TO THE SEASON? The highlight of the season has been winning my last home meet.

AFTER YOU'RE THROUGH RUNNING CROSS COUNTRY AT BHS, WHAT DO YOU THINK YOU'LL REMEMBER MOST FONDLY ABOUT IT? I will definitely remember all of the great friends I have made through running.