Editor's note: This is a regular feature profiling senior athletes at Bryant High School.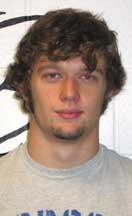 NAME: Stanley Oxner
DATE OF BIRTH: March 26, 1992
PARENTS: Jane Nisbett and Stanley Oxner
SIBLINGS: My oldest brother is David, my oldest sister is Jennifer, the other older sister is Brianna. The four younger brothers, from youngest to oldest, are Thomas, Joseph, Michael and John.
FAVORITE SUBJECT IN SCHOOL: English.
WHAT DO YOU LIKE TO DO IN YOUR SPARE TIME? I usually just hang out with friends or sleep.
FAVORITE FOOD: Spaghetti
FAVORITE MUSIC ARTIST OR GROUP: A Day To Remember.[more]
FAVORITE MOVIE: I don't think I have one.
FAVORITE TV SHOW: It's Always Sunny In Philadelphia
WHAT WAS YOUR FAVORITE TOY AS A KID? Transformer action figures.
WHAT ARE YOUR PLANS AFTER HIGH SCHOOL? I plan to college and probably be an English major. UCA, ASU or Tech.
OTHER THAN YOUR PARENTS, WHO HAS HAD THE BIGGEST INFLUENCE ON YOUR LIFE? I'd probably say my grandparents. They've just been around my whole life. I stay at their house a lot and they've always been a good influence. They're nice people.
WHAT'S YOUR FAVORITE THING ABOUT FOOTBALL? I like the teamwork and camaraderie.
POSITION: Safety.
WHAT DO YOU FEEL LIKE IS YOUR PRIMARY RESPONSIBILITY THERE? Playing safety, you have to respect the pass while helping out on the run. It's kind of a linebacker position. It's difficult.
WHAT DO YOU THINK OF THE SEASON SO FAR? I think we're doing great. We shouldn't have lost to Russellville but then we came back and beat Cabot. I think we're sitting pretty. The defense has been more reliable. Whenever we lost to Russellville, the defense was not doing its best. The offense came out and didn't do their best either. I think when the team does well, it's when the defense is doing its best.
WHAT'S BEEN THE HIGHLIGHT TO THE SEASON SO FAR? Beating Cabot.
WHAT'S IT GOING TO TAKE FOR THE TEAM TO BE SUCCESSFUL THE REST OF THE SEASON? Just keep doing what we're doing. We need to be more intense during practice. We're kind of lacking focus recently.
INDIVIDUALLY, WHAT ABOUT YOUR GAME ARE YOU MOST CONFIDENT ABOUT? I'd say the pass coverage. I'm not real confident against the run.
WHAT DO YOU WORK HARDEST TO IMPROVE? I try to work on stopping the run, getting my reads down.
AFTER YOU'RE THROUGH PLAYING FOOTBALL AT BHS, WHAT DO YOU THINK YOU'LL REMEMBER MOST FONDLY ABOUT IT? Probably just the coaches trying to teach us to be good people and focus on the things that are important, like family and schoolwork and things like that.