For more photos of this event by Rick Nation, go here
Grayson Prince, who had squared to bunt then pulled the bat back for a key single up the middle to load the bases in the Bryant Black Sox' three-run rally in the bottom of the sixth, caught a flyball in medium right field, fired a true throw to cut-off man Peyton Dillon, who whirled and fired a throw to catcher Jake Wright in time for an game-saving out at the plate as the Sox held on for a 6-5 win over the Searcy Senior American Legion team Monday night.
The victory completed a sweep after Bryant had won the opener 6-3 at Bryant High School Field.
It was the sixth game in three days and 10thover the last eight days for the Sox, who came in off a championship of the Katzer Tournament in Fort Smith. They are now 11-2 going into a tentatively-scheduled game at Morrilton Wednesday at 5 p.m., then a trip to Fayetteville for play in the Chad Wolf Classic.
The Sox, with all the work, weren't at their best, acknowledged manager Darren Hurt.
"It was really ugly at times, but we get behind there late in the game and, every time we've done that so far this summer, they fight back. They made a run at it. And it was good enough. They scored enough, one more than them. So, they got it done.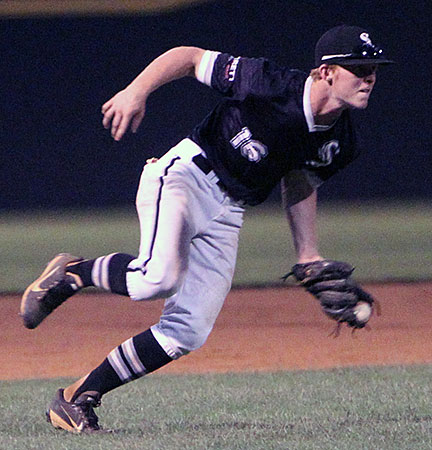 "And it seems like, the tighter the game gets, the AB's get better, which is a good sign for us," he noted.
"We need a little rest. Wednesday, we haven't figured it out yet. We're going to figure out what we're going to do but, yes, we've thrown everybody. We've thrown everything we've got. Nobody's had to throw a whole lot of pitches. That's the good thing. We've been able to keep pitch counts down and just use a ton of arms. Hopefully, that'll pay off long term."
Bryant got solid work from Logan Catton and Peyton Dillon in the first game. Garrett Wilson, Slade Renfrow and Brayden Lester cobbled it together in the nightcap with Lester picking up the win with two scoreless innings of relief.
Bryant 6, Searcy 5
Searcy grabbed a 1-0 lead in the first. T.J. Hester was hit by a pitch from Wilson and, with two down, Alex Langley walked. Wilson appeared to be out of the inning when Austin Williams hit a hard one-hop shot to second. But it got through and Hester scored.
It was the lone run that Wilson surrendered over three innings. He fanned four and got some help from some strong defense by Wright at third to end a two-on, two-out threat in the second; and by Gage Stark in the third. Stark went to the wall in left to flag down a drive by Langley had looked like extra bases if not a homer.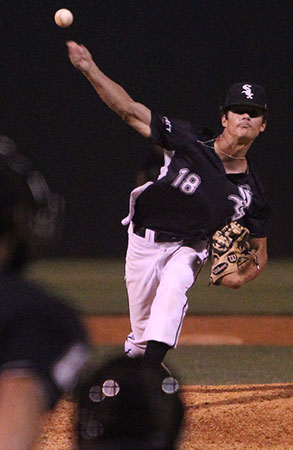 The Sox were retired by Searcy's Logan Passmore, who featured a kind of ephus, a slow, high-arching curve, over the first two frames.
In the third, however, the Sox took the lead. Coby Greiner led off with a walk. He tagged and went to third on Logan Chambers' long fly to left. A wild pitch allowed Greiner to reach third and he scored on Wright's sacrifice fly to tie the game at 1.
Dillon lashed a double to the gap in left-center, Stark was hit by a pitch and, on a double steal, a wild throw to third allowed Dillon to score. Matthew Sandidge swatted a single up the middle to make it 3-1.
Renfrow eased through the fourth, fanning two but, in the fifth, issued a one-out walk to Rhett Roach. Kyle Burton singled to center then wild pitches brought Roach around to score as Ethan Whitworth drew a walk. A strike away from ending the inning at that, Renfrow gave up a seeing-eye single up the middle to Williams. Two runs scored, and Williams followed on an errant throw to second.
Renfrow struck out Erick Rodrguez to end the inning but the Sox found themselves trailing 5-3.
Passmore retired the Sox in order in the fourth and the fifth but, after Lester quieted the Searcy bats in the top of the sixth, with the help of a nifty 6-4-3 doubleplay, the Sox took advantage of a pair of Searcy errors in the home half to plate three runs.
Stark scored when Catton's grounder up the middle was flagged down by second sacker Eli Henley for a force on Prince. Scott Schmidt, in to pinch hit for Ryan Lessenberry, got a perfect squeeze bunt down to get Sandidge in with the tying run.
Catton, with third base uncovered, hustled from first to third on the play. He scored when Greiner's grounder to third resulted in an errant throw to first, making it 6-5.
In the top of the seventh, Roach reached on a third-strike wild pitch that Wright, now at catcher, knocked down. But he couldn't find the ball in time as Roach reached first. Burton singled to right and, with Whitworth at the plate, a pitch in the dirt allowed Roach, representing the tying run, to take third.
And it looked like the game might be tied up when Whitworth hit the fly to right only to have the Sox work the relay perfectly for the out at the plate. Langley then grounded into a force at second to end the game.
"That's a big-time play," Hurt asserted. "Prince coming up with the good throw to Peyton Dillon, great relay, got him out at the plate. That's after (Prince) slashes at the plate and comes up with a huge hit. That was big for him."
Bryant 6, Searcy 3
Catton, who has most often been used in late-inning situations so far this season, started and blanked Searcy for five innings. He worked around a pair of two-out singles in the first, hit a batter in the third, worked around a two-out single in the fourth and a lead-off knock in the fifth.
Meanwhile, the Sox grabbed a 3-0 lead in the second. A walk to Cade Drennan got the uprising started. Prince, in as a courtesy runner, took second on a wild pitch but got caught trying to make it to third on Schmidt's grounder to short.
Myers Buck singled to left, however and, after a double steal and a strikeout, Konnor Clontz came through with a two-out single to left that plated two. He took second on the late throw to the plate then scored on Greiner's base knock.
Searcy broke through in the sixth. With one out, Langley doubled, took third on a wild pitch and scored on a single by Hayden Crafton.
Dillon came on in relief at that point and struck out Passmore. On the very next pitch, however, he plunked Hester. A squibber to second by Rodriguez was misplayed and Crafton scored to make it 3-2.
In the home sixth, the Sox padded the suddenly tenuous lead. Buck was hit by a pitch then Sandidge singled to center. Clontz got a sacrifice bunt down and, when the throw first by Roach the catcher, was errant, sailing into the right-field corner, Buck and Sandidge scored while Clontz raced to third.
Chambers made it 6-2 with a sacrifice fly.
Searcy made a bid for a rally in the top of the seventh. Peyton Jones singled and, though he was forced at second on a grounder to Clontz at second, Burton walked, and Whitworth drove a 3-2 pitch to left for an RBI single.
But Dillon got Langley to fly to Greiner in center and Crafton to hit a bouncer to Chambers at short for a game-ending force at second.