Senior Sox extend winning streak to 15 with another win in Memphis
EDITOR'S NOTE: Because the look back at each day in Bryant athletic history has been so favorably received during the time when there was no sports during the COVID-19 shutdown, BryantDaily.com will continueposting past stories of Bryant athletics either posted on BryantDaily.com (from 2009 to the present) or published in the Bryant Times (from 1998 to 2008).
Photos courtesy of Paul Dotson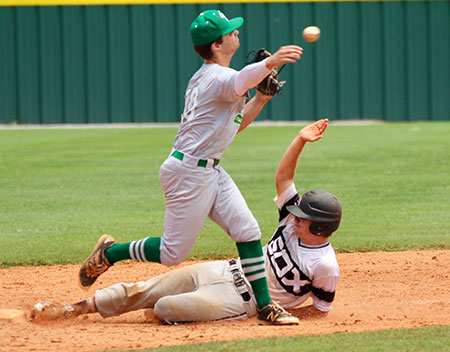 MEMPHIS, Tenn. — Myers Buck shut out the Memphis Tigers (Duncan) for five innings and, when he ran into trouble in the sixth, Boston Heil relieved and got out of the inning with the Bryant Black Sox' still in the lead. Heil closed out the 6-3 win with a scoreless seventh as the Sox won their fourth game at the Keith Hagan Memorial All-America Classic today at Arlington High School.
It was Bryant's 15th win in a row as the Sox improved to 18-3 overall going into a pair of games on Sunday. At 1 p.m., they'll take on Over the Mountain at Tony Gagliano Field. At 7:15, they'll face rival Cabot at Sowell Field. Monday at 4, they're scheduled to return to Arlington to play AR Pros.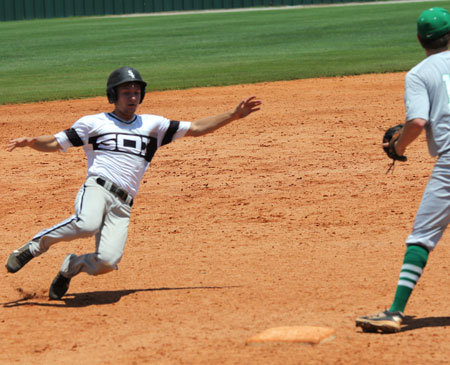 Dylan Hurt and Jake East each had two hits and two runs batted in against Memphis.
Buck, in his five-plus innings allowed three runs on eight hits with one walk and six strikeouts. Heil allowed three hits in his two innings and struck out a pair.
The game was scoreless going into the bottom of the third. Scott Schmidt led off the inning with a line-drive single to center. Christian Harp's soft liner to left fell in for a hit and both moved up on Seth Tucker's grounder to the right side. Schmidt scored on East's grounder to second to make it 1-0.
Buck, who had pitched around a single in the second and another in the third, surrendered a lead-off single in the top of the fourth but the Sox turned a doubleplay off a comebacker to Buck. Another single followed but Buck got the final out by inducing a fly to Tucker in right.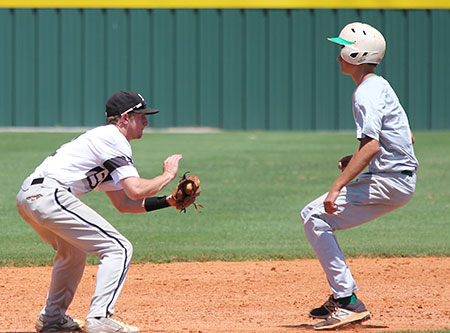 After the Sox were unable to take advantage of a lead-off single by Hurt in the fourth, the Tigers went quietly in the top of the fifth with Buck striking out two.
That led to Bryant's game-breaking four-run home fifth. A one-out walk to Schmidt and a single to right by Harp set the table. Matthew Sandidge came on to run for Schmidt and a wild pitch allowed him to score as Harp followed to second. He came home on East's base hit to left to make it 3-0.
Logan Allen lined a hit to right sending East to third. Both scored when Hurt drilled a double to center.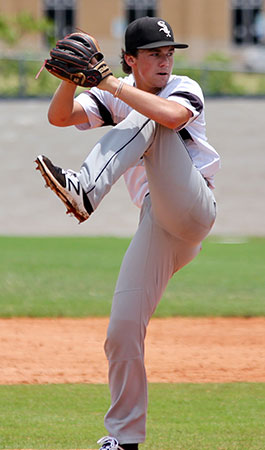 Trailing 5-0, the Tigers rose up in the top of the sixth. Consecutive singles and a walk loaded the bases. Another base hit plated a run and Heil came on in relief of Buck. A pair of RBI singles made it  5-3 before Heil recorded a strikeout for the second out. The inning ended with the bases loaded on a pop up to Brandon Hoover at first.
Bryant got one back in the bottom of the sixth when Hoover drew a one-out walk, took second on a wild pitch and advanced to third on a single from Sandidge. Harp was struck by a pitch to fill the sacks for Tucker who delivered a sacrifice fly.
Heil hit the first batter of the seventh but when the base-runner tried to steal second, Hurt threw him out. A strikeout had the Tigers down to their last out. A single kept them alive for a moment before the final out came on a liner to Allen in center.