For more photos of this event by Rick Nation, go here
Hoping to gain the number one seed from Zone 3 and win the District Tournament championship, the Bryant Black Sox forced an "if" game against the Little Rock Post 1 Vipers with a 12-2 romp in five innings on Sunday.
Jake Wright blasted a three-run homer and produced one of the most unlikely RBI singles imaginable. Logan Grant knocked in three and Matthew Sandidge two. Logan Chambers scored four times.
But, in that "If" game, the Sox just couldn't find a clutch hit as Little Rock's River Hunt and Ryan Lumpkin combined on a four-hitter. Bryant, which waiting out nine walks, stranded 10 runners in a 4-2 loss.
The Vipers will thus be the top seed and Bryant the 2 seed from Zone 3 at the 2018 Senior American Legion State Tournament, which starts this Friday at Hendrix College in Conway. Little Rock will open at 4 p.m., against Zone 1 runner-up Russellville while the Sox, the defending State champion, begin with Zone 1 champion, Fort Smith at 11 a.m.
"We've got to beat them all," noted Bryant manager Darren Hurt, regarding the difficult draw. "If we've got to play Fort Smith first, we've got to beat them first. Then we'll worry about game two after that."
The Sox split two games with Fort Smith during the regular season.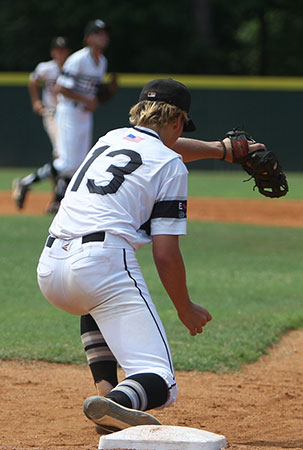 Regarding Sunday's action, Hurt said, "We came out and played hard. The guys were fired up and ready to roll. They knew how important it was to win this thing. I wish we could've just kept rolling into the second game.
"But, their pitcher, give him a lot of credit," he continued. "He was really good, especially early.
"But by the fourth inning, to me, he looked done," Hurt mentioned. "He was throwing a lot of balls and I thought we were going to make a run. We'd get the bases loaded and we just could not get the big hit. He found a way to get himself out of some jams that, if we get one hit in there, then we separate and it's a totally different game."
In Bryant's fourth, with the game tied 1-1, Hunt issued walks to Myers Buck, Matthew Sandidge, Logan Catton and Coby Greiner. He unleashed three wild pitches and there was a passed ball by Vipers catcher Nick Jones.
The Sox had a 2-1 lead with the top of the batting order coming around. Logan Chambers made a bid for a hit with a line drive. But it was caught by Little Rock second baseman Andrew McDonald as Hunt got off the hook.
The 2-1 lead held behind stellar relief pitching from Greiner. But, with two out and no one on in the top of the sixth, the Vipers scored three times to gain the lead, then held off a pair of Bryant threats in the final two frames to earn the victory.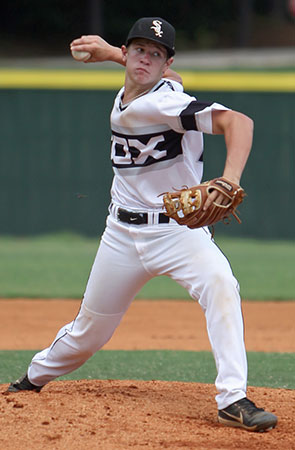 An infield hit by McDonald started the uprising. Andrew Howard lashed a single to right. McDonald scored on a wild pitch as Lumpkin was working a walk. Kyle Clayton's single to center snapped a 2-2 tie, chasing home two runs.
Another single followed by Jones who was 3 for 3 in the game. Logan Catton relieved for Bryant and finally got the third out on a nifty back-hand play by Logan Grant at first. Catton was there to cover first in time to retire Shelby Quiggans.
In the bottom of the sixth, Hunt issued his sixth walk. With Sandidge at first, Hunt's first pitch to Catton was off the mark and Lumpkin was called upon to relieve. On a 3-2 pitch, Catton whacked a single to left.
But Lumpkin got out of the jam with a strikeout and fly to center.
After Catton retired the side in order in the top of the seventh, Jake Wright drew a lead-off walk in the home seventh. Cade Drennan drilled a liner to left but it held up long enough for Little Rock's Andrew Howard to make the catch.
Grant drew a free pass but, again, Lumpkin got a key strikeout then induced a grounder to short by Scott Schmidt that resulted in a game-ending force at third.
Little Rock had scored first against Bryant starter Peyton Dillon. In the second inning, Hunt walked and was sacrificed to second by Grayson Troutman. McDonald followed with an RBI single to right.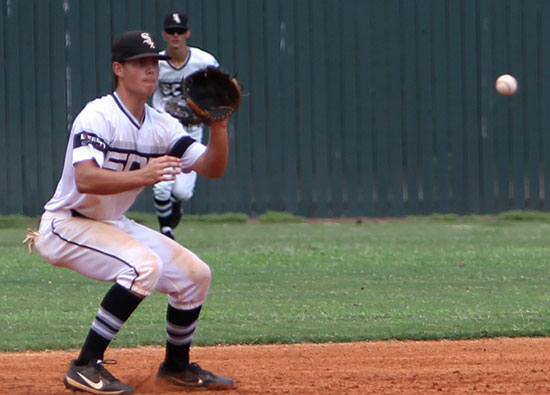 Bryant, after being limited to one hit (a single by Buck) over the first two innings, took advantage of the lone Little Rock error to get on the board in the third. Catton wound up at second on the errant throw to first by shortstop Michael Coven. Greiner sacrificed him to third and he scored on a wild pitch.
Dillon had struggled with the strike zone in the top of the third, issuing two-out walks to Jones, Quiggans and Coven. Greiner was called in to relieve and got Hunt to pop out to Schmidt outsite first to end the threat.
Greiner would set down six in a row. After his 1-2-3 fourth, Bryant took the lead with all the wildness from Hunt. But stranded three.
Jones singled to break Greiner's string and Quiggans was hit by a pitch. But Greiner got Coven on a pop to first to keep it 2-1.
Wright and Grant singled in the Bryant fifth but, in between them, Little Rock turned a doubleplay, setting up the Vipers' game-breaking sixth.
Bryant 12, Vipers 2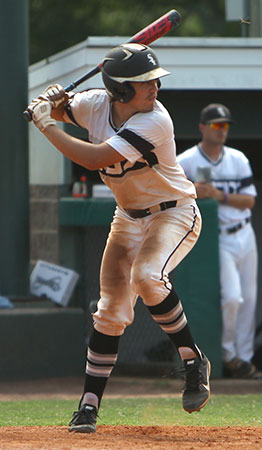 Schmidt shut out Little Rock over the first four innings, allowing just three hits while his teammates piled up a 9-0 lead.
A wild play in the first led to Bryant's first tally. Chambers had led off with a walk and taken second on a wild pitch by Little Rock starter Cameron Johnson. On a 1-1 pitch to Wright, Johnson's cleat caught on the mound as he strode towards the plate. As he was falling down, hoping to avoid a balk, Johnson flung the ball in the general direction of the plate.
With everyone kind of caught watching, Wright moved up in the box and, as the ball bounced a time or two, golfed it past the pitcher. He beat the play at first and Chambers, never stopping, sprinted across home plate to make it 1-0.
Drennan kept the inning going with a solid single to left and, with one out, Buck walked to load the bases. Sandidge came through with an RBI single and, with two away, Catton was hit with a pitch, forcing in a third run.
In the second, Chambers reached on an error, Wright was plunked and, after Drennan bounced into a force at second then stole the bag, Grant stroked a double down the right-field line, bring both runners around to score, making it 5-0.
In the third, singles by Dillon and Catton opened things up. Greiner executed the squeeze play perfectly, driving in Dillon. And, after Chambers walked, Wright unloaded on a 2-2 pitch, clearing the fence in left with room to spare, making it 9-0.
Johnson gave way to Coven and, after Drennan was robbed of extra bases by Ivory Daniel in deep left-center, got a strikeout to end the inning.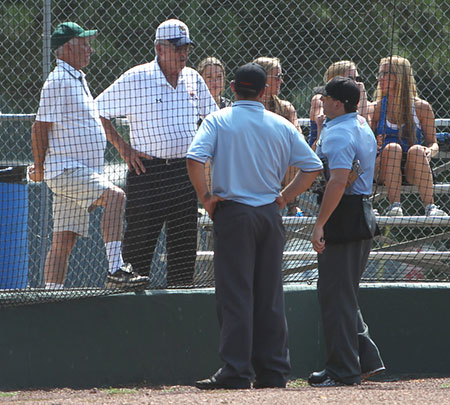 Meanwhile, Schmidt pitched around a two-out single to Jones in the first; a two-out walk to McDonald in the second; a one-out single by Lumpkin in the third; and a two-out knock by Clayton in the fourth.
In the home fourth, Coven walked Buck but got a force on a grounder by Sandidge. With Dillon at the plate, Sandidge stole second. Dillon wound up flying out to center. Then, Coven and Catton battled to a 2-2 count.
Coven reached his 30thpitch and, a mark on the pitching rules of American Legion, that if he exceeded he'd be required to wait a day to pitch again. In hopes of saving him, the Little Rock manager Frank Troutman made his second trip to the mound during Catton's at-bat.
The Vipers' manager eventually pulled Coven but not without controversy. Hurt argued that, according to Major League rules (those used by Legion ball), since it was the second trip to the mound to the same pitcher during the same batter's turn, the pitcher should be forced to complete the at-bat and the manager should be ejected.
Neither of those things occurred. Officials, citing the intent of the pitch-count rule and preserving arms, decided to let Troutman make the change with no consequences.
Hurt continued the game under protest. Daniels threw one pitch to strike out Catton and send it to the fifth.
Singles by McDonald and Troutman and a double by Daniels put Little Rock' first run on the board. Another crossed the plate when Lumpkin grounded out to second, making it 9-2.
Needing three in the home fifth to end the game early, the Sox came through — or rather, Daniels came through for them.
Walks to Greiner, Chambers and Wright loaded the bases. With one out, Grant drew a free pass then so did Buck as the lead grew to 11-2. After the first pitch to Sandidge missed, Daniels was lifted in favor of McDonald.
When Sandidge hit a roller towards third, the plate went to first in time but Wright scored to make it a 10-run lead and ending the game with the run rule.