Senior Sox pull out victory with seven-run seventh
EDITOR'S NOTE: Because the look back at each day in Bryant athletic history has been so favorably received during the time when there was no sports during the COVID-19 shutdown, BryantDaily.com will continueposting past stories of Bryant athletics either posted on BryantDaily.com (from 2009 to the present) or published in the Bryant Times (from 1998 to 2008).
Photos courtesy of Paul Dotson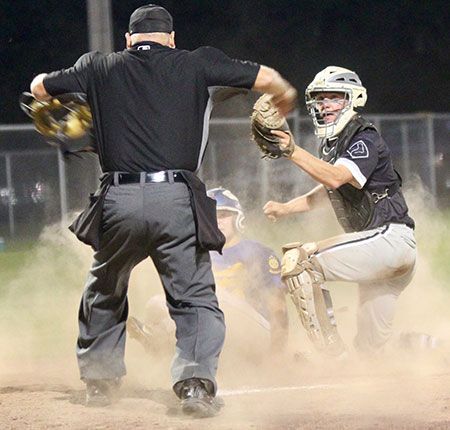 SHERIDAN — The never-say-die Bryant Black Sox Senior American Legion team found a secret weapon in Scott Schmidt while the frustrated Logan Allen found his hitting stroke in a wild and crazy battle at Oliver Williams Field Wednesday night against the McCoy-Tygart Yellowjackets' Senior team.
In a game they once led 6-2, the Sox found themselves down 11-7 going into the final inning. Sheridan had rallied for a 7-6 lead in the bottom of the fourth then, after Bryant tied it at 7, the Jackets scored four times in the top of the seventh to gain what looked like it might be the winning margin.
But, a night after chasing down and beat the Little Rock Vipers, the Sox erupted for seven runs in the top of the seventh to push out to a 14-11 lead.
Schmidt, the Sox' starting second baseman seldom called on to pitch, had become the fifth Bryant pitcher of the game in the sixth. He came in with runners at first and second and no one out. He proceeded to induce three consecutive pop-outs to keep it 11-7.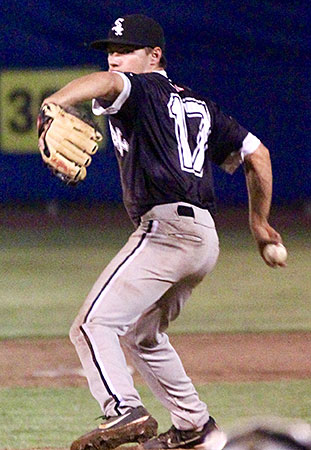 After the Sox took the lead in the top of the final frame, Schmidt retired the first two (including another popup, and appeared to have Hunter Hicks struck out on two borderline calls. Hicks managed an infield hit and took second on a wild pitch. But Schmidt got Nick Whitley to tap a slow roller to first. Brandon Hoover ranged to his right to field it and tossed to Schmidt who reached for the throw and still kept a two on the first-base bag to end the game.
Allen, who had been stinging the ball regularly, had managed to get very few to fall in for him in recent games. But at Sheridan, he came through with a bases-loaded triple to make it 6-2 in the top of the fourth. Then, in the seventh, he came through with a two-out, two-strike lined single just beyond the reach of the second baseman, to drive in the run that tied the game 11-11.
He later scored the go-ahead run on Aaron Orender's clutch two-out two-run single. Allen was 2 for 3 with a walk, a triple and four runs batted in.
Though the Sox were out-hit by the Jackets 12-8, they benefitted from 10 walks, three hit batsmen, a passed ball, five wild pitches and two errors as Sheridan went through four pitchers.
Bryant's quintet of hurlers combined on just four walks, through they hit three batters as well and had three wild pitches. Plus, the Sox' defense was uncharacteristically hampered by four errors.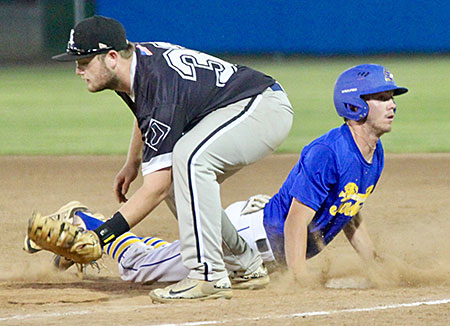 It was just that kind of game.
The game-breaking seventh began with Alex Shurtleff drawing a one-out walk. Hicks, the third Sheridan pitcher, had worked out of jams limiting damage in the fifth and sixth innings. But he followed up the walk to Shurtleff by hitting Hoover on a 3-2 pitch. His struggles continued when he walked Schmidt and threw two outside the zone to Jake Wright, one of which was wild allowing Shurtleff to score, making it 11-8.
Lefty Nathan Kirkpatrick was called in at that point and got two strikes in on Wright, who was up as a pinch-hitter. On the 2-2 delivery, Wright bounced a single up the middle to drive in two more as the lead shrunk to one run.
A passed ball allowed Wright to move to second and, with one out, Jake East beat out an infield hit on a slow roller to short. That set the stage for Allen's game-tying single that send East to third.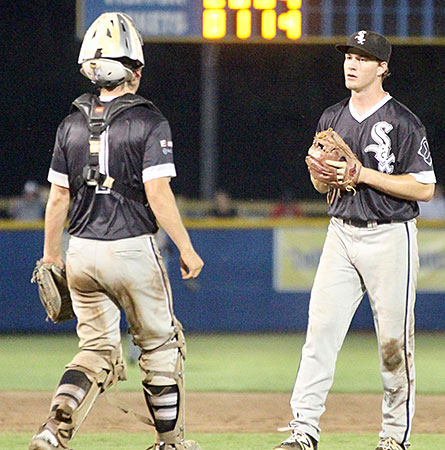 Dylan Hurt walked to load the bases for Orender, who slapped a grounder into right for a two-run single, making it 13-11. And, on a 1-0 count to Shurtleff, Orender left first early, got in a rundown and stayed in it as Hurt raced home with one more tally.
Schmidt and the Bryant defense closed it out.
The early advantage for the Sox began with a two-run first. With two down, Allen walked, stole second and sprinted home on Hurt's double to the gap in left-center. When Orender's grounder to short was misplayed, Hurt scored.
Shurtleff started on the mound for Bryant and worked just two innings. He surrendered Montana Korte's one-out single in the second and a two-out RBI double by Dalton Domrase.
Meanwhile, Sheridan starter Chance Wallingsford pitched around a one-out single by Schmidt in the second and a lead-off walk to East in the third.
Sheridan tied it in the bottom of the third as Myers Buck relieved Shurtleff. A pair of errors created the jam. Austyn Wright and Hicks followed with singles to produce the run but when Wallingsford tried to score from second on Hicks' hit, Orender threw him out at the plate from left field to keep it tied.
Buck then induced a doubleplay ball from David Rainwater to send it to the fourth.
Rainwater relieved for Sheridan in the top of the fourth. He walked Hoover and Buck and, with two down Seth Tucker came through with a clutch RBI single that opened the floodgates. East was struck by a pitch to load the bases for Allen, who ripped a shot off the wall in left-center that ricocheted past the two Sheridan outfielders and nearly three quarters of the way back to the infield. Three runs scored as Allen legged out a triple.
Down 6-2, Sheridan surged. Korte's single to right was misplayed allowing him to get to second then another error plagued the Sox as Finley reached. Domrase singled in Korte but then Buck struck out the next two batters. He got a strike in on Wallingsford before the Sheridan lead-off man stroked a liner down the right-field line that just stayed fair for an RBI double. Austyn Wright singled in two and, when Hicks drew a walk, Orender was called in to relieve.
He walked Rainwater on a tough 3-2 pitch then hit Korte to force in the go-ahead run. But he struck out Finley to end the inning then retired the side in order in the fifth.
In the top of the fifth, Rainwater walked Hurt and Orender then gave way to Hicks who retired the next three to keep his team ahead 7-6.
The Sox tied it, however, in the top of the sixth. Tucker walked with one out and Allen was hit by a pitch with two down. With Hurt at the plate, Tucker stole third and drew an errant throw. He scrambled home and the game was deadlocked.
It didn't stay tied for long, though. In the bottom of the sixth, Wallingsford was hit by a pitch, Austyn Wright singled and Hicks doubled in a run to make it 8-7.
East relieved Orender but showed a little rust with his command. Wright and Hicks scored on wild pitches. Whitley, pinch-hitting for Rainwater, was struck by a pitch and Korte singled to make it 11-7. A walk to Finley resulted in Schmidt's move to the mound.
The win extended the Sox' winning streak to 12 going into the 18U Division of the annual Keith Hagan Memorial Classic in Memphis this weekend. They're scheduled to start pool play on Friday at 4 p.m., against East Coast Select.