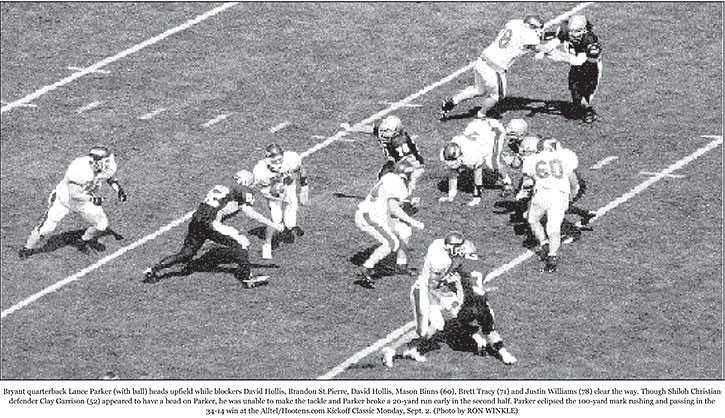 Hornets rev it up in second half to ground Saints
EDITOR'S NOTE: Because the look back at each day in Bryant athletic history has been so favorably received during the time when there was no sports during the COVID-19 shutdown, BryantDaily.com will continueposting past stories of Bryant athletics either posted on BryantDaily.com (from 2009 to the present) or published in the Bryant Times (from 1998 to 2008).
By ROB PATRICK
BRYANT TIMES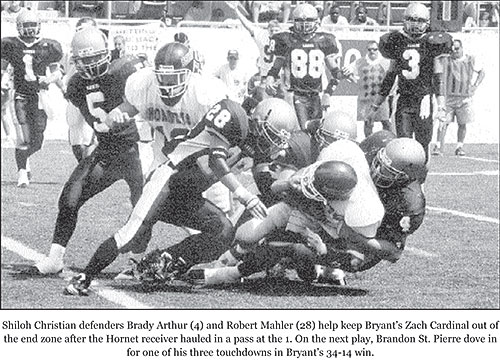 LITTLE ROCK — There have been many, many teams that have tried a variety of ways to slow down the offenses of the Shiloh Christian Saints and the Bryant Hornets. Though there are shades of difference, the two teams run very similar offenses. So, if faced with it's own offensive scheme from another team, how would either one choose to defend.
Well, when the two teams met to open the season at the Alltel/Hootens.com Kickoff Classic on a blazing Labor Day afternoon at War Memorial Stadium, they each, interestingly enough, took a different tact.
The Saints' coaches decided to load up the secondary for the most part and put just five men in the box (the five-yard area on either side of the line of scrimmage). The Hornets' on the other hand, mixed it up quite a bit and, much of the time, went at quarterback Nathan Emert aggressively.
Both teams had their moments but, in the end, Bryant forced four turnovers and knocked Emert out of the game with a shoulder injury as the Hornets, sparked by a quicker pace on offense in the second half, gradually pulled away for a 34-14 win. Senior quarterback Lance Parker rushed for 103 yards and two touchdowns and completed 14 of 28 passes for 130 yards, setting new Bryant career marks in completions, attempts and yardage passing.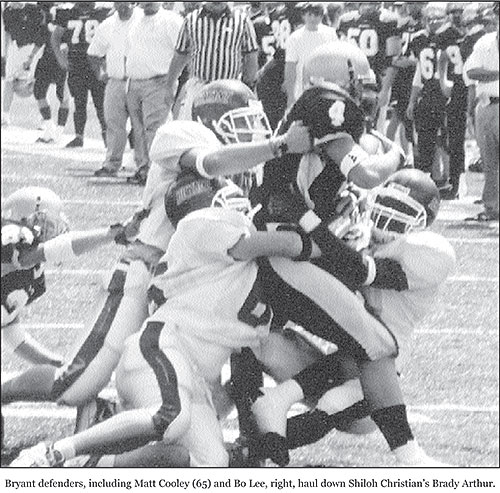 "We tried to be aggressive with a lot of stunts to try to pressure the quarterback," said Hornets defensive coordinator Steve Griffith. "We didn't want to give him a lot of time to throw the football. Then we mixed it up. There were a couple of times when we showed that we were coming then dropped back into coverage in hopes that they would get a ball thrown in our direction. And it seemed to work out for us.
"As you do every time you play, we found some things we need to work on," Griffith added.
The scorching heat — someone measured it at 120 degrees on the newly turf-surfaced floor of the stadium — was a player. It figured into Bryant's strategy. Because of the team's lack of depth and renown of Shiloh's conditioning, Bryant slowed things down in the first half, shunning its standard no-huddle offense to huddle up more. It had a double-edged effect.
Normally, in the no-huddle, the offense would come to the line of scrimmage and a play would be called to best take advantage of the defense that the other team showed. But the Hornets couldn't do that in the first half.
"The first half we were just real slow," noted head coach Daryl Patton. "So, we were getting to the line of scrimmage and we couldn't change plays. We ended up with some bad play-calls. We didn't play very well. A lot of that was us just not executing.
"In the second half, we did a little bit better job of getting on the line of scrimmage and calling plays accordingly," he added. "We were running the football whenever they were giving it to us. They were giving us a 3-2 look most of the time and against that, you ought to be able to run the traps and you ought to be able to run the quarterback. And we did a good job blocking it.
"We just play better at a faster pace," Patton explained. "Our feeling was, going into it, with Shiloh's conditioning and the heat and humidity, if we went into the game running the no huddle from the first quarter on, in the fourth quarter, are we going to be able to play? Are we going to be able to stand up to stop anybody? We huddled up more, hoping we could get away with it the whole game but, we knew, if we had to make a change we ought to be able to have a little more juice in us for the fourth quarter."
The defense still needed just about everybody.
"I felt like some of our reserve kids really came on and played well for us," Griffith said. "The heat was just so tough, it was good to see those reserves come in and play well. They gave us a chance to rest some of the starters for two or three plays here, two or three plays there. And they came in and did a good job. That gives us a little confidence for the future that they can come in and get the job done when we need them to."
Bryant held Shiloh to 54 yards net rushing which included a pair of sacks, one by Aaron Johnson, another by Matt Cooley. The Saints passed for 246 yards, 242 of which came in the first three quarters before Emert was injured. But, by that time, the Saints appeared to be just hanging on, trying to stay close as Bryant had scored on each of its first two second-half possessions to take a 21-14 lead.
Granted, Shiloh was threatening when the junior quarterback went down with a shoulder injury, but the Saints had other forays into the red zone that had been thwarted.
In the first half, they reached the Bryant 4 but Scott Peeler dropped Emert for a 2-yard loss to set up a fourth down then Bo Lee intercepted a pass in the end zone. Later, Shiloh reached the Bryant 8 before Johnson and Cooley came through with their sacks back to the 25. The latter sack set up a fourth-and-goal from the 25 and a pass completion that came up short.
Actually, the defense set up Bryant's first score. The Hornets' offense hadn't mustered a first down in its first two possessions of the game. After Shiloh took a 7-0 lead on Nathan Emert's 12 yard pass to brother Luke Emert, the Saints' defense actually pushed Bryant backwards on a subsequent possession.
But Peeler unloaded a 60-yard punt to turn the field over and regain a little momentum for the Hornets. Moments later, Travis Wood intercepted a pass and returned it to the Shiloh 25.
It took four plays from there for Bryant to get on the board. Parker passed to Cardinal twice for 9-yard gains, setting up the first of Brandon St. Pierre's three touchdowns, this one from a yard out.
But the Hornets, slowed to sluggishness on offense, managed just three more first downs in the half, which ended in a 7-7 deadlock.
That changed at halftime. To open the third quarter, the Hornets drove 84 yards in eight plays to take the lead. All of the yardage, except for a pass to Peeler in the flat that the junior broke for 15 yards, came on the ground. Parker wove through the defense for a 31-yard touchdown run.
Shiloh gamely came back and tied it with a four-play drive that covered 76 yards. Again, Nathan and Luke Emert connected on a 21-yard TD pass that came down in the receiver's hands in the back corner of the end zone after just evading the leaping interception attempt by Cardinal.
Bryant answered with the help of a 47-yard kickoff return by A.J. Nixon. After a pair of short completions from Parker to Peeler, then Cardinal, St. Pierre busted a 10-yard scoring run. Todd Bryan kicked it to 21-14.
The Hornets dodged a couple of bullets after that. The defense forced a punt but Parker had a pass picked off at the Shiloh 15 by Brady Arthur. But Arthur was separated from the ball on his return and Cardinal recovered.
On the next play, Bryan fumbled but Nixon retained possession for the Hornets.
Still, the Hornets ran out of downs at the Shiloh 35 and the Saints took over. Emert completed a 36-yard pass to Brady Arthur, who out-wrestled Wood for the ball. On the next play, from the Bryant 28, Nathan Emert was scrambling before throwing incomplete and getting nailed near the Shiloh bench. It was a double whammy for the Saints as Emert left the game and his team was hit with a holding penalty.
Trey Ferguson, son of former college and professional quarterback Joe Ferguson, replaced Emert but the Saints' offense sputtered, mustering just one first down (on a penalty) the rest of the game.
An interception by sophomore Bryan Griffith set up another Bryant touchdown. This time, Parker stepped his way through the Shiloh defense for a 38-yard touchdown run.
St. Pierre topped the scoring with a 2-yard run with 4:40 left in the game, capping a 52-yard drive in eight plays including a 43-yard connection from Parker to Nixon.
Ronnie Spivey's interception gave Bryant another chance to score but a 36-yard field goal attempt by Bryan was wide right with 1:47 left.