Jr. Hornets hold on, open season with win at Searcy
EDITOR'S NOTE: Because the look back at each day in Bryant athletic history has been so favorably received during the time when there was no sports during the COVID-19 shutdown, BryantDaily.com will continueposting past stories of Bryant athletics either posted on BryantDaily.com (from 2009 to the present) or published in the Bryant Times (from 1998 to 2008).
By ROB PATRICK
BRYANT TIMES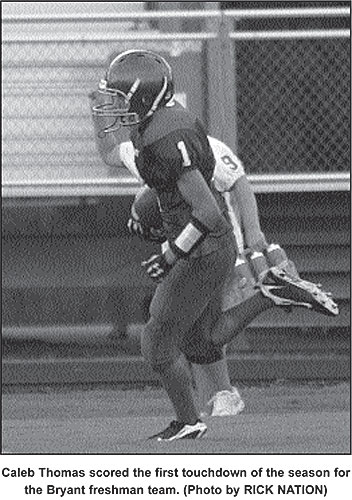 SEARCY — Few are touting the 2008 Bryant Hornets freshman team as a juggernaut on the level of the 2007 version. That's no slight to this year's team. The '07 Junior Hornets were more successful than any previous version of the team, going unbeaten and capturing the program's first championship of the Central Arkansas Junior High Conference.
That being said, the 2008 Hornets have one on their predecessors just one week into their campaign: They beat Searcy.
Last year, Bryant suffered a bitterly disappointing scoreless tie with the Lion Cubs to open their season at Bryant Stadium. (In only one other game all season did the Hornets score fewer that 20 points or win by less than 14.)
All of which is not to say that the 2008 freshmen can't compete and win their own league title, of course. They can and, though their raw talent isn't what last season's was, they just might. With hard work, dedication and a team-first approach, the sum can become greater than its individual parts.
The first step in their development came Thursday, Sept. 4. Playing at Searcy, the Hornets took advantage of a couple of opportunities on offense while, most of the night, bending but not breaking on defense, then holding on for a 14-6 win.
"The key to it was effort," declared Kenny Horn, in his first year as head coach of the team after serving for several seasons as defensive coordinator. "We made a ton of mistakes but we made them going full speed. Offensively, we threw and caught it okay. There were some minor mistakes we can fix. I thought we blocked okay. Defensively, we just had to grind it out.
"Credit our kids," he stated when asked about his first win as a head coach. "I don't snap, I don't tackle, I didn't drive the bus. Credit (assistants) Coach (Dale) Jones, Coach (Kirk) Bock and Coach (Bart) Reynolds."
Searcy, however, had a chance at the end. After scoring with 2:56 left to play, the Cubs tried an onside kick that the Hornets covered. But Bryant was offside on the play and they got to try it again. For some reason, however, five yards closer, the Cubs kicked away and Jacob Powell returned to the 23. But a clipping penalty pushed the Hornets back to their own 8 with 2:47 left to play.
Powell, who led all rushers with 76 yards on 18 carries, powered for runs of 3 and 4 yards to set up a third-and-3 from the 15. Searcy used its final timeout and when play resumed, quarterback Dylan Cross varied his snap count and got the Cubs to jump into the neutral zone.
A first down resulted but there were still two minutes for Searcy to get a stop and take a shot at tying the game. Loaded up against the run, the Cubs dropped Powell for a loss but, on the next play, he managed to find six yards. On third and 5 from the 24, the Bryant offensive line blew open a hole and Powell crashed for 14 yards and a first down to clinch the win.
The defense gave Bryant its first big lift. After a holding penalty sidetracked the Hornets' opening possession, forcing a punt, Searcy, behind strong-armed quarterback Dezmond Stegall and the running of Jacobi Higgins, drove to the Bryant 10. The big play was a 33-yard pass completion that the Hornets had well covered only to have the safety miss-time his jump going for an interception. The ball plopped into the arms of Chase Caple who was dragged down at the 10.
After Higgins slashed to the 5, a second-down pass fell incomplete. On third down, Stegall tried to keep but was dragged down at the 3. Going for it on fourth down, the Cubs turned to Higgins again only to have Bryant linebacker Parker Dunn hit him in the backfield for a loss back to the 5.
In turn, Powell broke a 17-yard run to get the Hornets out from the shadow of their own goalposts. But another holding penalty disrupted the drive and they were forced to punt.
Penalties hampered the Hornets throughout the contest. They were flagged 10 times for 99 yards.
Searcy again had good field position at the Bryant 45 but couldn't manage a first down. On a second-and-4 at the 39, defensive end Casey Goforth stopped Higgins for no gain and, after an incomplete pass, Stegall swung a fourth-down aerial to Jonathan Powell only to have Brantley Cozart smack the receiver down as he caught it, well short of the first-down marker.
The Hornets took over and this time not even another holding penalty could stop them. Facing a second-and-23 from their own 25, quarterback Dylan Cross hit Powell for 6 yards then Sawyer Nichols for 15. Though Nichols got a bad spot on the play which appeared short of the first down, Searcy had to grab his face mask to ground him and the subsequent penalty not only produced a new set of downs, it got Bryant to the Cubs' 39.
A play later, Cross tossed a short pass to Johnathan Parks that the receiver turned into a 13-yard gain. Powell crashed to the 22 then Cross rolled out to his right and found Caleb Thomas on a beautifully executed play for the game's first touchdown.
Jace Denker kicked the extra point and Bryant had the 7-0 lead that would hold until the half.
Cross, by the way, finished 10 of 15 for 121 yards in the contest.
A bad snap that Bryant's Austin Dunahoo nearly got through to cover cost Searcy on its first possession of the second half. A short punt gave the Hornets good field position at their own 43. Powell slashed for 10 yards but, after a short gain by Cross and a penalty, they faced a second-and-14. On a screen pass, Powell broke a 20-yard gain to convert.
After a runs by Nichols and Powell reached the 20, Cross threw a swing pass to Parks that, thanks to some fine blocking by the receivers in front of him, got to the 5. An offsides penalty moved it to the 2 and, from there, Cross snuck it in with 2:58 left in the third quarter.
Denker added the extra point and the Hornets led 14-0.
And when the defense forced Searcy to turn it over on downs near midfield moments later thanks to nice plays by Blue Smith, Goforth, Kayden Mills and Cozart, it looked like the Hornets might have truly taken over the game.
But a couple of dropped passes forced a quick three-and-out and they punt back to the Cubs as the fourth quarter started.
Searcy put together a drive from its own 29 to the Bryant 26, mostly on a 41-yard completion that was tipped by one Cubs receiver into the hands of another despite being pretty well covered. A disputed pass interference penalty also played into it, converting a third-and-10 from the 32. But two plays later, Powell picked off a pass to end the drive.
Again, however, the Hornets were unable to pick up a first down and Searcy got the ball back at the Bryant 49 with 3:42 remaining. Two big pass plays in a four-play drive covered most of the distance. A 23-yard strike from Stegall to Tony Rowley put up the points, though the Hornets foiled Stegall's run to try to add a two-point conversion.
The Bryant freshmen make their home debut for 2008 on Thursday, Sept. 11, against Little Rock J.A. Fair.