Injuries put damper on Hornets' 40-21 win
EDITOR'S NOTE: Because the look back at each day in Bryant athletic history has been so favorably received during the time when there was no sports during the COVID-19 shutdown, BryantDaily.com will continueposting past stories of Bryant athletics either posted on BryantDaily.com (from 2009 to the present) or published in the Bryant Times (from 1998 to 2008).
By ROB PATRICK
BRYANT TIMES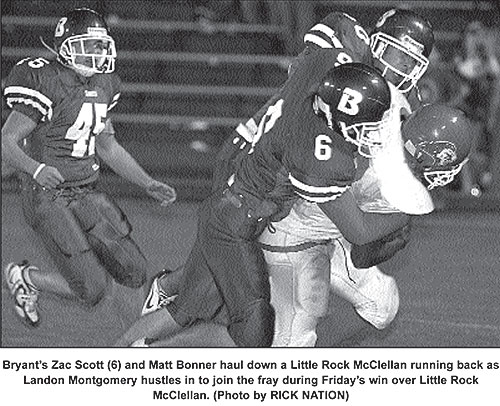 The sweet smell of a Homecoming victory had, unfortunately, a bitter edge to it Friday, Sept. 30, at Bryant Stadium.
After having scored a total of 43 points in its previous four games, the Hornets erupted for a 40-21 victory over the Little Rock McClellan Crimson Lions, their first in AAAAA-Central Conference action. The offensive outburst was aided by the defense forcing four turnovers and the special teams forcing another that resulted in a touchdown as well as blocking a punt that led to another score.
But, unfortunately, the game came with a cost. Having already lost one starter, guard Andrew Burdett to a knee injury the previous week, the Hornets had five other starters exit the McClellan game with injuries, middle linebacker Zach Sanders (the team's only returning starter on defense), defensive end Chris Taylor (a standout move-in from the Chicago area) and safety Zach Kitchens on defense; receiver Hunter Stobaugh and left tackle Bracy Atkinson on offense.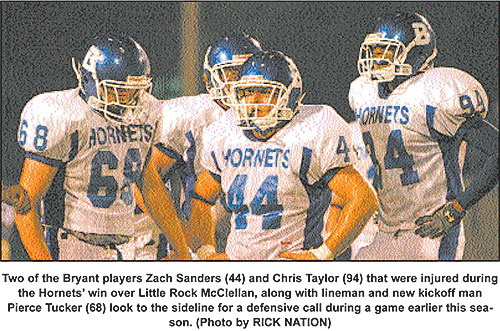 "We're happy to get a victory but, man, it came at a huge price," head coach Paul Calley concurred. "I think Sanders (knee) and Stobaugh (knee and broken thumb) are both going to be out for awhile. Bracy is probably going to be out a couple of weeks, Taylor has got an AC (shoulder) separation, Kitchens has got a broken finger. I mean, it just kind of snowballed on us, the injuries did. At one time, I had six subs in on kickoff coverage. We struggled to keep our special teams together, just trying to find people to stick out there.
"Offensively, we took advantage of turnovers and field position," he acknowledged. "We finally scored some points on offense. And the defense played well again, except late when we gave up some deep balls. We played a lot of people. I was a little worried about them getting within 13 of us at one point. We were trying to run the ball. We were just trying to get out of there as fast as we could before we got any other people hurt."
(Thirteen points is the maximum winning margin used in tiebreaking procedures when playoff teams are being determined at the end of the regular season.)
The Hornets had benefitted from just four opponent turnovers going into the game, so it felt like they were getting breaks they hadn't been.
They jumped to a 17-0 lead in the first quarter. The first score came on Bryant's first possession of the night after McClellan's punter Tony Shelton managed a kick that netted just 1 yard. The Hornets were unable to pick up a first down but sophomore Jordan Knight knocked through a 37-yard field goal to make it 3-0.
McClellan's next series last three plays. On a third-and-9 at their own 21, the Lions mishandled a reverse and Bryant linebacker Aaron Walker recovered the loose football at the 18.
Quarterback Anthony Mask scrambled to the 10 and, after Zach Kellum picked up the first down with a 2-yard plunge, Jon Isbell crashed into the end zone from the 8. Knight's PAT made it 10-0.
The teams traded punts with Bryant gaining the field position advantage. With just over a minute left in the quarter, Shelton was back to punt again with the line of scrimmage at the Lions 32. Kitchens crashed through and blocked the kick cleanly and the Hornets recovered at the 8. Unfortunately, that's when Sanders, the team's leading tackler who is considered the heart of the defense, injured his knee.
Two plays later, however, Isbell scored from the 2 and Knight kicked it to 17-0 going into the second quarter.
McClellan, which netted just 126 yards of offense in three quarters against the Hornets' first-team D, got most of that on the first possession of the second quarter, driving 70 yards in 11 plays for a score while the Hornets regrouped without Taylor and Sanders.
Quarterback Ezekial Vaughn passed 10 yards to Marcus Henry for the touchdown. Wilsom Vineente kicked the extra point to make it 17-7.
Thanks to a good kickoff return by Dustin Holland, the Hornets started their next series at midfield. But an illegal block sabotaged the possession and they were unable to pick up a first down. Still, punter Cody Williams kicked the Lions back to their own 7.
Three plays netted nothing for McClellan. On a third-and-7 from the 10, Walker and Dennis Holland, a senior safety that had been thrust into action on the defensive line, crashed through and dropped Vaughn for a loss.
Shelton dropped back to punt and got another high snap. This time, he was unable to control it. The ball dribbled into the end zone where Walker fell on it just before it went out of the back of the zone for a touchdown.
Knight's kick made it 24-7.
Moments later, the Hornets had the ball back as sophomore Logan Cruse intercepted a Vaughn pass near midfield and returned it to the McClellan 28.
A short run by Kellum, who wound up with a season-high 71 yards on 10 rushes, was followed by completions of 10 and 8 yards from Mask to Holland. On a third-and-2 from the 7, Mask rolled right then, being rushed, reversed field just ahead of a McClellan defensive lineman and tossed a touchdown pass to Isbell.
Tyler Henderson came on for the extra point and the Hornets led 31-7 with just 31 seconds left in the half.
The teams traded punts to start the second half. Bryant's second possession began at its own 40. Kellum bolted 33 yards then Mask and Holland hooked up on a 27-yard TD pass and it was 37-7.
On the subsequent kickoff, Pierce Tucker, who had stepped in to shore up a weak area by kicking off for the first time this season, dribbled the kickoff upfield. It bounced off of a McClellan blocker and was recovered by the Hornets.
"(McClellan's coaches) accused us of trying to run up the score," Calley noted, "but I had six subs in on kickoff so I told (Tucker) to kick it down on the ground so we could try to cover. He just miss-hit it and it bounced off one of them and we recovered it."
The Hornets drove to the 14 but Kellum's 13-yard dash to the 1 was negated by penalty and two plays later, Knight's 39-yard field goal attempt was wide right.
Calley mentioned that Tucker came through in more than one spot. "Pierce Tucker kicked off for us tonight then had to play right tackle," he noted. "He'd never played offense before in his life but he did a great job."
With Tucker at right tackle, senior Matt Martin moved to right guard to fill Burdett's spot.
Reserves started filtering into the lineup as the end of the third quarter neared. With junior Matt Schrader completing passes to sophomores Jake Jackson and Raylen Cantrell, the Hornets made it to midfield before punting the ball away. On the punt, however, Jaevay Payne tried to scoop up a bouncing ball and fumbled it. Lance Hodges recovered for Bryant and, after a trio of runs up the middle by Nick Suggs, Knight kicked a 31-yard field goal to make it 40-7 with 8:17 left in the game.
After that, Vaughn and Shelton burned the young Bryant secondary for passes of 56 and 48 yards. The former went for a touchdown, the latter set one up. Vaughn followed it with a 33-yard completion to Payne that reached the 4. From there, Vaughn connected with Jermaine Brown to make it 40-21 with 3:34 left in the game.
Williams recovered the onside kick for Bryant and, a play later, sophomore Craig Tull broke an 18-yard run and the Hornets ate up all but the final 13 seconds.
The Hornets will go after their second straight league win at Quigley Stadium against 2-3 Little Rock Central on Friday, Oct. 7.