Photos by Kevin Nagle
In a seventh grade B game at Bryant Stadium Monday night, the Bryant Blue Hornets of Bethel Middle School built a 14-0 lead by halftime and went to a 22-0 win over the Bryant White Hornets of Bryant Middle School.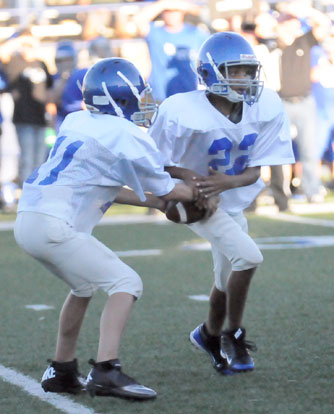 "The kids played great defense," praised Bryant Blue coach Dale Jones.
To open the game, Bryant Blue forced a punt then put together a long drive for the first score. Hunter Ulmer scored on a quarterback sneak. He then threw a pass to Russell Winders for the two-point conversion.
The second score was set up by an interception by Sebastian Dunn who made the pick at the 40 and returned it to the 2. Cody Conrad ran it in from there to make it 14-0.
In the second half, Keethan Hudson added a touchdown run and, with the two-point conversion run by Malik Holman, it was 22-0.
"Their guys played harder than ours did," commented Bryant White coach Brad Smothermon. "We did some good things to get better but I want our guys to compete harder. I tell them I don't care if it's a B game or not, we have to compete and play hard.
"I think Bethel did that better than we did," he added. "I believe that it still helped our guys understand what we want out of them. Regardless, every game kids at this level play, they get better and understand the game that much more."