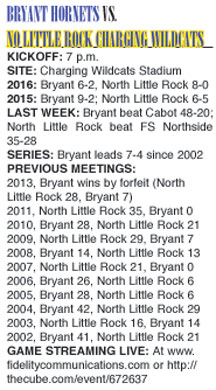 So, yes, the Bryant Hornets have come a long way. And they've put themselves in a position to play for a share of first place in the 7A-Central Conference.
The questions now become:
Just how far have they come? And how far can they go?
Tonight, when they travel to North Little Rock to challenge the undefeated Charging Wildcats, who are ranked No. 1 in the state, the answer to the first question will be more evident. And, either way, the answer to the second question will continue to be interesting.
"We're playing the best team in the state," stated Bryant head coach Buck James. "They're the number one ranked team overall in week nine and that has a lot more merit than it does in week one or two or three. This means the test of time and actual competition against competition. Usually, the pollsters and stuff have that pretty close to right by this time of year.
"It won't define us but it will show us where we're at," he acknowledged. "I know we have a lot to do and a lot of work to go but to have this opportunity is a great thing in week nine. I told our team that there's not many football teams in the state of Arkansas that have a chance to play for first place in week nine. For us to be able to do that puts us in an elite group."
The Hornets' last loss was by 29-0 to the Fort Smith Northside Grizzlies in which, despite the lopsided nature of the score, they started to show some signs that things were turning around. They've won four games since by some pretty impressive margins.
North Little Rock had its closest call at Northside last week, winning in the final seconds, 35-28. The rest of the season, the Charging Wildcats have run roughshod over every foe. A 33-point win at Conway was their closest margin of victory.
They boast a running game that is thunder and lightning, a huge offensive line and a bevy of talented backs led by Alex Day who will eclipse 1000 yards for the season tonight. He comes in with 997 on 101 carries so far. They average almost 300 yards rushing per game.
It'll be interesting to see the how they do against a Bryant defense that has been about as stingy against the run as anybody. Through eight games, the opposition has been unable to eclipse 1000 yards. No one has been able to go over 200 yards on the ground in a game against the Hornets including Cabot. Fayetteville, among the best teams in the state, managed just 57 yards.
North Little Rock quarterback Trey Cox augments the ground game with efficient passing.
And the Charging Wildcats' defense has been as good as it needs to be — athletic, fast and strong.
Offense is where the Hornets have grown so much, keyed by an improved offensive line that seems to get better every week. Sophomore Ren Hefley has emerged from a pack of four to become the starter at quarterback. He's coming off his best game to date, passing for over 300 yards and for fourth touchdowns.
And he spreads the ball around with receivers Reece Coates, Landon Smith, Seth Tucker and Luke Curtis.
The Bryant ground game has been effective, most notably when Coates plays quarterback in the "Wildcat".
The Hornets also have a weapon in kicker Hayden Ray who has converted 9 of 11 field goals this season. He's also punted effectively.
"It's a very big challenge," James said. "Those guys have tremendous athleticism. They've got great size. Those guys are trying to play themselves out of there. They're looking for football to be an avenue into life and to college.
"Coach (Jamie) Mitchell has got them tough," he added. "They've always been really talented but now they're really tough too. So it poses a big challenge for anybody that plays them.
"We're still a young, inexperienced team. We're not where we want to be by any means. We're still being the hunter and we're not the hunted but at least we're in the hunt."