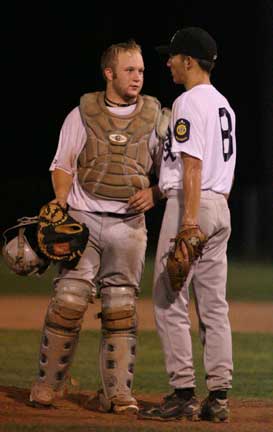 By Rob Patrick
SHERIDAN — This time, the Bryant Black Sox matched the intensity, the focus and the enthusiasm of the Sheridan Yellowjackets. They just couldn't match their bats.
In a rematch of a rematch of a rematch, the Sox met the Jackets in the final four of the Junior Legion State Tournament on Monday night, hoping to repeat something that nobody else in the post-season has done: Beat Sheridan. It would've given them a shot at playing for a bid to the finals against Texarkana on Tuesday. But Sheridan's bats continued to boom. In every State game, the Yellowjackets have played in, they've scored in double digits (five games in a row if you go back to the District finals) as they ended Bryant's season with a 10-5 decision.
The Sox had defeated Sheridan in the winners bracket finals of the District only to have the fired up Jackets come back to win two games the next night, including a 6-3 win over Bryant, to force a winner-take-all final that went Sheridan's way again 11-1.
And the Jackets haven't lost since. They will play Texarkana for the championship on Tuesday. Texarkana will have to beat Sheridan twice to gain the title.
The Sox finish the season 19-12-1, and a better team at the end than they were in the beginning. And their finish in the final four of the State tournament was the best by a Bryant 17-and-under Legion team since 1994, the last time a Bryant team won a State title in that age group. And all of these Sox were 16, playing their first year in Legion except for one.[more]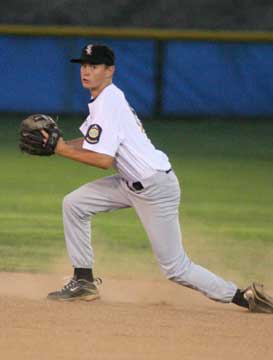 "It was a good season," acknowledged Sox manager Brad Chism. "It's got to end sometime. You hate for it to end this way but the guys fought the whole game, gave me everything they had for seven innings and you can't ask for more than that. Somebody's got to lose and we just came up on the wrong end of it today.
"We knew we were up against a wall against Sheridan," he added. "They proved it to us twice (in District). We beat them that one time with a big inning and we knew we had to have a big inning to stay in it. It never came but they stayed in it the whole time. We fought right down to the end."
Surely, Bryant did not go quietly. After trailing 6-1, the Sox rallied to within 8-5 as they finished five of the seven innings with runners in scoring position. Bryant stranded 11, however, as starter Cameron Holland, who plays high school ball at Poyen, and relievers Nick Ware, Kurt Stamper and Tyler Lathan minimized the damage most of the way, wriggling off the hook time and time again.
For Bryant, Caleb Milam and Blake Davidson, both working on short rest, made Sheridan earn everything it got. Neither walked a batter but the Jackets hacked out 13 hits including what turned out to be a big two-run homer by Zach Perkins in the fifth.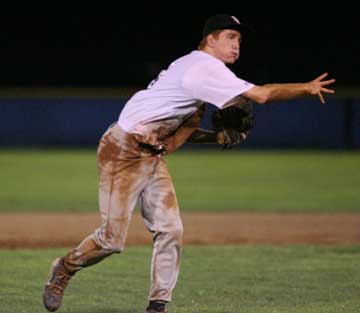 Milam retired the first four batters he faced, two on strikes. He was staked to a 1-0 lead in the first when Chris Joiner reached on an error, Lucas Castleberry walked and, with one out, Dylan Pritchett singled up the middle. A walk to Brodie Nixon loaded the bases with just one down but Holland retired the next two on a pop up and a strikeout to frustrate the Sox.
In the top of the second, Sheridan took the lead on three consecutive singles up the middle by Lathan, Stamper and Perkins and a sacrifice fly by Tanner Stoops.
And, after Holland struck out the side around a one-out walk to Davidson in the bottom of the second, Sheridan took command of the game with a four-run uprising that included four hits that never got out of the infield and an error. Landon Moore beat out an infield chop for a hit to start the inning and swiped second. Holland rolled a bunt up the third-base line that just wouldn't go foul. He stole second then Sawyer Dunigan lifted a sacrifice fly to center to make it 3-1. Cody Clemons sliced a single to right and made it to second as the throw into the plate held Holland at third. Lathan's infield hit drove in a run as did Stamper's. Another run scored when Perkins' shot to third was booted.
Milam bowed up and ended the uprising there by striking out Stoops and getting Ware to pop out.
Bryant gave itself another chance for a big inning in the bottom of the frame. Landon Pickett walked, Pritchett singled and, after Nixon's grounder moved them to second and third, Evan Jobe singled in a run. But, again, Holland worked out of the jam with a pair of groundballs, the first of which resulted in a play at the plate in which Pritchett was tagged out.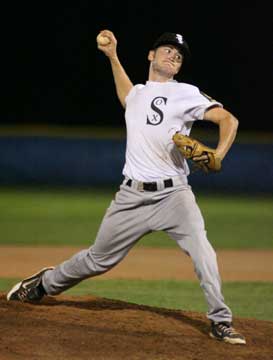 Milam finished the four innings he was eligible to pitch with a 1-2-3 frame in the fourth. But, likewise, the Sox went down in order in the bottom of the inning.
Davidson relieved in the fifth and retired the first two he faced with ease. But Stamper, who had four hits in the game, singled to left. Davidson got within a strike of fanning Perkins and getting out of the inning unscathed but his 1-2 delivery was belted over the fence in left to make it 8-2.
Holland surrendered a two-out single to Nixon and a walk to Jobe in the fifth then handed over the pitching chores to Ware who got the final out of the inning.
After Davidson worked around an error in the top of the sixth, the Sox got another rally going, this time cashing in for three runs. Milam and Davidson set the table with singles. Joiner drew a walk to load the bags for Castleberry who slapped a single to right to make it 8-3. Stamper came on to pitch for Sheridan and hit Pickett with a pitch to force in a run then another scored when Pritchett hit into a force at third. Nixon made a bid for extra bases with a shot into the gap in right-center but Lathan ran it down for Sheridan for the second out of the inning. A force at third on a roller by Jobe ended the inning with runners at first and second.
But the Sox had whittled the lead to 8-5 and confiscated some of the momentum.
Sheridan, however, took it right back in the top of the seventh. Clemons lined a single to left, Lathan plugged the gap in left-center for a double and Stamper blooped a single over the drawn-in infield to drive in both of them. An error had runners at second and third but Davidson kept the lead from getting larger by striking out Brandon Rieve and getting Ware to ground out on a nice play in the hole by Castleberry at short.
The Sox huddled and got fired up for the bottom of the seventh and threatened as Lathan came in to pitch for Sheridan. Tyler Brown battled, fouling off a trio of two-strike pitches but wound up flying out to left. Milam was hit by a pitch but Lathan fanned Davidson. Joiner singled to put runners at first and second but Castleberry's bouncer to third resulted in a tag on Milam that ended the game.
SHERIDAN 10, BRYANT 5
Junior American Legion State Tournament
Yellowjackets ab r h bi Black Sox ab r h bi
Moore, cf 5 1 1 0 Joiner, cf 4 2 1 0
Holland, p-3b 4 1 1 0 Castleberry, ss 4 0 1 1
Dunigan, ss 3 0 0 1 Pickett, 1b 2 1 0 1
Clemons, c 4 2 2 0 Nixon, 3b 3 0 1 0
Lathan, rf-p 4 3 3 1 Jobe, lf 3 0 1 1
Stamper, lf-p-rf 4 2 4 3 Brown, 2b 4 0 0 0
Perkins, 2b 4 1 2 3 Milam, p-rf 3 1 1 0
Stoops, 1b 2 0 0 1 Davidson, rf-p 3 1 1 0
Rieve, 1b 1 0 0 0
Ware, 3b-p-lf 4 0 0 0
Totals 35 10 13 9 Totals 30 5 8 5
Sheridan 024 020 2 — 10
BRYANT 101 003 0 — 5
E—Ware, Nixon 2, Brown. LOB—Sheridan 6, Bryant 11. 2B—Lathan. HR—Perkins. SF—Stoops, Dunigan.
Pitching ip r er h bb so
Sheridan
Holland (W) 4.2 2 1 4 5 5
Ware 0.1 3 3 3 1 0
Stamper 1 0 0 0 0 0
Lathan 1 0 0 1 0 1
Bryant
Milam (L) 4 6 5 8 0 4
Davidson 3 4 4 5 0 2
HBP—Pickett (by Stamper), Milam (by Lathan).