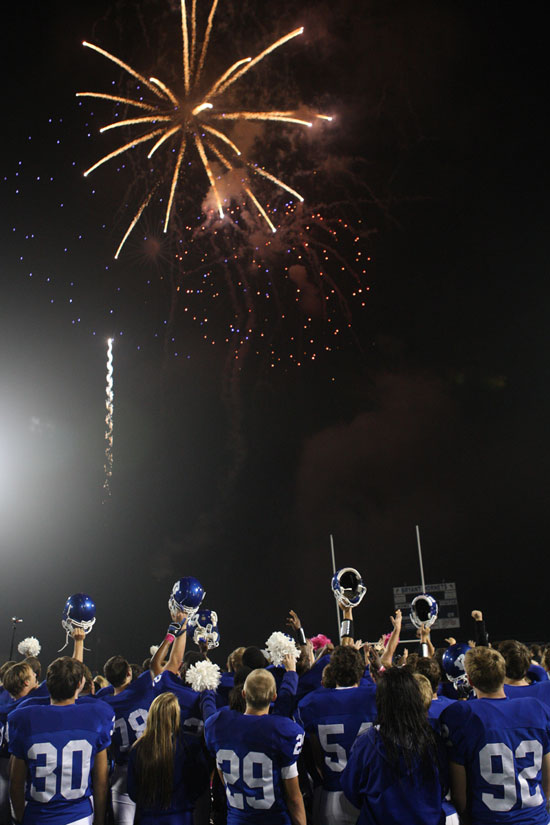 By Rob Patrick
Photos by Rick Nation
In recent years, Bryant Hornets football teams always seemed to be hitting their stride around[more] week 7 of the season. And, it just so happens, that since 2006, week 7 brought the Hornets up against their Central Conference rival Conway.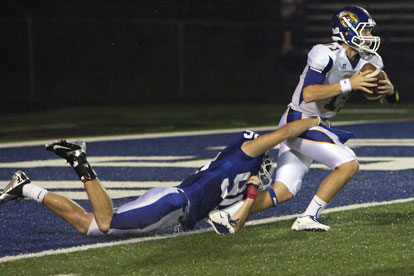 More than once, the Wampus Cats were riding high at that point. But Bryant would invariably bring them down to earth. In fact, since that game was slotted in the seventh week in 2006, the Hornets had won every time including some thrillers like the double overtime win in 2010 and, in 2011, on a last-second field goal.
This year, no longer league rivals, the Hornets and Cats opened the season and, in a game abbreviated by lightning, Conway broke its losing streak against the Hornets.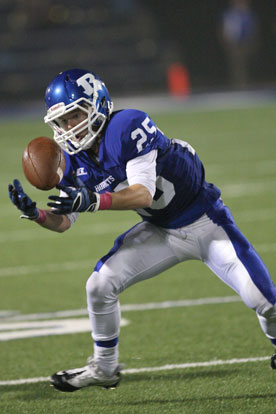 But, back to week 7 — what team happened to draw that slot on the schedule as Bryant moved back to the South Conference?
Pity the poor Sheridan Yellowjackets.
Fresh from their own homecoming win over the rival Benton Panthers, the Jackets came to Bryant for the Hornets' homecoming on Friday night, hoping to keep building momentum for a strong finish to the season.
But this was the Bryant Hornets in week 7.
Scoring on nine of their 10 possessions in the game — and getting to the Sheridan 3 on the lone scoreless series — the Hornets overwhelmed the Yellowjackets, 58-0.
Six different Bryant players scored, headed up by senior quarterback Hayden Lessenberry who threw for two touchdowns — including one to big left tackle Ian Shuttleworth — and ran for two more. Sophomore K.J. Hill ran one in and caught the other scoring pass.
Jacob Irby, Hunter Lawhon and Brenden Young each ran for a touchdown in the second half as everybody available played in the game for Bryant, which improved to 5-2 overall and 3-1 in South Conference play, right on the heels of league leaders Pine Bluff and El Dorado who play each other next Friday as Bryant heads to Texarkana.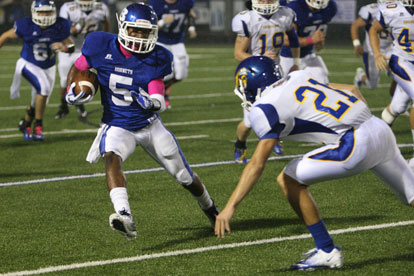 The Hornets racked up over 500 yards of offense while limiting Sheridan (2-5, 1-3) to 126.
Oh, and the 58 points? The second most ever scored by a Bryant team, the most since a 59-0 drubbing of Perryville in 1965.
The Hornets came into Friday's contest off a ragged 35-14 win over Little Rock J.A. Fair the previous week. It was a win but an ugly win.
So, they had designs on playing more consistently and productively against Sheridan, a better team than Fair. And they did just that.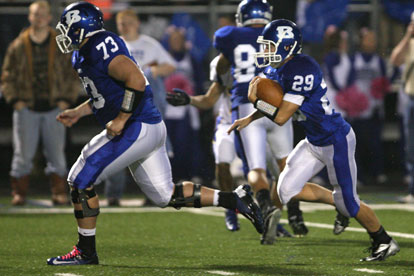 It was still a costly victory. Already banged up considerably on the offensive line, the Hornets lost center/guard Blain Jackson who broke his hand. And with leading tackler Jake Johnson out of the action nursing a sore knee, the Hornets lost their second-leading tackler, middle linebacker Tyree Reese, apparently with a foot or ankle injury.
Davis Nossaman and Bryce Denker were the top tacklers against Sheridan with seven each. Austin May, Kordell Boykins and Hunter Fugitt were in on six each. Tim Kelly, Justin Hollingshead and Cortez Williams each recorded a sack.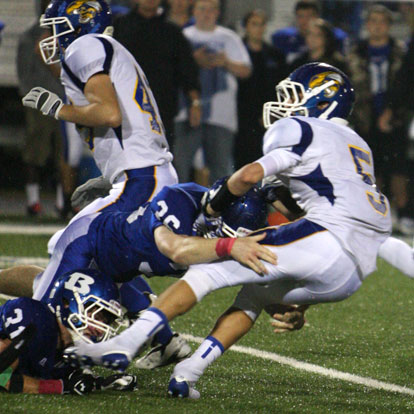 To open the game, the Hornets rushed downfield in two plays to get on the board. Hill, who had returned the kickoff out to the 40, lined up in the backfield next to Lessenberry and behind H back Wes Akers and tight end Nate Rutherford. They, in turn, were set up right behind Shuttleworth and Jackson on the left side of the line. Hill broke a 28-yard run to the Sheridan 32. On the next play, Hill took a handoff on a speed sweep and galloped the rest of the way.
Denker made a stop on Sheridan quarterback Dylan Flores short of the first down on a third-and-2. The Jackets' opening possession ended with a short punt.
Thirty-three yards away from more points, the Hornets drove to the 3 but on a first-and-goal, Reese, in Bryant's short-yardage power set, was hit for a 2-yard loss by Sheridan linebacker Dudley Adams. Reese was injured on that play and was sidelined for the rest of the contest.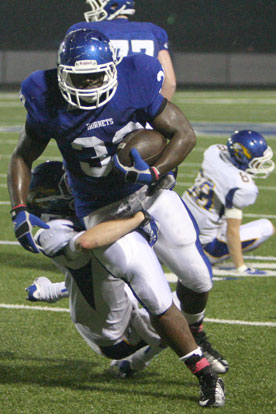 The Hornets nearly scored on a third-down play. Lessenberry's pass was caught by Brushawn Hunter on the sideline in the end zone but it was ruled he was out of bounds. On a fourth-down play, Lessenberry was pressured into an incomplete pass with Rutherford wide open on the left side near the goal line.
Sheridan took over on downs but got nowhere. In fact, the Hornets' defensive end Justin Hollingshead nearly brought down Flores for a safety. Though Flores got rid of the ball to avoid the safety, his center, John Strange, wound up catching it and the Jackets were cited for an illegal touch by an ineligible receiver.
Sheridan's Kane Fitzgerald punted but the Hornets again had great field position at the Sheridan 46.
Hill, who rushed for 125 yards on just eight carries and caught three passes for another 43 stripes, lashed for consecutive runs of 11 yards. Lessenberry hit Hunter for 7 yards but the drive stalled at the 10. Josh Lowery came in, however, and drilled a 26-yard field goal to make it 9-0.
Sheridan picked up its initial first down on the last play of the first quarter but, on the first play of the second period, Cortez Williams and Tim Kelly sacked Flores and the Jackets were unable to overcome the loss. They punted back to Bryant, which took over at its own 17. In five plays, they dashed to the Sheridan 17. Hunter contributed a 16-yard run and an 18-yard reception. Davonte Howard caught a pass and Irby flashed 15 yards.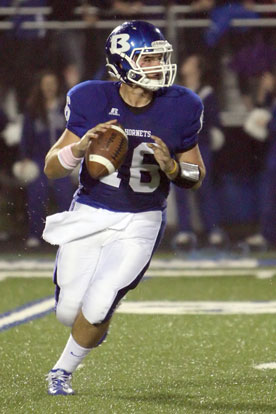 Lessenberry, on a quarterback draw on which he bobbed and weaved, scored from there but a holding penalty negated most of the gain. A play later, the Hornets came out in an off-balance line with all of the receivers split out wide right and Lessenberry operating in an empty backfield. As the play unwound, Lessenberry made a half roll to his right, toward all those receivers. But he turned and threw back to the left. Shuttleworth, who used to play tight end, worked a tackle-eligible play. On the snap, he back-peddled a few steps, reached down and caught the low pass and rumbled into the end zone. Sheridan wasn't completely out of position on the play but just didn't have the manpower to bring down the 6-2, 285-pound Shuttleworth.
Lowery kicked it to 16-0 with 8:08 left in the half.
With a pair of hard-nosed runs by Braden Lunday, the Jackets picked up a first down but didn't get much after that and Fitzgerald, who punted seven times in the game, booted the ball back to Bryant.
The line-drive kick hit the turf and took a Sheridan roll. It was downed at the 8 but, in seven plays, the Hornets drove 92 yards to increase the lead. Hill's 26-yard dash got the ball out of the shadow of the goal posts. Hunter hauled in an 18-yard pass from Lessenberry and, moments later, Howard took off on a tunnel screen and reached the 19.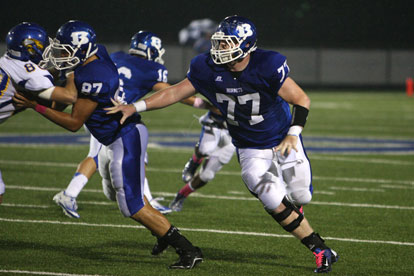 Lessenberry and Hill connected on a 10-yard pass then Lessenberry kept for the touchdown with 2:53 left in the half. Lowery made it 23-0.
Using their timeouts, the Hornets forced Sheridan to punt it back with 2:14 still to play in the half. And Bryant whipped up a three-play, 57-yard drive. Lessenberry kept for 12 yards then he hit Akers with a screen pass that broke for 24 yards. From the 21, the quarterback rambled in for the touchdown that, punctuated by Lowery's PAT, made it 30-0 with 1:28 left in the half.
Sheridan got the ball to start the second half but didn't have it for long. A third-down pass by Flores as he was being chased deep into his own end was tipped by Drew Tipton. The sophomore cornerback corralled the ball for his second interception in as many weeks and, just like the week before, he sprinted down the right sideline for an apparent touchdown.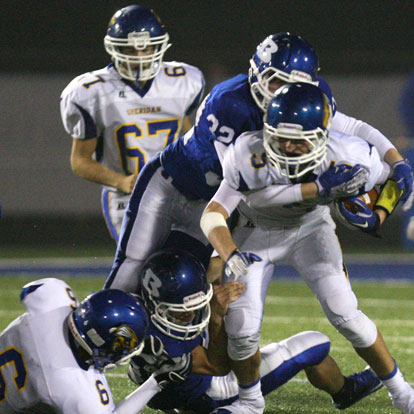 An illegal block denied Bryant the points for the moment but, on the first snap from the 21, Lessenberry lofted a pass over a defender to a wide-open Hill who sprinted into the end zone as the lead grew to 37-0.
The sportsmanship rule was invoked at that point with the clock rolling continuously except for timeouts and scores. It stopped at 2:07 left in the third quarter when Irby slashed 9 yards for a touchdown. After the Hornets' reserves forced a punt, Bryant's Aaron Bell returned 30 yards to the Sheridan 27. In three plays, all runs by Lawhon, the Hornets capitalized. Lawhon scored from the 14 with 8:59 left to play, making it 51-0.
The clock stopped with 3:44 left too. After forcing another Sheridan punt, which was returned 35 yards by Mark Nelson, three straight handoffs to Young covered the 42 yards to the end zone. He powered in from the 15. Lowery added the extra point and the final score was on the board.
With time running out, the Jackets came up with their biggest gain of the night on a pass from back-up quarterback Jordan Smith to Adam Mote that picked up 23 yards. Two plays later, however, the final seconds ticked off as the game concluded.
Fans and players were treated to the postponed Fourth of July fireworks display after the game, courtesy of the City of Bryant.

BRYANT 58, SHERIDAN 0


Score by quarters

Sheridan 0 0 0 0 — 0
BRYANT 9 21 14 14 — 58
Scoring summary
First quarter

BRYANT — Hill 32 run (kick failed), 11:34
BRYANT — Lowery 26 field goal, 1:49
Second quarter

BRYANT — Shuttleworth 16 pass from Lessenberry (Lowery kick), 8:08
BRYANT — Lessenberry 7 run (Lowery kick), 2:53
BRYANT — Lessenberry 21 run (Lowery kick), 1:28
Third quarter

BRYANT — Hill 21 pass from Lessenberry (Lowery kick), 10:16
BRYANT — Irby 9 run (Lowery kick), 2:07
Fourth quarter

BRYANT — Lawhon 14 run (Lowery kick), 8:59
BRYANT — Young 15 run (Lowery kick), 3:44
Team stats
Sheridan Bryant
First downs 7 19
Rushes-yds 27-57 32-327
Passing 9-18-1 12-15-0
Passing yds 69 176
Punts- avg. 7-39.0 0-00.0
Fumbles-lost 0-0 0-0
Penalties-yds 2-9 5-50
INDIVIDUAL STATS
Rushing: BRYANT, Hill 8-125, Lessenberry 5-52, Young 3-42, Hunter 4-41, Irby 7-35, Lawhon 3-27, Reese 2-5; SHERIDAN, Lunday 12-44, Jones 2-20, Stubbs 1-8, Loftis 5-2, Raney 1-1, Smith 1-(-4), Flores 5-(-14).
Passing (C-A-I-Y): BRYANT, Lessenberry 12-15-0-176; SHERIDAN, Flores 7-15-1-43, Smith 2-3-0-26.
Receiving: BRYANT, Howard 3-47, Hill 3-43, Hunter 2-25, Akers 1-24, Rutherford 1-20, Shuttleworth 1-16, Irby 1-1; SHERIDAN, Raney 4-23, Mote 2-27, Lunday 1-9, Wadley 1-6, Perdue 1-3.