Photos courtesy of Cynthia Austin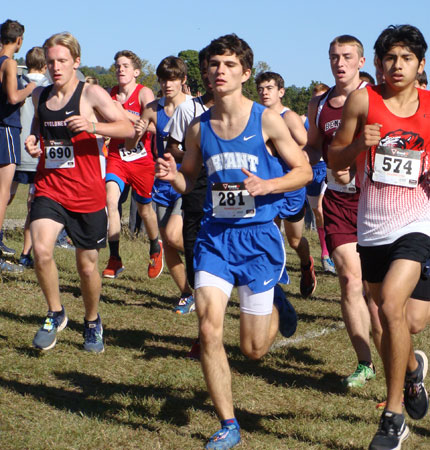 HOT SPRINGS — The Bryant Hornets competed Saturday at the Lake Hamilton Invitational without two of their top 5 runners, placing 13th out of 36 full teams at Oaklawn Park. Senior John Carder, who won last week at Conway, and senior Enrique Ramos, who has consistently been the Hornets' third runner, were both taking the ACT test and did not compete.
Chris Barrientos was the first Hornet across the line, placing 55th in a time of 17:55. Kaine Villareal-Hurst was close behind in 61st with a time of 17:59. The rest of the Hornet top seven were Eathan Devine (72nd in 18:14), Decatur Austin (107nd in 18:51), Blake Shields (112 in 18:55), Colby Harvey (120 in 19:02), and Chris Morgan (131 in 19:20).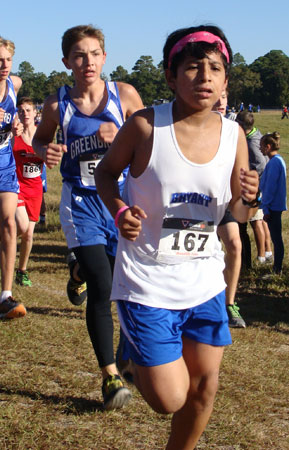 "We've had a hard couple of weeks of training, so I thought we weren't real sharp today overall," said Hornets coach Steve Oury. "While the guys gave great effort, I could tell we had some dead legs out there.
"Obviously, we missed John Carder and Enrique Ramos, but I know all the boys will be good to go at the conference meet on November 1st," he added.
The 7A-Central meet will be held at Cabot's Rolling Hills Country Club.
In the junior varsity boys division, Bryant placed third out of 14 teams. Erik Gonzalez led the way with a 17th place finish in a time of 19:10. Demondre Johnson was next with an 18th place finish in 19:17. The rest of the Hornet top five were Jake Dreher (25th in 19:44), Matthew O'Gary (33rd in 20:00), and Alberto Rodarte (39th in 20:14).
Junior Hornets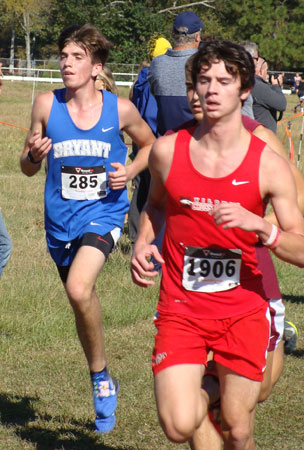 The Junior Hornets placed third out of 21 teams. A total of 351 runners completed the 2.08 mile race.
Bresner Austin was the first Bryant finisher in a time of 11:52. The rest of the Junior Hornet top seven were Hagan Austin (26th in 12:17), Chris Herrera (29th in 12:20), Brandon Mann (44th in 12:44), Dylan White (46th in 12:47), Luis Martinez (50th in 12:52), and Christian Brack (60th in 12:58).
"We got off to a slow start but Bresner and Hagan Austin, along with Chris Herrera, did a great job in the second half of the race," Oury said. "We barely finished third ahead of Lake Hamilton and Vilonia and, at the halfway point, we were probably in fifth or sixth place. They really rallied us."
The Junior Hornets will compete in the Walmart Junior High Championship meet on Saturday, Oct. 29, in Cabot.