Sox make quick work of Mountain Home in Senior Legion State tourney debut
EDITOR'S NOTE: Because the look back at each day in Bryant athletic history has been so favorably received during the time when there was no sports during the COVID-19 shutdown, BryantDaily.com will continueposting past stories of Bryant athletics either posted on BryantDaily.com (from 2009 to the present) or published in the Bryant Times (from 1998 to 2008).
Photos courtesy of Paul Dotson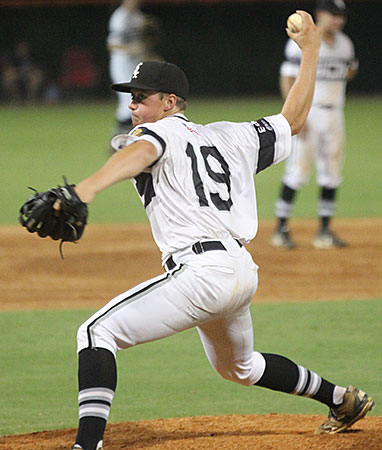 CONWAY — Before you could say, "Welcome to the 2017 Senior American Legion State Tournament", the Bryant Black Sox had runs on the board. And before the Mountain Home Lockeroom team could get an out, there were five of them. In fact, by the time the first inning was over, Bryant held a 9-0 lead and was well on its way to a 17-0 run-rule romp in seven innings at Warrior Field on the campus of Hendrix College.
Right-hander Aaron Orender only needed 67 pitches to throw six shutout innings, allowing three hits. Logan Allen fanned two in a 1-2-3 seventh to close it out. Orender walked one and struck out five.
The win improves the Sox to 29-5 on the season going into a winners' bracket game against the Russellville Patriots on Saturday at 4 p.m., at the University of Central Arkansas. Russellville won its first-round game 11-3 over Jacksonville Gwatney Chevrolet.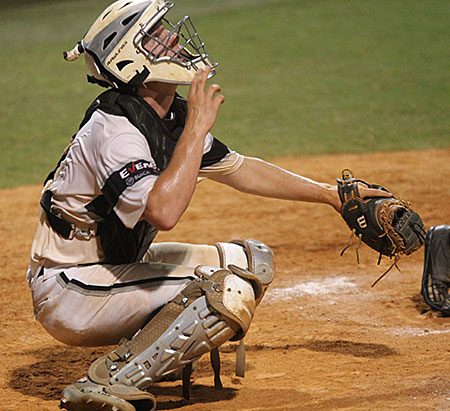 Orender whipped through the first inning on eight pitches then the onslaught began in the bottom of the inning. Logan Allen and Jake East each doubled to make it 1-0. Seth Tucker singled in East then scored on Dylan Hurt's triple. Alex Shurtleff doubled him in before Matthew Sandidge drew a walk. The fourth ball in that walk got past the catcher allowing Shurtleff to go to third.
Sandidge stole second and drew an errant throw allowing Shurtleff to score, making it 5-0.
With one out, Myers Buck singled in Sandidge. With two down, Mountain Home changed pitchers. The new hurler hit Allen then gave up an RBI double to East (his second two-bagger of the inning) and Tucker singled in two as the lead reached 9-0.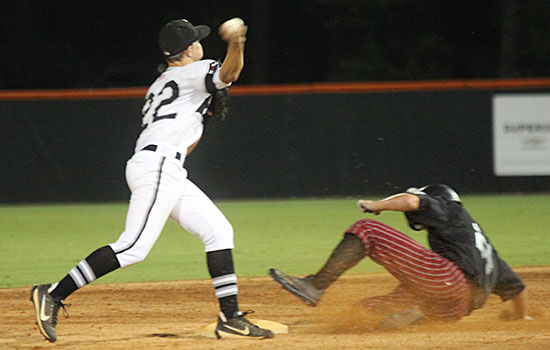 Resigned to the fact that they were overmatched, the Mountain Home coaches wound up using seven pitchers but none of them beyond the 30-pitch limit that requires a day of rest. All of them will be available to Lockeroom on Saturday against Jacksonville.
Mountain Home managed a pair of hits in the second to go with Orender's lone walk. A lead-off single was erased by a sparkling doubleplay, started by East at deep short. The third inning was scoreless despite Bryant's lone error on a tough throw off a back-handed play by Schmidt, ranging from second up the middle.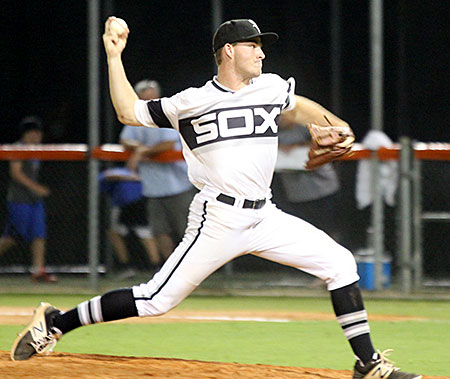 The Sox added five runs in the third. Buck walked and Coby Greiner singled. Allen's knock plated the 10th run then East walked. With the count at 2-2 on Tucker, Mountain Home made its fourth pitching change, in part to keep hurler number three from going over the pitch count that would require a days rest.
A walk was eventually issued to Tucker, forcing in a run. Hurt ripped a single to right and two more crossed the plate. With two away, Sandidge singled in Tucker to make it 14-0.
A two-out single by Mountain Home in the fourth proved to be its last base-runner. Orender retired the last seven batters he faced.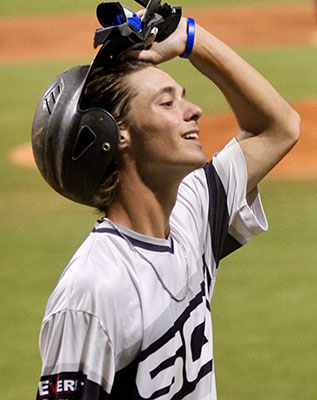 Triples by Jake Wright and Allen produced a run in the bottom of the fourth. Hurt picked up his fourth RBI of the game with his third hit, a single to push the lead to 16-0.
The final run scored in the bottom of the sixth when Sandidge walked, took second on a wild pitch and went to third on Schmidt's grounder to the right side. It looked like Wright might have a sacrifice fly but the ball was dropped by the right fielder and Sandidge scored.
Of Bryant's 15 hits, Allen had three, a single, a double and a triple. Along with Hurt's three hits, East and Tucker had two apiece.
2017 Senior American Legion State Tournament
At UCA/Hendrix College (HC), Conway
Friday, July 21
Game 1 — Paragould 9, Benton 7 (10 innings) (HC)
Game 2 — Cabot 10, Arkadelphia 5 (UCA)
Game 3 — Bryant 17, Mountain Home 0 (HC)
Game 4 — Russellville 11, Jacksonville 3 (HC)
Game 5 — Texarkana def. Searcy (UCA)
Game 6 — Little Rock 10, Batesville 0 (HC)
Game 7 — Fort Smith 14, El Dorado 1 (UCA)
Game 8 — Conway 7, Sheridan 6 (UCA)
Saturday, July 22
Game 9 — Benton vs. Arkadelphia, 10 a.m. (UCA)
Game 10 — Mountain Home vs. Jacksonville, 1 p.m. (HC)
Game 11 — Searcy vs. Batesville, 1 p.m. (UCA)
Game 12 — El Dorado vs. Sheridan, 10 a.m. (HC)
Game 13 — Paragould vs. Cabot, 7 p.m. (UCA)
Game 14 — Bryant vs. Russellville, 4 p.m. (UCA)
Game 15 — Texarkana vs. Little Rock, 4 p.m. (HC)
Game 16 — Fort Smith vs. Conway, 7 p.m. (HC)
Sunday, July 23
Game 17 — Game 9 winner vs. game 16 loser, 10 a.m. (HC)
Game 18 — Game 10 winner vs. game 15 loser, 10 a.m. (UCA)
Game 19 — Game 11 winner vs. game 14 loser, 1 p.m. (UCA)
Game 20 — Game 12 winner vs. game 13 loser, 1 p.m. (HC)
Game 21 — Game 13 winner vs. game 14 winner, 4 p.m. (HC)
Game 22 — Game 15 winner vs. game 16 winner, 4 p.m. (UCA)
Monday, July 24
Game 23 — Game 17 winner vs. game 18 winner, TBA (HC)
Game 24 — Game 19 winner vs. game 20 winner, TBA (HC)
Thursday, July 27
Game 25 — Game 23 winner vs. game 21 loser, 5 p.m. (HC)
Game 26 — Game 24 winner vs. game 22 loser, 7:30 p.m. (HC)
Friday, July 28
Game 27 — Game 21 winner vs. game 22 winner, 12 p.m. (HC)
Game 28 — Game 25 winner vs. Game 26 winner, 2:30 p.m. (HC)
Game 29 — Game 28 winner vs. game 27 loser, 5:30 p.m. (HC)
Saturday, July 25
Game 30 — Game 27 winner vs. game 29 winner, 12 p.m. (HC)
Game 31 — if necessary