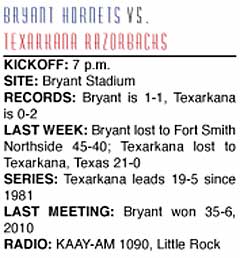 By Rob Patrick
The Bryant Hornets will make their home debut tonight when they take on long-time rival Texarkana at Bryant Stadium at 7 p.m.
The Hornets are 1-1 and coming off a wild 45-40 loss at Fort Smith Northside while Texarkana, a 2010 Class 6A State finalist, comes in 0-2 after losses to Little Rock Central and to their cross-town rival Texarkana, Texas.
Despite their post-season run last year, the Razorbacks have a new coach, Todd Ledford, who came over from the Texas side.
"Right now, we're a work in progress," Ledford said. "We've got a lot of things that we're not very good at right now but we've[more] got a few things that we are good at. We've just got to keep trying to get better at every facet of the game. I can't tell you just one thing that we're really good at. We've just got to keep playing."
The Hogs have had to replace a star at quarterback. Kierre Harris started for three seasons and is now playing for Missouri State. The Hornets saw one of his replacements, Elgie Richards two years ago when Harris was injured. Richards has been sharing the job with Chase Sealy whom, Ledford said, has never played the position before this season.
"He runs out there (last week against Texas High) in front of 10,000 people taking snaps," the coach noted. "Elgie's got some experience, mostly in JV games. So we're using both kids at different times right now."
Everybody's learning Ledford's system.
"We're a totally different offense and defense," he acknowledged. "Everything's changed. I've got a new defensive coordinator. And that's part of the learning curve. Any coach that comes in and you're starting to learn a system — but we've been at it since last spring. But it takes a while to learn everything about it. We've kind of back off on things just to see if we can get some certain concepts in. It's just going to take time. This is the third head coaching job I've had and I just know how it is. That first year or so, it's tough to get everything in that you want to get in."
Actually, the defensive coordinator for Arkansas High isn't unfamiliar to the Hornets. He's actually making a return to the Razorback program, Denny Burdine.
"They base out of a 4-2-5 but they played a lot of three-man front against Texas High last week," noted Bryant head coach Paul Calley. "We really don't know what we're going to get. They showed some cover-three, showed some man-free, showed some two-man, a lot of different looks. It's going to come down to whether we can execute offensively against multiple looks without knowing exactly what those multiple looks are going to be."
Bryant defensive coordinator Steve Griffith expects that, despite changes, the Hogs will still be a run-first offense.
"Texarkana's going to represent a different type of football team," he said. "They run a lot of one-back but they're wanting to run the football more that Northside did. They'll be in a lot more tight end sets. With more tight end sets, we'll probably see a lot more of our four front."
The Bryant coaches are hoping to see this version of the Hornets respond to the adversity that they experienced last week the way past Bryant teams have. They usually get stronger for it and play very well the next week.
Being at home will help. Last week, the trip to Northside was interrupted by some non-mechanical bus problems on the charter. The team stopped at Russellville for dinner and had to wait an hour and a half. As many as could piled onto a bus borrowed from the Russellville school district and the rest followed in a Bryant bus that was brought up. Though they were on time for kickoff, their usual pre-game routine was decimated as they rushed to get ready for the game.
Ledford said, for his team, the key will be taking care of the football.
"Last week, we had seven turnovers in a ballgame we feel like, if we don't turn the ball over — we're in the red zone four different times and turn it over and we ended up getting beat 21-0," he related. "But that's what any team would say, it's going to come down to turnovers. You can't turn the football over and expect to win."
Regarding the Hornets, Ledford said, "I know the reputation Bryant has. They've done an outstanding job there. Coach Calley, since he's taken that job, it's been unbelievable. I do know that.
"Now, outside looking in — I still kept up with the state of Arkansas even though I left for a few years — what he's done there and what those young men and coaches have done — Bryant's got to be very excited and very happy with that part of it.
"Watching on tape," he continued, "I see a bunch of very good football players. They're very well coached, playing extremely hard. What else can you ask for out of your football team?"
It won't be the same Hornets team either that Texarkana faced last season when Bryant won 35-6. It'll be more like the team that Hogs' fans remember from when the two teams were rivals in the old 5A-South Conference. The Hornets have returned to the spread and, last week, piled up over 500 yards of offense against Northside.
Meanwhile, the inexperienced Hornets defense hopes to make major strides this week after Northside accumulated over 600 yards of offense last week.