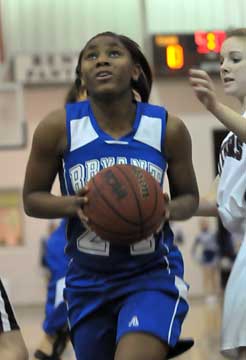 By Rob Patrick
Photos by Kevin Nagle
BENTON — The Bryant Lady Hornets freshman team has played a number of games in which they faltered early but rallied in the second half to win. Case in point was their meeting against the Benton Lady Panthers at home on Nov. 22. They trailed most of the game before putting together a fourth-quarter surge to extract a 30-28 win.
On Thursday night at Panther Arena, however, the deficit reached 16 points less than two minutes into the second half. Incredibly enough (especially considering that freshman games have just six-minute quarters), the Lady Hornets put together a rally that eventually whittled that margin down to 2 with 1:05 left to play. But they were unable to get over the hump despite four chances to tie the game or take the lead and the Lady Panthers held on for 34-30 win in the 7A/6A-Central Junior High Conference opener for both teams.
The Lady Hornets, now[more]9-8 overall, include Aubree Allen, Jessica Alliston, Andrea Buford, Ashlee Caton, Caylin Choate, Dezarea Duckworth, Kaitlyn Greer, Keedy Harrison, Taylor Matthews, Dee-Dee Mosby, Melinda Murdock, Amber Newman, Destiny Nichols, Brittany Privett, Erica Smith, Rori Whittaker and Alex Wright.
"You spend so much energy and there's only so much time," noted Lady Hornets coach Nathan Castaldi. "I think if we play another two or three minutes we probably win that game. We just couldn't quite finish it off in the time we had.
"The first half, we just didn't play very smart," he added. "I thought that was our biggest thing. We didn't make a lot of shots, which, if you make those it helps. But we didn't play very smart and that gave them a lot of their points, our mental mistakes. Hopefully, we correct all those and come back out Saturday morning and play well."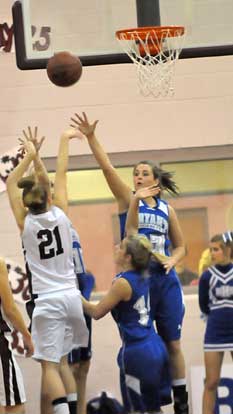 Bryant hosts league-rival Cabot North on Saturday morning at 9 in a make-up game for the contest that was snowed out last Monday.
Benton got a big lift from Carmen King who didn't play in the previous meeting between the two rivals. She wound up leading the Lady Panthers with 11 points including 8 of 8 from the free-throw line. Her free throws with :03.6 showing put the game out of Bryant's reach.
Gavin Taylor added 8 and Braylee Landreth 7. Allison Reynolds, who scored 12 of her team's 28 points in the previous meeting, was held to 6 this time.
For Bryant, Whittaker finished with 12 and Duckworth 11. The Lady Hornets forced 21 turnovers while committing just 11, which fueled their comeback. Benton got the better of it on the boards, 20-15.
A basket by Landreth off a steal by Braxton Chumley completed an 11-1 run for Benton that turned a 15-9 lead into the 26-10 advantage with 4:23 left in the third quarter.
Bryant's 20-6 run that made up most of that deficit began with a 15-foot jumper by Nichols followed by a burst from Duckworth who also knocked down a 15-footer. Chumley drove for a basket for Benton but Duckworth nailed a 3 then, off a steal by Choate, hit a layup that had Bryant within 28-19. And when Choate hit a 3 at the buzzer, the Lady Hornets were within 28-22.
Reynolds scored first in the fourth quarter but it provided only a brief interruption as Whittaker heated up. She knocked down a baseline jumper and, after a Benton timeout and a turnover, canned a 12-footer to whittle the lead to 30-26.
At the other end, Benton worked the ball inside and with Castaldi and the Benton fans pleading for a three-second lane violation amid the din, Gavin Taylor knocked down a shot from the elbow.
Whittaker answered, however, and, trailing 32-28, the Lady Hornets took a timeout with 2:01 remaining.
When play resumed, Whittaker made a steal but she couldn't get her shot to go down and, with 1:16 to go, Reynolds was fouled. She connected on the front end of the one-and-one but the point was waved off due to a lane violation. So, when Duckworth buried a jumper from the baseline with 1:05 left, the Lady Hornets were within 2.
Bryant took a timeout with 1:03 left. Under withering defensive pressure, the Lady Panthers worked the clock down to :44.4 before taking a timeout to save possession. Once they got back on the court, however, the Lady Hornets forced a turnover. They got the ball inside to Allen who tried to pump fake and shoot over Reynolds. Ironically, a three-second lane violation was called and the Lady Hornets were forced to give up possession.
Chumley was fouled with :25.3 to go and missed the front end, giving Bryant another opportunity to tie. Benton put on a press and, with Castaldi's drowned out calls for a timeout unheeded, the Lady Hornets turned the ball over.
Benton called timeout with :15.5 showing but on the subsequent inbounds pass, lost possession due to an illegal screen.
Bryant took a timeout to set up a play to try to get the game tied and they were able to get the ball inside. Under duress, Allen then Greer got shots that refused to fall. Castaldi lobbied for a foul call but got none and King was fouled on the rebound leading to her clinching trip to the line.
The Bryant coach acknowledged that his team didn't get many breaks late but added, "We can't leave it up to that. If we finish; if we take care of our business; if we don't get down 16, we don't put it in other people's hands at the end of the game, we're controlling our own destiny."
Early on, Bryant held a 5-3 lead on a pair of baskets by Whittaker and a free throw by Allen. Benton answered with a 7-0 run that included a pair of layups by Reynolds and a 3 by Taylor. But a three-point play by Duckworth in the final seconds of the first quarter had Bryant within 10-7.
But a layup by Whittaker and a free throw by Greer were Bryant's only points of the second quarter and Benton built a 20-10 lead by halftime. Three-pointers by King and Taylor helped produce that advantage.
King then hit four free throws to start the second half before Landreth's bucket produced the 26-10 bulge.
LADY PANTHERS 34, LADY HORNETS 30
Score by quarters
BRYANT 7 3 12 8 — 30
Benton 10 10 8 6 — 34
LADY HORNETS 30
Nichols 1-1 0-0 2, Duckworth 5-10 0-1 11, Smith 0-0 0-0 0, Whittaker 6-10 0-0 12, Allen 0-6 1-4 1, Choate 1-2 0-0 3, Newman 0-3 0-0 0, Alliston 0-1 0-0 0, Greer 0-2 1-2 1. Totals 13-35 2-7 30.
LADY PANTHERS 34
Chumley 1-2 0-1 2, Taylor 3-4 0-1 8, Mayo 0-0 0-0 0, Landreth 3-6 1-1 7, Reynolds 3-5 0-0 6, King 1-4 8-8 11, Dintleman 0-0 0-0 0, McCurry 0-0 0-0 0. Totals 11-21 9-11 34.
Three-point field goals: Bryant 2-5 (Duckworth 1-3, Choate 1-2), Benton 3-4 (Taylor 2-3, King 1-1). Rebounds: Bryant 15 (Allen 5, Duckworth 3), Benton 20 (Reynolds 6, King 4). Turnovers: Bryant 11, Benton 21. Team fouls: Bryant 16, Benton 9. Fouled out: Bryant, Choate.