Though it takes a little longer, Hornets crush Cabot by mercy-rule margin
EDITOR'S NOTE: Because the look back at each day in Bryant athletic history has been so favorably received during the time when there was no sports during the COVID-19 shutdown, BryantDaily.com will continueposting past stories of Bryant athletics either posted on BryantDaily.com (from 2009 to the present) or published in the Bryant Times (from 1998 to 2008).For more photos of this event by Rick Nation, go here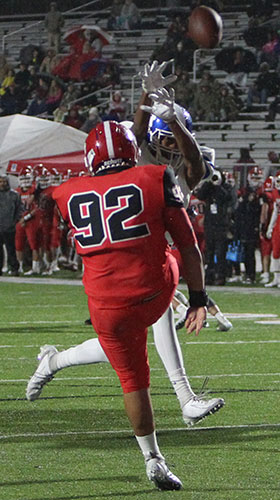 CABOT — A little adversity struck the top-ranked Bryant Hornets on Friday night, something they haven't had to deal with much this season.
But they worked through it and turned a 27-10 halftime lead into a 55-10 route over the Cabot Panthers. Those 10 first-half points is the most the Hornets have given up in a half this season. It's the eighth time in as many games that Bryant has mercy-ruled an opponent and the fourth consecutive contest that the Hornets have scored 55 or more.
It just took a little longer to get there this time.
The Hornets held Cabot to 147 yards of total offense in the game, just 47 on the ground. Meanwhile, Bryant's Ahmad Adams rushed for a season-high 161 yards and a touchdown on 16 carries while back-up Tanner Anderson piled up 107 yards and two touchdowns on 13 totes.
Quarterback Austin Ledbetter threw for four touchdowns, giving him 25 on the season, just four off the school record for most in a season, with two games to go in the regular season and whatever the post-season brings.
Bryant sputtered a little bit on offense early. The Hornets uncharacteristically didn't get into the end zone on their first possession. And the 27 points they scored in the first half was a season low.
Linebacker Catrell Wallace blocked two punts, the second time, the ball ricocheted into and through the end zone for a safety, which actually started the scoring in the game.
The adversity was partially of their own making as they committed eight penalties for 98 yards of mark-offs in just the first half. Major penalties contributed to Cabot's scoring drives.
The rest of the adversity was thrust upon them.
"The first half, we had no communications with the press box," explained head coach Buck James. "None of our headphones worked. They made us move (positions in the press box) right before the game started. Our headphones never rebooted. We were sort of blind and stumbling a little bit the first half."
Offensive coordinator Kirk Bock and defensive coordinator Quad Sanders were scrambling in the press box, finally set up on one of the landings between the sectioned booths, using their cell phones to call to the sideline.
"We got the Superintendent's and the Principal's walkie-talkies in the second half and were able to have some communication," James said.
"But we were sloppy," the coach asserted. "I thought we had way too many penalties. We might have had more penalties tonight than we've had all year. We've got to clean that up.
"Communication was some of it, but I think penalties had something to do with it too," he reiterated. "I mean, they had three different times on the last drive (of the first half) to be able to make that thing go then they stopped the clock with one second to go. They ran three plays with one second."
Bryant built a 27-0 lead. After Wallace's block of a punt by Jose Hernandez, the Hornets received a free kick. Gage Stark's return of the squib kick had the Hornets in Cabot territory, but a holding penalty moved them back to their own 42.
On first down there, Adams broke a 30-yard run. He got 7 more on second down and the Hornets' offense, too, benefited from a slew of Cabot penalties. The Panthers were cited for a personal foul, which moved the ball to the 9.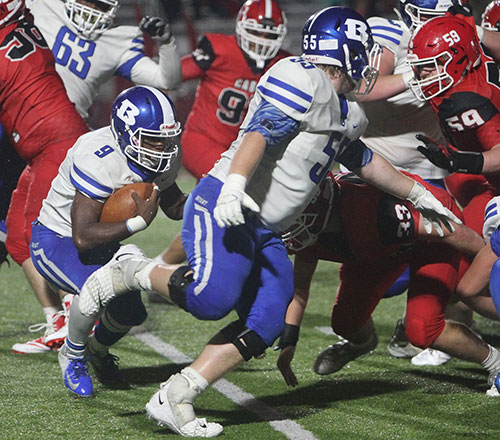 The first of Ledbetter's touchdown passes was for 3 yards to Tre'vun Herron. Since that made it 8-0, the Hornets went for two and Ledbetter threw to a wide-open Hayden Schrader for the conversion.
A holding penalty pushed the Panthers back on the next series. Bryant, in turn, had to overcome an illegal block that had them at their own 15. Ledbetter scrambled for 18 yards and, after converting a third-and-8 with a 9-yard pass to Jake Meaders, Adams set sail on a bone-rattling, tackle-snapping touchdown gallop of 58 yards. Brock Funk kicked the extra point and it was 17-0.
Cabot responded by picking up a pair of first downs, the first on a 16-yard pass from Tyler Gee to Logan Bell. The second came via Bryant's defensive holding penalty. From the Bryant 43, however, the drive stalled. Wallace stopped a quarterback draw then Rodricho Martin hammered down running back Graham Turner for a loss. A pair of incomplete passes followed, and the Hornets took over on downs at their own 37.
On first down there, Ledbetter fired down the seam to Joseph Young on a post route. Young made the catch in a crowd but broke tackles and turned the 20-yard pass into a 63-yard touchdown play.
Cabot went three-and-out deep in its own end. When Rhett Thurman stepped back to punt, however, a high snap got away and he had to fall on the ball at the 9.
The Panthers' defense made a stand, but Funk came on and, on just his second field goal attempt of the season, knocked home a 29-yarder to make it 27-0.
Aided by a personal foul penalty, Cabot gained some life on offense. A 17-yard pass from Gee to Kyler Carmack converted a third-and-13. A play later, Turner broke a 16-yard run up the middle, setting up Gee's 21-yard pass to H back Logan Bell for a touchdown.
The teams traded punts after that before the Hornets faced a fourth-and-10 at the Cabot 31 and Ledbetter's pass fell incomplete. Cabot took over with 1:40 left in the half. The Panthers took advantage of some breaks. First it was a 15-yard pass interference penalty then it was an option pitch that was fumbled by Turner. Bryant recovered but the ball was ruled a forward pass and incomplete.
Cabot retained possession and, moments later, benefitted from a roughing the passer penalty. The Panthers reached the Bryant 20 when, with :14 left, Wallace came on a blitz untouched. He sacked Gee with a big hit that left the quarterback on the turf for a while. Though he was out the rest of the half, he returned in the second half.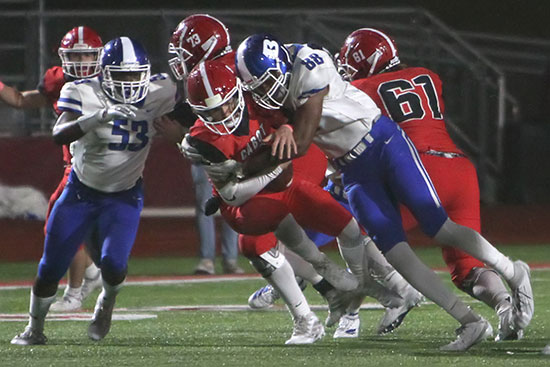 Bryant corner Darrick Rose Jr. knocked away a pass in the end zone from Carmack to De'Kairo Rudolph to set up a fourth-and-15 at the 24 with :01 on the clock. Carmack threw incomplete but, again, the Hornets were cited for roughing the passer as time ran out and, on the defensive penalty at the end of a period, Cabot was awarded an extra untimed play. Whitlock came on and kicked a 29-yard field goal to make it 27-10 at the intermission.
"We just talked about, not everybody's going to lay down," James said of the halftime session.
And the Hornets scored on its first four possessions of the second half, while Cabot managed just two first downs, one of those by penalty.
"Our class and our work ethic in the weight room and everything that we do has got to be a factor," James said. "And when we're getting into the second half, we're really getting into the territory that we feel like we should be able to prevail. There's no reason to panic. I said that we just need to go out there and play clean football. Everybody block, everybody tackle and everybody do their job and it'll take care of itself. Our defense pitched a shutout and we went out there and put some points on the board.
"You've got to understand, if you're on the road and everybody's playing well, you might get into a dogfight and you've got to be mature enough to understand that you've got to play through those runs," he continued. "You've got to be able to be disciplined enough to give yourself a chance to survive those runs then prevail as a better football team as the game goes.
"I'm proud of the way our football team came back out in the second half," the coach stated.
The opening possession went 67 yards in eight plays, starting with runs of 14 and 27 yards by Anderson. A clutch 21-yard pass from Ledbetter to Young got the ball to the 4. Anderson ultimately finished the march with 1-yard TD plunge. Funk booted it to 34-10.
Cabot went three-and-out and the Hornets were punted back to their 18. Overcoming a pair of penalties along the way, they drove 82 yards in 10 plays. Adams contributed a 21-yard burst and a 17-yard run. Ledbetter's 18-yard pass to Schrader reached the 13 but a holding penalty set them back to the 24.
But, on a first-and-21 from there, Ledbetter connected with Meaders for another touchdown to make it 41-10.
In fact, Bryant's first-teamers actually got to stay in the game until early in the fourth quarter, the longest they've stayed on the field in a game this season.
Anderson broke a 38-yard run on the first play of the fourth quarter, setting up his 5-yard touchdown carry. And with Funk's kick, the mercy rule went into effect with 11:37 left in the game.
Austin Bailey and Hart Penfield made strong stops on Cabot's subsequent try. A short punt gave the Hornets just 43 yards to go for another score. Junior River Gregory hauled in a 24-yard strike from Ledbetter that, with Funk's PAT, set the final score.
Cabot's final possession benefitted from a face-mask penalty but, a play later, junior defensive tackle Andy Scott dropped running back Donte Baker for a loss, jarring the ball loose and recovering it with 2:03 left to play.
"I imagine it's never been done at Bryant," James said of the eighth consecutive mercy-rule win. "In the big scheme of things, it doesn't matter if we won all eight by one point. It's exciting for the fans and everybody else but for our football team, it's a new game every week. And it doesn't matter if you win eight or 10 by mercy rule, if you lose one, and it doesn't win you a conference championship or you don't win a State championship. Nobody will care how many times you've mercy-ruled a team.
"We put very little stock into that," he asserted. "We put more stock into trying to do what we do the best that we can do it."
The Hornets remained undefeated in 7A-Central Conference play, but Little Rock Catholic, North Little Rock and Conway are each tied for second with one defeat. Bryant hosts North Little Rock in a rematch of 2018's State title game then travels to Conway on the final Friday of the regular-season.