File photo by Kevin Nagle
Editor's note: Tonight's game will be streamed live at https://youtu.be/Wv-P98d-3Sc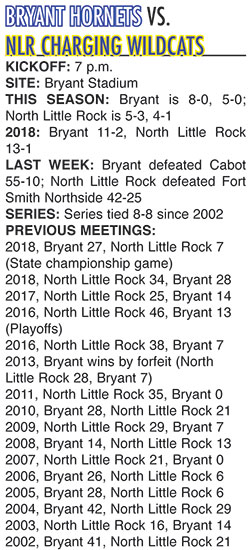 When your team is ranked number one in the state and 14th in the country, and you're defending a State championship, you can take for granted that, as coaches say, every opponent is going to give you their best shot.
Of course, that's relative to the capabilities of the team you're facing. So far, the Bryant Hornets have taken the best shot from eight teams this year and mercy-ruled every one of them including the Cabot Panthers, 55-10, last week. They mercy-ruled the top team in Class 6A, the Benton Panthers. They mercy-ruled a team tied for the league lead in the 7A-West, Bentonville West, 38-0. And they mercy-ruled one of the three teams that are on the Hornets' heels in the 7A-Central Conference, Little Rock Catholic, 56-7.
The other two teams that are just a game behind the Hornets in the standings are their next two opponents, North Little Rock and Conway. While Conway is visiting Catholic at War Memorial Stadium tonight, Bryant is hosting North Little Rock for Senior Night.
It's a rematch of last December's State championship game in which the Hornets prevailed 27-7, snapping a four-game losing streak against North Little Rock. The Charging Wildcats are actually the three-time defending 7A-Central Conference champions. The last season in which North Little Rock did not win a league title was 2015. They had a 24-game conference winning streak snapped two weeks ago when Little Rock Catholic surprised them 41-21.
So, getting the best shot from a North Little Rock team is a little different than most.
Injuries — on and off the field — suspensions and other adversities have hampered the Charging Wildcats this season. But two of their three losses were from powerhouse teams from Tennessee and Louisiana. And they appear to be getting back to 100 percent now that it's time to play Bryant, the team that denied them a second consecutive State crown.
"It gets into a situation where they haven't been at complete full strength," acknowledged Hornets head coach Buck James. "They've had a lot of off-the-field situations that take away from their team. But this is the kind of game where adversity and all that stuff they've gone through, it could be a situation where they all pull together. It's the beauty of life, the beauty of football. Adversity makes us stronger. So, I anticipate those guys being a different team than what they've been all year long. This is the perfect situation for them to come out of that and play at a high level.
"We've got to answer that," he asserted. "We've got to be prepared to play at a very high level and do some things that give us a chance to try to control the ballgame and flex our muscles instead of them flexing theirs."
It's like the Charging Wildcats have been the "bully" of the Central Conference the last three years and Bryant is trying to take over that mantel this year to follow up their State title victory. They're in the process with all those mercy-rule wins but tonight they're facing the incumbent, the defending king of the conference hill.
Much has been made of the fact that the Hornets are favored in the game by 35 points. That's reasonable in light of those earlier mercy-rule games, particularly since Catholic beat North Little Rock by 20. Still, there's no doubt that's made it to the Charging Wildcats' bulletin board.
"People who put spreads on high school football games just don't have anything else to do," James commented. "These kids play for the love of the game and they want to do well. When you're talking about a program like North Little Rock's, you're not talking about some run-of-the-mill program. This is a championship-caliber team. They've beaten Bryant five out of the last six times.
"This is not like we've got here, and we've made it," he continued. "We've got to go and play and establish our dominance and play at a high level. We're playing a team that expects to win and expects to win every conference game they play in. They've stumbled once this year but, as a general rule, this is a football team that expects to win a conference championship. It's a coaching staff that expects to win a conference championship. It's hard to beat a champion.
"We're dealing with 16- to 18-year-old kids," the coach reminded. "They read all this stuff. They feel good about who they are, and they want to beat on their chests and do all those things. It's our job as a coaching staff to reel them in and show them, listen, this is what we've got to do. We're doing that all week in practice, saying, hey, if we play like we did on this play or this play, or this play in practice then they're fixing to gut us.
"We've got to be sharp, quick and to the point on everything in our execution offensively and defensively. We're not good enough to go out there and play at a sub-par level and expect to beat teams of a high caliber. That's what our kids have got to understand."
Both teams have secured State playoff bids, but seeding is still entirely up in the air, including the first-round byes that go to the top two seeds.
"We're in the same boat that we've been in the last three years," James noted. "We were in this boat two years ago, 8-0, coming into this game and we got beat. Last year, we came into this game and got beat.
"We could end up being a third or fourth seed if we don't take care of our business," he stressed. "And we're sitting here thinking we're high on the hog. We've got to play good football this week and we can't look towards next week. Then the next week we've got to play good football and we can't look to the next week there. We're short-changing ourselves if we start looking ahead, especially this time of year."
It's something all high school players should keep in mind at this time of year. It is Senior Night. The number of opportunities to put those pads on and grind it out on the field with their brothers is dwindling. It's time to be cherished.
"Our program has got to establish itself," James related. "It's not so much about who we're playing. It's how we prepare to play, how we compete. I want our guys to understand, when we're getting ready to play whether it's the last team in the conference or the best team in the conference, our preparation has to be vital. You better play the best you can possibly play for as long as you have to do it. That's got to be the mindset."
The Charging Wildcats return stellar running back Brandon Thomas along with quarterback Kareame Cotton from last year's championship game. Defensively, standout defensive ends Rashad Muhammad and Terrell Allen have returned.
"They're just missing a guy or two," James said. "You lose Oscar Adaway or the tight end they had (Drew Martin) or the fullback they had (Tyler Day), it's hard to overcome that. It's the same thing we've had to do, losing a Nate Wallace or Kajuan Robinson, Jakob Neel or Blaise Smith and some of the guys we had. I think you get into a situation where you start looking for those guys to bail you out. We've done it ourselves this year from time to time. They lost some good players and so did we. But they still have some good players."