File photo by Kevin Nagle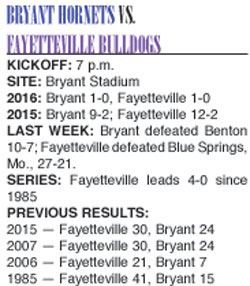 The Bryant Hornets and the Fayetteville Bulldogs have played four times over the years. Every one of those games ended a season for Bryant. They were all in the playoffs.
And, incidentally, the other thing that they all had in common was that Daryl Patton was involved in all four. In 1985, Patton was the quarterback for the Hornets when they lost 41-15. In each of the other three games, he was the head coach at Fayetteville.
Last year, Patton's Bulldogs were on their way to a Class 7A State championship — their third since 2011. Their closest call in fact was the 30-24 win in the quarterfinals at Bryant in which they survived two late Bryant threats.
Patton, who was head coach for his alma mater from 1998-2002, and his successor, friend and former assistant Paul Calley set up a home-and-home series between the two schools. And tonight, the first of those two games will kickoff at 7 p.m., at Bryant Stadium.
No one's season will end.
Ironically, however, neither Patton nor Calley will be there. Patton and his Bauxite Miners will be traveling to Glen Rose while Calley and his new charges at Harmony Grove will be playing at Fountain Lake.
So, just like last Friday, when new coaches led Bryant and Benton into the annual Salt Bowl showdown, Bryant and Fayetteville enter the Week 2 match-up with new management.
Fayetteville, now coached by Bill Blankenship (something of a legend in Oklahoma), is ranked No. 1 in the state. No surprise. The Bulldogs are coming off a narrow escape against Blue Springs, Mo., in which a potential scoring pass was knocked down at the end of the game to keep it 26-21.
Bryant, now coached by Buck James, is ranked No. 7. They too extracting a down-to-the-last-play win, 10-7.
The Hornets are a 15-point underdog but then they've been big underdogs every time they've played the Bulldogs and the last two times have been close games. (Fayetteville edged the Hornets 30-24 in the 2007 playoffs too on the way to their first State title under Patton).
Fayetteville has NCAA Division I prospects on both sides of the ball. On offense, it's quarterback Taylor Powell who passed for over 3,500 yards as a junior with 49 touchdowns. Against Bryant last fall, he was 22 of 31 for 210 yards with an interception and two second-half touchdowns. He chose Wake Forest over a long list of offers.
On defense, lineman Akial Byers, at 6-4, 275, has verbally committed to play at Alabama over Florida State, Oklahoma and Ole Miss among others. He refused to be blocked by the linemen for Blue Springs, Mo.
Bryant's offense struggled against Benton but did enough to augment a strong bend-but-don't-break defensive performance and quality special teams play. Punter Hayden Ray gave the Hornets a lift by turning over field position. He also knocked through the field goal that proved to be a difference maker.
Benton had just two snaps inside Bryant territory in the second half over eight possessions.
The defense was led by linebackers Marvin Moody and Jakob Neel and defensive backs Cameron Vail and Collin Welch. Each was in on 5.5 tackles. Bryant forced three turnovers including the game-turning interception and return by Vail.
The passing game was hit-and-miss for Bryant. James said dropped passes undermined the efforts of quarterbacks Beaux Bonvillain and Ren Hefley. And the receivers worked hard on that this week.
The team improved the running game in the second half, more than doubling its first-half output as senior DeAmonte Terry found some room including an 8-yard touchdown run. The coaches were continuing to tweak things on the offensive line, which included five new starters for the Salt Bowl.