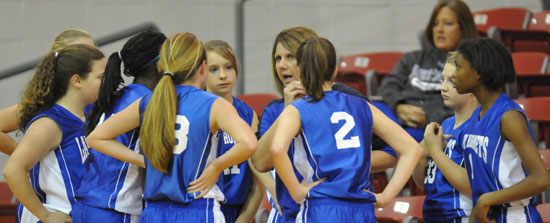 Photos by Kevin Nagle
By Rob Patrick
VILONIA — It wasn't that the Bryant Blue Lady Hornets eighth grade team of Bethel Middle School[more] wasn't getting good shots, the old lid just seemed to be on the basket for them as they opened the 2012-13 season at Vilonia on Monday night.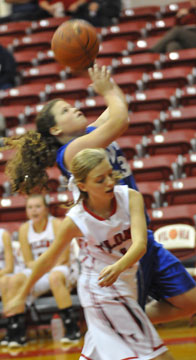 The Lady Hornets didn't break the ice on the scoring until there was just 39 seconds left in the first half. Morgan Walters made a steal and Kendal Rogers followed her miss with a basket.
By then, Vilonia had built a 9-0 lead that the Lady Hornets could never overcome. The Junior Lady Eagles, who wound up drilling a trio of 3-pointers in the game, went on to win 22-7.
The Lady Hornets played well defensively most of the evening, forcing 14 turnovers. There were stretches when the more physical Lady Eagles dominated the boards, however, though they wound up with only a 31-28 edge there.
In fact, both teams attempted 33 shots. The difference was that the Lady Hornets could only get four of them to go in and, of Vilonia's nine, there were those three triples.
Reagan McCormick scored a basket in the third quarter that had the Lady Hornets within 13-4 but by the time Ti Foote scored the next basket early in the fourth, Vilonia had built the lead to 19-4.
Rogers finished with 5 points to lead Bryant Blue. Riley Hill led the team in rebounding with six. Rogers and Kasey Ward had three each.
The Lady Hornets are set to return to action on their home court on Thursday against E-Stem. With seventh grade girls and boys games and the season debut of the Bryant Blue eighth grade boys, the action will start at 4 p.m.