Photos by Kevin Nagle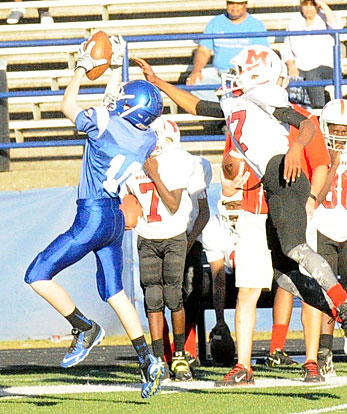 The Bryant Blue Hornets eighth grade team of Bethel Middle School put together a 60-yard drive in the clutch to give themselves a chance to beat the Mabelvale Red Raiders at Bryant Stadium on Tuesday.
"We went for the win and got stopped a half yard short on a two-point conversion," related Bethel coach Shane Clancy.
Dalen McDonald scored the touchdown, which cut the Mabelvale lead to 7-6. The Hornets had forced a turnover, a fumble caused by Hayden Holt, and Ethan Hilkert recovered an onside kick.
"We could not capitalize," Clancy said. "We had a few penalties on offense that put us behind the chains and we couldn't recover. Also, the blocking was inconsistent all night. Some plays, we blocked really well and then others we were getting sacked or no gain on running plays.
"The kids played hard," he asserted. "We just came up short at the end. We have to get back to doing things right consistently and making plays to win the game."
Bethel returns to action on Thursday, Oct. 22, against Cabot Red.