By Patsy Kirkpatrick Kuhn
Bryant Historical Society
September 11th is a day set aside by President George W. Bush to remember that day when[more] terrorists took the lives of thousands in New York at the Twin Towers, the Pentagon in Washington D.C., and a field in Pennsylvania where true patriots saved another plane from flying into its target. This time in the history of our nation was viewed by all as the terror struck and the towers fell. But this was not the first time we were attacked by a country across the ocean.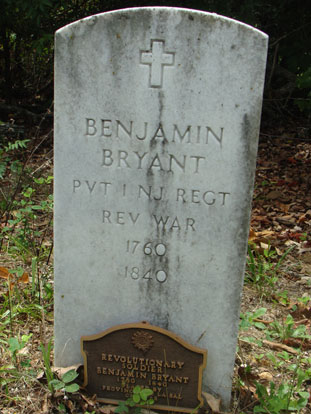 Before 9-11 there was another Patriot's Day that is not to be confused with Patriot Day. It is a day when we honor those who fought for that freedom that has made us a nation, with rights and a constitution that have stood the test of time and a pride that makes us Americans as part of the United States of America.
Bryant has its own patriots that are known to a few but are being forgotten despite their bravery and sacrifice. They too should be remembered as patriots.
One of those is Benjamin Bryant.
Little is know about this man. He was a private in the first New Jersey Regiment during the Revolutionary War. He fought at Valley Forge and other campaigns. He was born in 1760, came to the Bryant area in 1834 and died six years later.
There is a tombstone commemorating his life and death in the Collegeville cemetery on Stagecoach Road. There is also a plaque from the Daughters of the American Revolution on the tombstone. There is a memorial at the Saline County courthouse honoring his service.
Some think this is the man for which Bryant received its name. Although he died in 1840 and Bryant was not incorporated until 1892 the town was known as Bryant Station prior to becoming a city. There may be no way to prove or disprove this but research is still being done.
Another Bryant resident who became a patriot, receiving the Medal of Honor during World War I, is Oscar Miller. The Miller Subdivision in Bryant is close to where he had his home.
His valor took place near Gesnes, France on Sept. 28, 1918. After two days of intense battle, Major Miller led his battalion in the front line of battle through the forest of Argonne. He reorganized his men through machine gun fire and direct artillery fire and personally led the companies in an attack on their objective.
Inspired by his personal courage the men pressed on to the hostile position. He was shot in the right leg and the right arm but kept leading his men until a shot in the abdomen brought him to the ground. He urged his men to leave him and press on to the next ridge. He died from his wounds a few days later.
Let us never forget to honor all of those men and women, these patriots, with their service and sacrifice. Never let it be said they died in vain. This is the history of America. This is the history of freedom and courage to preserve those things we all hold dear to our hearts.