Editor's note: Tonight's game will be streamed live at https://youtu.be/PjVVf59ncjU
File photo by Paul Dotson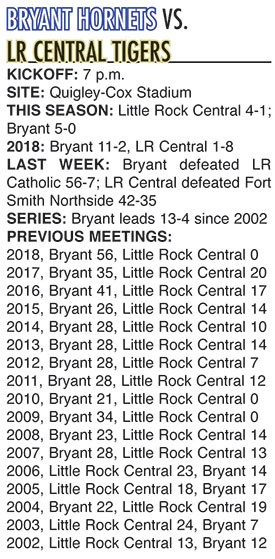 The resurgent Little Rock Central Tigers are 4-1 this season under second-year head coach Kent Laster, a far cry from the 1-8 campaign they suffered through in 2018. Their most impressive wins have been their 24-18 victory over West Memphis to start the season and last week's 42-35 victory at Fort Smith Northside. They played pretty tough against the highly-regarded North Little Rock Charging Wildcats before losing 35-21.
"He's brought some energy," said Bryant head coach Buck James of Laster, whose background is in college football. "He's brought some discipline. He's brought them a new style, a new way of doing some things. He's been around great football teams. He knows what that piece looks like and he's trying to rekindle that fire. If he ever gets it rolling downhill, it's going to probably be an unstoppable force from a competitor's standpoint.
"They're much better this year than they were last year," he acknowledged. "Their record shows that. Sometimes you're better and your record doesn't show it. But they're 4-1. They've got a good football team and I think he's on track."
Offensively, the Tigers return quarterback Lawson Gunn, who started as a sophomore. He's competed 77 of 115 passes for 1,153 yards with four interceptions and 14 touchdowns. Running back Sam Franklin is back and has rushed for 547 yards and 10 scores.
Also returning on offense are receiver T.J. Pennington and offensive linemen Canaan Davis and D.J. Swinton.
Defensively, linebackers Kylan Jones and Caleb Morton return along with safety Lamont Robinson.
"They're athletic," James said. "Central teams have always been athletic. They've got speed. They've got guys who play hard and they expect to win. You know, expecting to win is as important as trying to win."
The Hornets are ranked number one in the state at 5-0 overall and 2-0 in the 7A-Central Conference. They have "mercy-ruled" all five of their opponents. Bryant is now ranked 21st in the nation by MaxPreps.
Junior quarterback Austin Ledbetter is 70 of 109 this season so far for 1,398 yards with one interception and 14 TD's. Senior running back Ahmad Adams has gained 463 yards on 56 carries with nine touchdowns. The Hornets have three receivers in double digits in catches, Hayden Schrader with 21, Jake Meaders 17 and Tre'von Herron 11.
Defensively, linebackers Tristan Sehika, Cameron Scarlett, Catrell Wallace, Daylon Land and Hart Penfield are the leading tacklers. Bryant has forced eight turnovers in five games. Opponents average less than 90 yards per game on the ground and right at 100 yards per game passing.
And, James allowed, from week to week, the emphasis is on how the Hornets prepare and execute.
"It's never about the other team," he asserted. "I mean we've got to guard and defend what they're good at and what they're not good at and understand what they can do and what they don't do and what they might do.
"But we've got to compete against ourselves," James continued. "We've got a job, and everybody has a role that they've got to accomplish each snap of the game. We've got to play at a high level, and we've got to expect to win our battles and be where we're supposed to be and do what we're supposed to do. When you put that together with 11 people, you get results. That's what we want our kids to understand. It doesn't matter who the competition is, the great ones are going to play harder longer.
"The end result is a combination of many, many battles taking place over and over and over," he related. "That's what constitutes a football game. Us just playing good for a quarter or a half or three quarters might not be enough against the teams who have the ability to beat you. We've got to understand that we've got to go into a game and play as hard as we can as long as we're supposed to play, whether that's a half or a full game or whatever the case may be. Our mentality has got to be to go out there and do your job the entire four quarters of the game. Every play that the ball's snapped. And, if you make a bad play, forget about it and grow for the next one.
"That's our big message to our kids," the coach asserted. "Strive for excellence. Try to be the best you can be every play."
Last week, James was unhappy with the way his team practiced, particularly on Tuesday. Asked if that changed this week, he said, "We had a good Tuesday practice. Amazing how that works. But I thought our preparation was good. We had a good Monday. We had a good Tuesday and we had a good Wednesday.
"Our kids are a little refocused," the coach stated.
The concern last week was avoiding complacency considering all the success the team has had. After all, the regular season is just half done.
The emphasis this week has been different.
"My biggest kick this week is detail," James said. "I think we've lost a little of that, going through the emotions of thinking things come too easy. So, we really have been sticklers on being where your feet are, being where your hands are, being where your head is — basically, be in position to be able to play, whatever that calls for, whether you're an offensive lineman, defensive lineman, a linebacker or a receiver.
"I think that's the biggest thing that we've got to do," he insisted. "We've got to make sure that we don't lose attention to detail and our focus."
The emphasis on complacency resulted in a 56-7 win over the Catholic Rockets last Friday night. We'll see how the focus on detail this week translates.