Photos by Kevin Nagle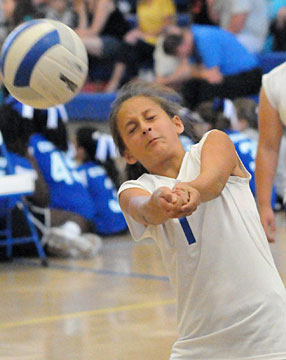 In a seventh-grade volleyball jamboree at Bethel Middle School, the Bryant White Lady Hornets of Bryant Middle School won a pair of A team matches and a B team match as well.
The A team defeated Conway Carl Stuart Middle School, 20-25, 25-14, 15-4 then edged Conway Simon Middle School, 28-26, 25-19. The B team prevailed over Conway Simon, 25-19, 25-12.
"The seventh grade had a fantastic night serving and just really impressed me with the way they moved and communicated on the floor," stated Bryant White coach DeAnna Ward. "We have several things to work on since it is so early in the season but have a lot of potential."
The Lady Hornets will play in another jamboree at Bethel this Saturday, Aug. 30.