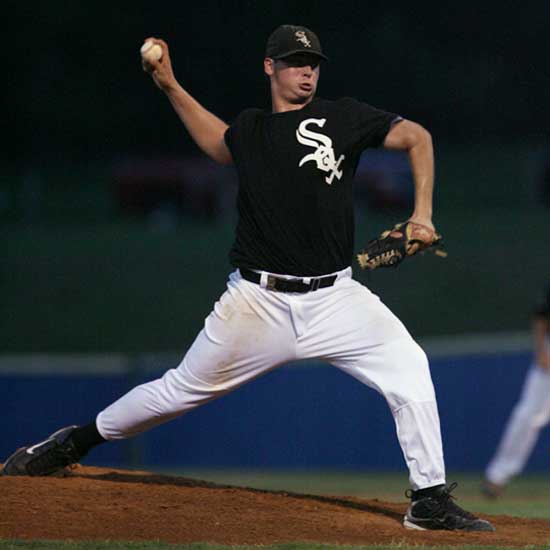 By Rob Patrick
It'd been a week since he'd pitched a couple of innings in an all-star game sponsored by the Arkansas Democrat-Gazette and 10 days since his remarkable perfect game in the Class 7A State championship, so it was understandable that Ben Wells didn't necessarily have the remarkable command he displayed coming down the stretch of the high school season. But it was plenty good enough to produce four innings of two-hit shutout ball against the Lake Hamilton Wolves American Legion team Wednesday.
Wells fanned nine, walked one and hit a batter and Landon Pickett closed out the 8-0 run-rule win with a scoreless fifth.[more]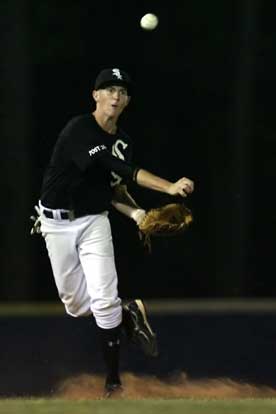 Scouts were on hand for the performance. Wells has suddenly become a hot commodity on the recruiting circuit and has gained considerable interest from Major League teams as the June amateur draft approaches next week.
Funny how great performances in high-profile settings like the State championship game can do that for a fellow.
"We knew they were going to be here looking at him," acknowledged Black Sox coach Darren Hurt. "We were just happy he was able to do it right here at home in front of the fans. It's the first time he's been able to throw here since the State tournament. And I thought he did a good job. He got a bad break in the first inning when he and B.J. Ellis (the Bryant catcher) got crossed up on a pitch that he struck the kid out on."
Wells had fanned the first two Wolves then struck out Chris Walker but the pitch got past Ellis and, when the catcher struggled find the ball, the runner just barely reached first.
Cody Jackson chopped a single that took a hop over first baseman Brady Butler then Will Harris walked to load the bases. But Wells picked up his fourth strikeout of the inning and Lake Hamilton's best scoring opportunity went by the boards.
The Sox continued the hot hitting they'd unveiled the previous night at Sylvan Hills. Chris Joiner and Brennan Bullock each had two hits. Hunter Mayall was 1 for 2 with a walk and two RBI.
"We're swinging really well," Hurt noted. "They just keep getting big hit after big hit. Last night, we hit a lot of balls right at people. We're just squaring up the ball right now."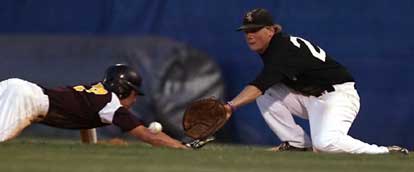 Bryant got on the board in the bottom of the first against Jackson, a mainstay for Lake Hamilton's Class 6A State championship high school team. Caleb Garrett reached on an error to start the home second. On a hit-and-run, he beat the play at second as Jordan Taylor grounded to short. Jared Webb's attempt at the force was unsuccessful but he fired to first to retire Taylor.
Mayall followed with a liner to left to chase Garrett home with the first run, though he was out trying to take second on the throw home which was cut off by Jackson and relayed.
The inning continued, though, with Joiner's first hit then Bullock burned the Lake Hamilton center fielder Jake Szmuc for an RBI triple to make it 2-0.
Jackson forced the Sox to strand Bullock at third with an inning-ending strikeout.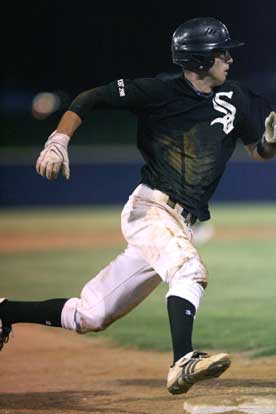 Wells pitched around a single by Tyler Faught and his own errant pickoff throw. He fanned Webb and Kyle Green to send it to the bottom of the inning.
Jackson walked Ellis and Tyler Brown but managed to escape before Bryant could dent the plate.
Wells eased through the third with a pair of strikeouts. Jackson's bid to match that was undermined by an error. With one out, Joiner mashed a gapper that was good for a double. But, with two down, Brady Butler hit a towering infield pop that Webb dropped. With two down, Joiner was running on contact and scored easily.
And, after Butler stole second, Lucas Castleberry tomahawked a shot to right for an RBI single, making it 4-0.
Wells hit Harris with a pitch to start the fourth. A wild pitch got him to second then Tanner Neighbors' groundout enabled Harris to reach third. With J.M. Lipton at the plate and a 1-1 count, the Wolves tried the suicide squeeze. But Lipton couldn't get the bat on the ball and Harris was in a pickle. After he was tagged out, Lipton struck out to end the inning and Wells' evening.
The Black Sox got in range of making it an 8-after-five run-rule win when they scored three more runs in the fourth against Faught, the second Lake Hamilton hurler. Walks to Brown and Garrett set the table. Taylor beat out an infield hit to load the bags then Mayall drew a walk to force in a run.
Joiner got a run home with a sacrifice fly though Taylor was caught in a rundown between second and third and tagged out. He was, however, able to stay in the rundown until Mayall pulled into second. That proved beneficial when Bullock blasted a double to left-center to make it 7-0.
Pickett gave up a one-out single to Webb but nothing else in the top of the fifth. In the home half, Szmuc relieved for the Wolves. He retired the first batter he faced but then issued walks to Dylan Cross and Brown. With Evan Jobe in to run for Brown, a wild pitch moved the runners to second and third before Garrett laced a 1-1 pitch to center for the game-ending RBI single.
The Sox improved to 3-1 with the victory going into this weekend's tournament at Arkansas State University in Jonesboro. Bryant is set to take on Batesville in the first round at 5 p.m. Friday. They'll play Saturday and Sunday, as well.
"Right now, we've got Blake (Davidson) scheduled for Saturday," Hurt related. "Friday, we're still kind of working on that. We're not sure Cross is going to be able to go with us Friday. He was going to be that guy (starter). So we might go with Taylor on Friday. We're going to see how Ben comes out of this one tonight and see if he can go on Sunday."
BRYANT 8, LAKE HAMILTON 0
Senior American Legion
Wolves ab r h bi Black Sox ab r h bi
Green, lf 2 0 0 0 Garrett, cf 3 2 1 1
Kersey, lf 1 0 0 0 Taylor, ss 3 0 1 0
Szmuc, cf-p 3 0 0 0 Mayall, dh 2 1 1 2
Walker, 1b 2 0 0 0 Joiner, rf 2 2 2 1
Jackson, p-rf 2 0 1 0 Bullock, lf 3 0 2 2
Harris, 3b 0 0 0 0 Butler, 1b 3 1 0 0
Neighbors, c 2 0 0 0 Castleberry, 3b 3 0 1 1
Young, 2b 1 0 0 0 Ellis, c 1 0 0 0
Lipton, rf-2b 1 0 0 0 Cross, c 0 1 0 0
Faught, rf-2b-p-cf 2 0 1 0 Brown, 2b 0 1 0 0
Webb, ss 2 0 1 0 Jobe, pr 0 0 0 0
Wells, p 0 0 0 0
Pickett, p 0 0 0 0
Totals 18 0 3 0 Totals 20 8 8 7
Lake Hamilton 000 00 — 0
BRYANT 202 31 — 8
One out when game-ending run scored.
E—Webb 2, Wells. LOB—Lake Hamilton 5, Bryant 7. 2B—Joiner, Bullock. 3B—Bullock. SB—Butler. SF—Joiner.
Pitching ip r er h bb so
Lake Hamilton
Jackson (L) 3 4 0 5 1 4
Faught 1 3 3 2 3 0
Szmuc 0.1 1 1 1 2 0
Bryant
Wells (W) 4 0 0 2 1 9
Pickett 1 0 0 1 0 1
HBP—Harris (by Wells). WP—Wells 2, Jackson 2, Faught 2, Szmuc.