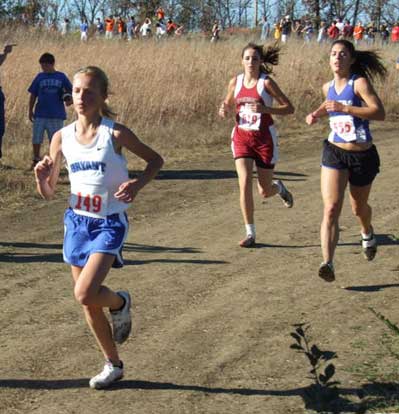 MOUNTAIN HOME — The northwest Arkansas domination of the Class 7A Girls Cross Country Championships continued Saturday, Nov. 7. Teams from the 7A-West Conference took the top four spots.
The Bryant Lady Hornets had to settle for fifth place.
Bentonville won the championship with an impressive 40 points. Rogers was runner-up with 85, followed by Fayetteville with 123, Rogers Heritage with 134, and then Bryant with 147. There were 16 teams and 118 total finishers.
The Lady Hornets had hoped to break the streak of championship wins over the last several years by northwest Arkansas teams. Bentonville has won four and Rogers has won three. The last central Arkansas team to win a state title was Bryant in 2002, and since that time Bentonville and Rogers have dominated.[more]
"We knew going into the meet that the teams from the West were pretty tough," acknowledged Lady Hornets coach Danny Westbrook. "We're disappointed because we just didn't put together our best race today. We did a good job of pack running and had a good first-to-fifth time gap, but we were just too far back with our leaders to make any kind of difference.
"The difficulty of the course really surprised us," he added. "This was the first time we had raced on this course and the hills were extremely tough. You can chalk that one down on me. Had I known what the terrain was like, we would have spent a lot more time doing hill work."
As she has all season, freshman Hannah Raney led the Lady Hornets finishing 22nd with a time of 22:14. Right behind her finishing in 23rd place was Stacy Emmerling with a time of 22:16. Bryant's pack was led by Samantha Cyz in 33rd place at 23:12, followed by Lauren Rogers in 34th place at 23:18, and then Ashlyn Lessenberry in 35th at 23:25.
The remaining Bryant runners were Jessica Shepard (42nd, 23:49), Stacie Waite (52nd , 24:23), Skylar Oswalt (63rd, 24:53) and Kaitlyn Nickels (79th, 25:32).
"I thought all our girls ran gutsy races considering the tough course and the hot conditions," Westbrook stated. "I was especially proud of Ashlyn Lessenberry for stepping up and becoming our fifth scorer today."
Even though the state meet did not go as planned, the Lady Hornets have a lot to be proud of. During the season, they won thre invitational meet championships and won the 7A-Central Conference Championship.
They also have a lot to look forward to in the future. They lose only one senior out of their top nine runners to graduation.