For more photos of this event by Kevin Nagle, go here; photos also courtesy of Adam Settle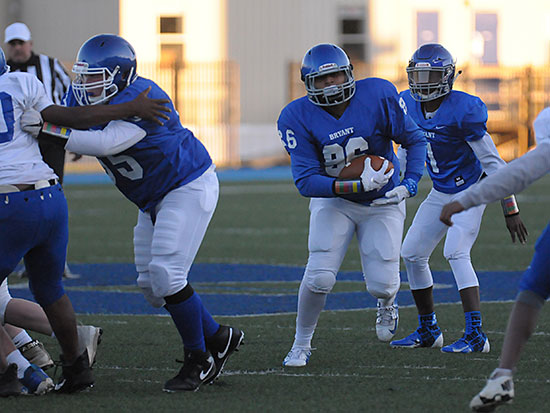 Quarterback Gary Rideout ran for two touchdowns and threw for another while the defense of the Bryant White Hornets eighth-grade team of Bryant Junior High limited the Conway White Wampus Cats to just 76 yards of total offense on Thursday night. The result was a convincing 28-0 victory for the White Hornets as they improved 5-2 on the season going into their season finale against North Little Rock on Tuesday, Nov. 5.
Bryant White built a 22-0 lead by halftime.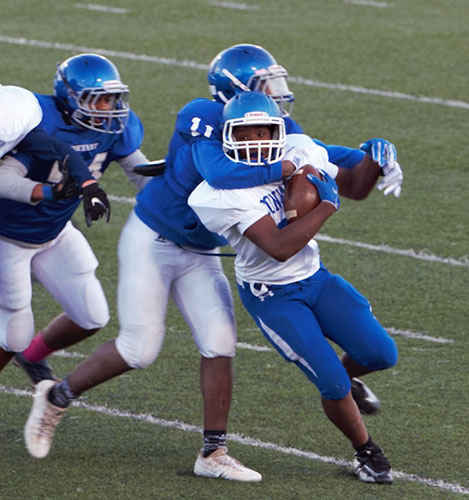 Rideout rushed for 58 yards on 10 attempts and completed 4 of 7 passes for 63 yards. Big T.J. Lindsey added 40 yards on three carries with a touchdown.
In a grind of a first series, Conway White moved from its own 35 to the Bryant 49. But a false start penalty turned a third-and-6 into a third-and-11 and the Wampus Cats could not recover.
Dylan Haring punted and Bryant's Mytorian Singleton fielded it at the 30 and returned it 23 yards to the Conway White 47.
Keyed by a 12-yard run from Lindsey and a 19-yard scamper from Rideout, the Hornets reached the 1. Lindsey bulled in from there. And when Rideout ran in a two-point conversion, it was 8-0.
A 13-yard run by Desmond Davidson produced a first down for the Cats but three plays later, Haring was in to punt again. A bad snap undermined his effort. Though he got a kick away in traffic, it wound up moving the line of scrimmage back. The Hornets took over at the Cats' 36.
Rideout connected with Maurice Brister for 9 yards then Lindsey rumbled for 27 yards to the 5. Rideout scored from there then added a run for two to make it 16-0 with 4:53 left in the half.
Gavin Lewis made a tackle for loss on Conway White's subsequent series. On the next play, Singleton intercepted a pass and returned it all the way to the 18.
Rideout's pass to Justin Myles got the ball to the 8 but, after a penalty, the Hornets were in danger of being held out of the end zone. On a fourth-and-goal, Rideout sliced his way 11 yards for another touchdown, making it 22-0.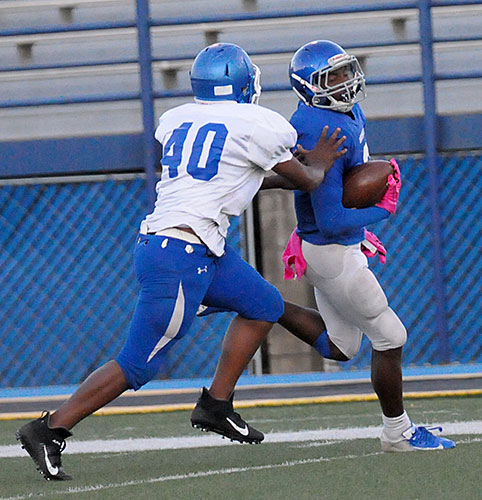 To start the second half, the Hornets drove for another score. Nichols' 45-yard pass to Singleton made it 28-0.
Conway White managed one first down on each of its three remaining possessions but little more. On the final two plays of the game, A.J. Foreman and Nick Biskey made tackles for losses.