FAYETTEVILLE — Eighth grader Sidney Wilson turned in a seventh-place performance overall in a field of 445[more] runners from 32 teams to highlight the effort of the Bryant Junior Lady Hornets at the annual Chile Pepper Cross Country Festival Saturday.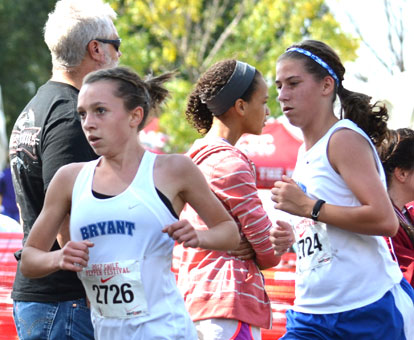 Wilson led the Bryant junior team to a fifth-place finish with 147 points. Bentonville won the team title with 76 points.
Wilson was the only Bryant athlete to bring home some hardware from the meet, as she received a plaque for her seventh place finish. She worked her way through the huge field of runners and sprinted to a very respectable time of 20:54 at the finish.
"Our junior girls moved up to the 5K distance in this race and I thought they responded extremely well," commented Bryant coach Danny Westbrook. "Sidney Wilson had an awesome race. Freshman Sarah Cowell and Hannah Shelby also ran strong, and with their outstanding 5K times, I plan to move them up to the high school team the rest of the season."
Cowell and Shelby packed together throughout the race and finished 24th and 25th, respectfully, with times of 21:57 and 22:00.
The remaining scorers for Bryant were Reagan Smith (45th, 22:51) and Hadley Dickinson (50th, 23:00). Other finishers were Hailey Levinson (53rd, 23:04), Camryn Bolton (111th, 24:10), Jessica Butler (145th, 24:42), Hunter Delaney (156th, 24:51), and Melissa Barrientos (174th, 25:14).
The team is scheduled to compete at Oaklawn Park in the Lake Hamilton Invitational next Saturday.