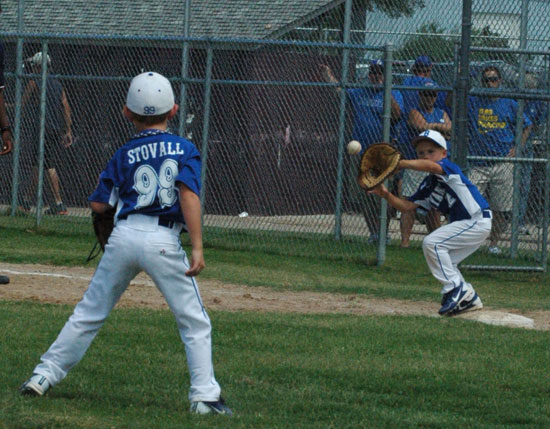 Photos courtesy of Val Nagle
BENTON — The Bryant 6-year-old All-Stars stormed out to three straight wins in pool play at the[more] 2012 Cal Ripken Southwest Regional T-Ball Tournament at Bernard Holland Park. On Friday, they blasted the Jacksonville All-Stars, 18-2, to start the tourney. They followed that up with a 15-0 romp over Bentonville Gold. On Saturday, they drilled Cabot 15-1.
Bracket play was set to begin today. The Bryant 6's, with a first-round bye, were set to play at 11:45 a.m., against the winner of a 9 a.m. game between the Benton 5's and the Bryant 5's.
The 6 year old all stars include Brady Brower, Reid Catton, Clay Crawford, Gage Horn, Aiden Hughes, Dylan Hunt, Grant Johnson, Carson Kemp, Julius McClellan, Carson Nagel, Aden Palmer, Caden Stovall. The team is managed by Kevin Nagle with assistance from Chad Kemp, Jeremy Stovall and Dennis Walsh.
Bryant 15, Cabot 1

Bryant only allowed two base-runners in the first three innings while building an 15-0 lead. Cabot managed a run in the top of the fourth but it wasn't enough to keep the game going.
Five runs scored in the first, which began with singles by Horn and Nagle. With one out, Hunt and Johnson rippled back-to-back doubles to make it 3-0. Stovall singled and followed Johnson home when McClellan and Brower cracked base hits.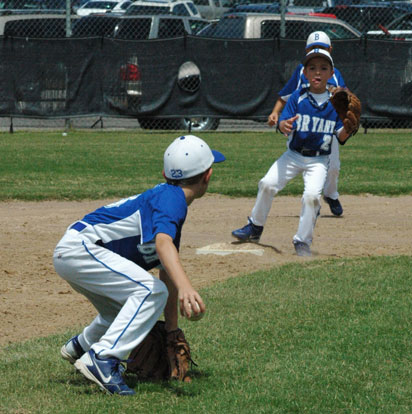 In the second, Crawford and Palmer got things going with base hits. With one out, Horn shot a double to left-center and, with two down, the Bryant Stars unloaded. Kemp and Hunt singled ahead of doubles from Johnson and Stovall. Catton's base hit made it a six-run inning.
McClellan led off the Bryant third with a hit. He was forced at second on a bouncer to short by Brower. Cabot recorded a second out but then the hit parade resumed. Palmer and Hughes belted singles then Horn blasted a home run to right-center to finish off the scoring.
Bryant 15, Bentonville Gold 0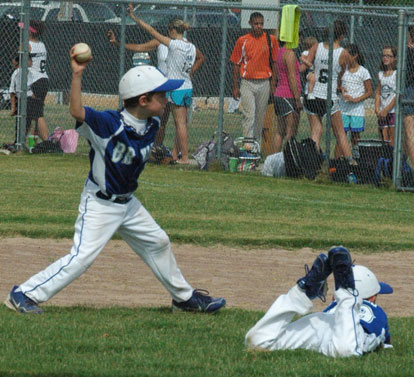 While Bentonville Gold never got a runner past second, Bryant built a 6-0 lead before erupting for a maximum inning in the third to make it 12-0. And when the Stars put up three more in the top of the fourth, it put the game out of reach.
A three-run first got Bryant off on the right foot as Horn, Nagle and Kemp each had hits. It looked like they might not add on in the second when, after a Catton single, McClellan and Brower each rolled into force outs. But Crawford's inside-the-park homer made it 5-0 before singles by Palmer, Hughes and Horn tacked on another tally.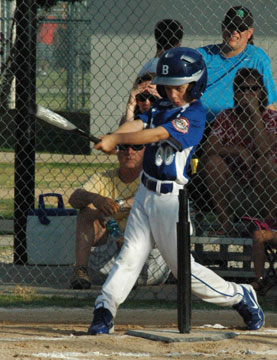 Kemp started the game-busting third with a double. Hunt brought him around with a two-bagger then Johnson singled. A double by Stovall followed to make it 8-0. Catton singled in a run then doubles by McClellan and Brower set up Crawford who completed the onslaught with an RBI single.
The game-ender in the fourth came after Palmer and Hughes had each singled. Horn hit a drive to right-center and circled the bases for a three-run homer.
Bryant 18, Jacksonville 2

Bryant scored the maximum of six runs in all three at bats. Jacksonville managed a pair of runs in the second, cutting Bryant's lead at the time to 6-2.
The Bryant defense frustrated Jacksonville in the fourth by turning a doubleplay on a pop to short.
The opening salvo from Bryant commenced with base hits from Horn, Nagle and Kemp. Hunt blasted a double and, after Johnson singled, Stovall cracked a two-bagger as well. A single by Catton and a double by McClellan completed the six-run burst.
There were two away before Bryant got the offense rolling again in the second. Singles by Palmer and Hughes set the table for another Horn homer to right-center. Nagle and Hunt each hit doubles around a single by Kemp. Johnson's base hit made it 12-2.
The third inning began with singles from Stovall and Catton who both raced home when Brower blasted a triple. Crawford singled him in to make it 15-2 and, with one out, consecutive singles by Hughes, Horn and Nagle set the final score.