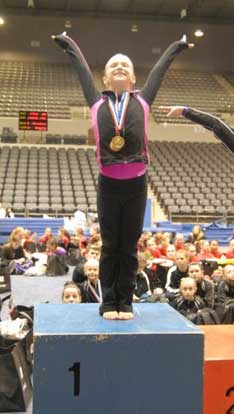 Nine-year-old Deborah Shaw has nerves of steel. At least it seems that way to her mother, Stephanie.
The third grader at Collegeville Elementary School has been competing in USA Gymnastics since she was 7. Every year, she has won a State title.But this year was different," Stephanie Shaw said.
"When Deborah competed at age 7, Level 5 only one other girl her age qualified at her level," she related. "When she competed at age 8, Level 6, no other girls her age qualified at her level. Deborah won just by qualifying for the state meet. This year, she had competition."
And she wound up placing first in beam, first in bars and first in the all-around with a third-place finish on the vault and the floor exercise.
"Deborah started this season two steps back," noted her mother. "She tore her tendon in her knee, which is very rare for a child her age. She spent six weeks in rehab in order to compete by the first meet of the season.
"All through this meet season, Deborah has been competing against a group of the same girls," she continued. "She has won against them sometimes and they have beaten her sometimes."
The youngster, a straight A student, competed in the Arkansas USA Gymnastics State Meet on March 20 at the Stephens Center in Little Rock.[more]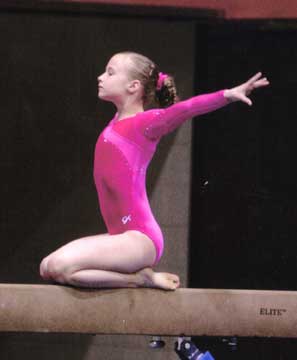 "At the State Meet, she knew in her first two events, she was going to have to keep it close to stay in the running," recalled Stephanie Shaw. "When the bar scores came back lower than expected (9.2), she knew she had to hit her beam routine to win it."
No pressure.
"The beam is a mere four inches wide and sits four feet off the floor," explained the mother. "I was a nervous wreck. It didn't look like Deborah flinched. She got on that beam and threw her back walk-over, back flick and cartwheel back tuck dismount like she was doing it from the floor!
"She scored a 9.650, her highest score of the season," she continued. "With that score, she pulled ahead of the other gymnasts and she won the all-around title with an overall score of 36.725."
Stephanie Shaw said she hasn't talked to Deborah's coach about plans for next year, but says that her daughter may move to Level 8.
"If that happens, Deborah will remain one of the youngest in the state to compete at such a high level," she related. "She will compete again this summer for the TOPs contest as well. TOPs (Talent Opportunity Program) is a program set up by the USAG to help identify those gymnasts who are among the best in the nation. Those who qualify in TOPs get to go with their coaches to Texas to train with Bela and Marta Karolyi.
"Deborah has been honored to even be asked to compete for something so special," she noted. "She works very hard and I am very proud of her."
Stephanie Shaw mentioned that her daughter works out five days a week, four hours each weekday and five hours on a Saturday workout.
"She hopes to go to college on a gymnastics scholarship," she added.