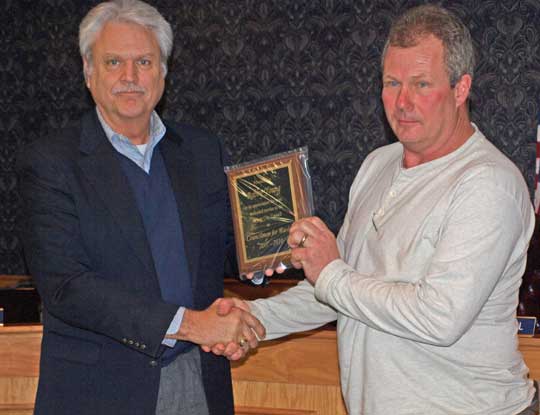 By LANA CLIFTON
On Thursday Feb. 11, the Bryant City Council held its regular monthly meeting. During a time designated for council comments, Alderman Robby Young of Ward 4 announced that he would be resigning from the city council due to his family's plans to move out of state. He stated that this would be his last meeting.
"It has been an honor to serve and be involved in the business in such a great city," said Young. "I wish all of you the best that life has to offer and I encourage all of you to stay involved and keep our city great."
Mayor Larry Mitchell presented a plaque to Young on behalf of the city in appreciation of his service from 2007 to 2010.[more]
At the meeting, the council passed an ordinance authorizing the issuance and sale of capital improvement refunding and construction revenue bonds. The purpose of this action was to release funds for use in the improvement of parks and recreation.
In other budget-related business, the council, with a vote of six for and two against, approved an appropriation of $250,000 for Jacobs Engineering to provide a scope of work for connector streets relating to access to Boone Road and access to the Saline County Airport.
As stated in the estimate presented by Jacobs, "The work to be performed will require location studies, environmental handling, preparation of conceptual design, traffic analysis and appropriate hydrological studies."
The other part of the scope of work would include preparing 30 percent plans to determine right of way requirements, alignment needs and utility coordination for the Raymar Road overpass North, Pricket Road extension and Springhill Road Overpass Extension.
Also approved was $59,000 for a three-acre land acquisition for a new fire station on Hilldale off Springhill Road.
Approval for water projects and rates as well as the $19,974 purchase of a piece of equipment for water/wastewater called a spin doctor used for water valve maintenance was also passed by the council.
An ordinance and agreement for the city to assist the Bryant Boys and Girls Club by providing them with $25,000 to be paid out in 12 installments was passed as well.
In other business, the council voted seven to one to change over the current copier contracts to a centralized lease agreement for the whole city. The change will result in $2000 in additional funds in 2010 but will provide new equipment and full service to all city copiers.
Public Works Director Richard Penn presented a status report on the storm water drainage improvements for the Forest Cove Area Watershed. He also provided a detailed report of the end treatments still needed to finish out the work for safety, aesthetics and additional flood prevention. Penn is pursuing grants for some of the work, but let the council know some might require additional funding in the future. The council agreed to let Finance and Personnel look at the projects to discuss them and look at funding.
The final vote was taken on and rezoning was officially approved for the property located at 1930 North Reynolds Road, which is owned by Jeremiah Oltmans. At previous meetings, Oltmans has declared his intention to build executive style apartments at that location.
Five other items were removed from the agenda due to the absence of the city attorney, Nga Mahfouz.