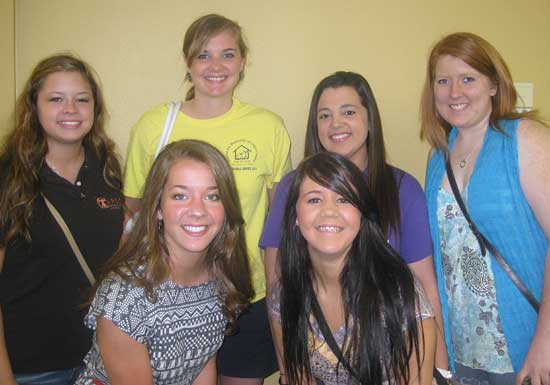 Youth United members, back from left, Morgan Crowson, Melanie Morse, Rebecca Tabor and Dallas Barnett; front, Kate Ross and Taylor Synco.
BENTON – Recently, State Farm Insurance presented a check in the amount of[more] $4,000 to the Saline County Youth United group. The matching funds were raised by the group from May 2010 to May 2011 and will be used towards building the fourth Habitat for Humanity Youth United home in Saline County. Several members met for an end-of-the-year lunch to go over the group's accomplishments.
"The State Farm matching grant directly impacts the ultimate goal of Youth United, which is completely funding the construction of a Habitat home," said Karma Herzfeld, Executive Director of Saline County Habitat for Humanity. "The group works to end sub-standard housing conditions in our community by partnering with Habitat to build a home every two years," Herzfeld added.
Since 2005, State Farm Insurance has matched over $15,000 in funds raised by the Saline County Youth United group.
Currently, all homes being built by the affiliate are located in a 12-acre development south of downtown Benton called, Partnership Village. The neighborhood is composed entirely of Habitat homes. To date, 24 families live in the neighborhood and upon completion over 60 partner families will call the project, home. Habitat plans to add eight homes to the village in 2011. To volunteer, or donate, towards any of Habitat's programs please visit www.habitatsalinecountyar.org, or call (501) 315-5434 for more information.
About Habitat for Humanity of Saline County
Habitat for Humanity of Saline County, Arkansas is an ecumenical Christian ministry that works with the local community to build simple, decent, affordable homes for hardworking, deserving families. Since 1999, HFHSC has partnered with churches, businesses, organizations and individuals to build and provide homes for 44 families. For more information, or to donate or volunteer, visit www.habitatsalinecountyar.org.