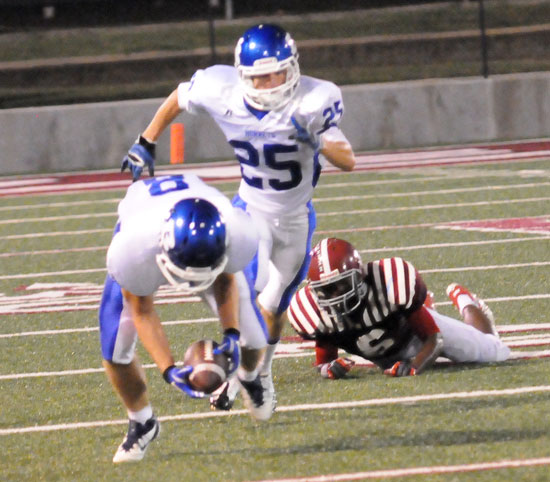 By Rob Patrick
Photos by Rick Nation and Kevin Nagle
PINE BLUFF — You have to go back a few years — to 2008, in fact — to find the last time a Bryant Hornets[more] football team lost a game right at the end. That has, in recent years, been the purview of the Hornets themselves, turning in dramatic drives, kicking game-winning field goals or scoring decisive touchdowns in the waning moments of a game.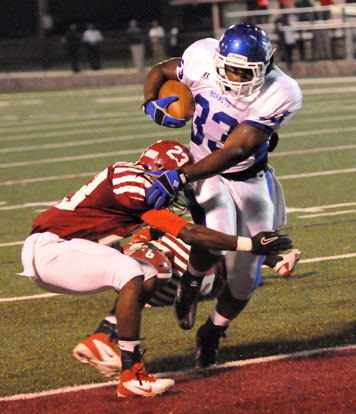 Midway through the 2008 season, the Hornets led all game only to have it get away from them at the very end at Russellville. It was a 14-13 stunner but that 2008 team went on to qualify for the State playoffs and wound up notching a first-round win.
All of that and more is still on the table for the 2012 version of the Hornets though, after a 24-21 loss to the Pine Bluff Zebras on a field goal on the last play of the game, they were sorely disappointed and shocked.
Austin McGehee's 26-yard boot hardly split the uprights and the Hornets' Cortez Willaims nearly blocked the kick.
"I don't see how he didn't," stated Bryant head coach Paul Calley said. "The ball curved just outside of him."
Even then, the kick just barely got inside the right upright (if, indeed, it did).
"From my vantage point, it was wide," Calley remarked. "On the film, it was wide but the referee said it was good."
The game-winner capped off a drive by the Zebras that started at their own 20 and used up the final 3:42 of the game after the Hornets had tied it on a 41-yard touchdown pass from Hayden Lessenberry to Brushawn Hunter.
Pine Bluff scored on each of its last four possessions of the game after being shutout through three quarters. The Zebras tied it then blocked a Bryant punt to set up the go-ahead score. Bryant answered only to have Pine Bluff march to the winning field goal.
The Zebras' power running game, which accumulated 272 yards, eventually wore down the Bryant defense.
After building a 14-0 lead in the first quarter, Bryant just couldn't maintain a drive, something Calley called crucial going into the game — possessing the ball and keeping the defense off the field.
"I knew going in we were going to have a hard time running the football," the coach said. "There wasn't a lot we could do in the run game. I didn't think we could control the line of scrimmage at the point of attack. "I didn't think we could get up on the linebackers. Our plan was to run weak. Texarkana had hurt them on the weakside run the week before. So that was our plan but then they started playing games with their linebacker over there. We were trying to stay out of a bad play but there wasn't a lot we could do in those sets. It's frustrating. So we had to go back to the air.
"If we were going to do it, we were going to have to do it through the air," he continued. "We weren't sure we could pass protect. We did, I thought, a really good job for the most part.
"We made some really good throws and catches," Calley noted. "But those guys are so fast. If you didn't hit that small window just perfect, it was going to be incomplete. We had a couple of big plays that we just missed, just a little bit off the mark. Those were plays we had to have and we just didn't. To try to get it done without a running game, it's just hard. We've been feast or famine on offense and it takes a toll on our defense after four quarters. Our defense played hard, our offense played hard. We just couldn't keep the defense off the field."
It's telling that Bryant's safeties, Jake Johnson and Davis Nossaman, led the team in tackles with 15 and 13, respectively. Linebacker Tyree Reese was in on 11.
"Our defensive line played well," commented Hornets d-line coach Brad Stroud, "especially Kordell (Boykins)."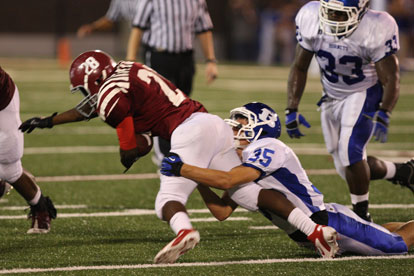 It didn't help, however, that senior running back Jalen Bell was knocked out of the game early in the fourth quarter with the Hornets still up 14-7. Though he only mustered 23 yards rushing on nine carries, his occasional attempts were about the only thing that kept the blitzing Pine Bluff defense honest.
"Their safety was playing 12 yards deep and he's back-pedaling on the snap of the ball," Calley noted. "But when we handed off, he was making the tackle at the line of scrimmage. That's how fast those guys are. You can't account for them. When Jalen got hurt, that was the safety coming down 14 yards to hit him after a one-yard gain."
A key play occurred just after Bell was sidelined. The Hornets were at the Pine Bluff 49 thanks to a 26-yard completion from Lessenberry to K.J. Hill. But, facing a third-and-9 from the 49, the Hornets were overwhelmed by the Zebra blitz and Lessenberry was sacked dashing Bryant's bid to increase the lead to two scores again.
It was, actually, the Z's lone sack of the night.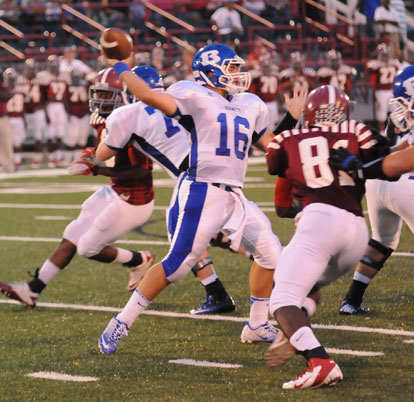 Bryce Denker punted them back to their own 14 but, three plays later, Brandon Starks found 6-2 wideout Tyrone Payne deep. It turned into a 68 yard touchdown play that, with McGehee's extra point, tied the game with 7:07 left to play.
The Hornets, despite a strong return of the kickoff by Hill, went three-and-out and Denker dropped back to punt again. This time, however, the Zebras' Devarious Rice broke through to block the punt and they recovered at the 17.
"I kick myself," Calley stated. "I felt like they were going to block a punt on us and we didn't do enough to prevent that from happening."
It took the Z's five plays from there to get points but, eventually, linebacker/fullback Kelvin Sergeant crashed in from the 2, giving his team its first lead of the game 21-14 with 4:15 left to play.
The Hornets' answering drive was sparked by a leaping catch by Brushawn Hunter for 22 yards. A personal foul penalty against Pine Bluff was tacked on to push the ball to the Z's 41. A play later, Lessenberry found Hunter again on a skinny post pattern. Hunter stepped past a defender and sprinted the distance with 3:42 to go. Josh Lowery tied it up with the extra point.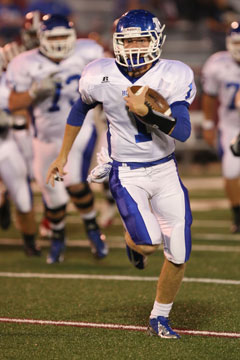 The first play of Pine Bluff's subsequent series lost yardage thanks to a fine open-field tackle by corner Aaron Bell. But Starks completed passes of 15 yards to Payne and 21 yards to Sergeant. Trever Hunt's 14-yard run set up the final field goal attempt.
Pine Bluff's star running back Walter Ashley rushed for 138 yards on 16 carries, mostly in the first half. He also caught a 19-yard touchdown pass from Starks to get the Zebras on the board on the second play of the fourth quarter.
But it was Ashley's understudy, Hunt, a junior, who, along with Starks (who opened the second half in place of starter Rickey Clements), brought life to the Pine Bluff offense.
Starks completed 5 of 10 passes in the second half, two of them for touchdowns. Hunt crashed his way to 106 yards rushing on 15 second-half tries.
The two teams exchanged punts at the start of the game. McGehee's first punt was fielded by Aaron Bell who broke a 21-yard return that was extended 15 yards more because of a face mask penalty.
Given the great field position, the Hornets took advantage. A 21-yard pass from Lessenberry to Austin Powell set up the score. Though on third-and-goal from the 3, a penalty pushed them back, they found the end zone. Powell's catch at the 1 made it fourth-and-goal. In a power alignment, Tyree Reese, the Hornets middle linebacker, came in to take the snap and drive in the end zone for the TD.
Josh Lowery kicked it to 7-0.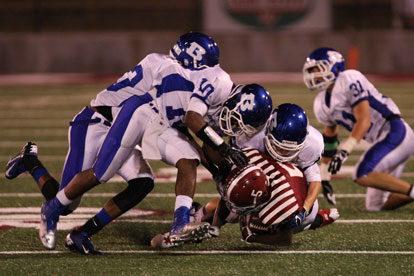 The Hornets defense allowed a first down but eventually forced the Zebras to turn the ball over on downs at the Bryant 30.
The Hornets, however, were unable to take advantage and punted it back with 2:15 left in the quarter. The Zebras, spurred by a 29-yard gallop by Ashley, drove to the Bryant 43 when, on a second-down play, Clements threw to Rice. Bryant's sophomore corner Drew Tipton blasted Rice and the ball came flying out. Hornets' saftely Nossaman scooped and scored, wending his way through traffic inside the 10 and willed himself into the end zone as the final seconds ticked off the clock to end the first quarter.
Lowery kicked the extra point to make it 14-0.
As the second quarter unfolded, the Hornets defense continued to bend but not break. They ended one Pine Bluff drive by forcing a fumble that Williams recovered. On the next Zebra possession, Boykins dropped Ashley for a loss then sacked Clements.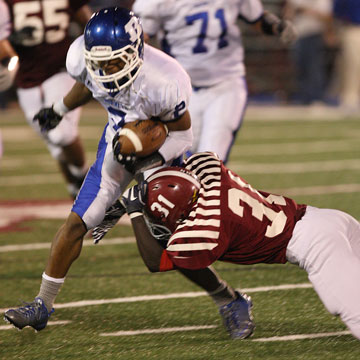 The Hornets had Pine Bluff on its heels and twice in the second half of the second quarter made a bid to make it a three-score lead. Lessenberry's 11-yard pass to Devonte Howard got the subsequent possession going. He then found Hunter for 27. An 18-yard strike to Hill reached the Pine Bluff 17.
Lessenberry scrambled to the 12 but the play was negated by a holding penalty that cost Bryant not only the 5-yard run but 13 yards on the mark-off. Despite a pair of short completions, the Hornets were unable to overcome that. Lowery came on to try a 43-yard field goal but it was partially blocked on a low trajectory.
Pine Bluff had it back with 1:44 left in the half but the Hornets continued to control the line of scrimmage. Williams and Jared Koon combined to stop Ashley for another loss then Tim Kelly sacked Clements.
Using their timeouts to preserve time, the Hornets got the ball back after a short punt, just 39 yards away from another score. But all four of Lessenberry's passes fell incomplete, partly because the Pine Bluff secondary lowered the boom on Hornets receivers.
Time ran out and the lead held at 14-0.
"We're inside the 20 with a chance to go up three scores," Calley remarked. "The holding penalty killed us. They called two holds all night and both on us. But then we were able to stop them and get the ball back. We just couldn't make anything happen. That hurt. It really hurt."
Pine Bluff used a fake punt to keep its first drive alive. Ashley broke a 31-yard run to the Hornets' 34 but that's where the Bryant defense stiffened. A fourth-and-3 run by Ashley was stopped short by Boykins and Reese and the Hornets took over on downs.
Both teams moved the ball on subsequent possessions but punts wound up being traded. A 46-yard boot by Denker turned the field over as the third quarter wound down. But Hunt slashed 33-yards to get the Zebras out of the hole and on their way to their first touchdown, the 19-yard connection from Starks to Ashley.
Pine Bluff improved to 2-0 in the 7A/6A-South Conference, 4-1 overall, going into a first-place showdown against Lake Hamilton next Friday.
The Hornets, 3-2 and 1-1, will travel to J.A. Fair in Little Rock to take on the winless War Eagles.

PINE BLUFF 24, BRYANT 21


Score by quarters

BRYANT 14 0 0 7 — 21
Pine Bluff 0 0 0 24 — 24

Scoring summary


First quarter

BRYANT — Reese 1 run (Lowery kick), 5:07
BRYANT — Nossaman 52 fumble return (Lowery kick), 0:00

Fourth quarter

PINE BLUFF — Ashley 19 pass from Starks (McGehee kick), 11:40
PINE BLUFF — Payne 68 pass from Starks (McGehee kick), 7:07
PINE BLUFF — Sergeant 2 run (McGehee kick), 4:15
BRYANT — Hunter 41 pass from Lessenberry (Lowery kick), 3:42
PINE BLUFF — MeGehee 26 field goal, 0:00

Team stats

BRYANT Pine Bluff

First downs 10 18
Rushes-yds 14-26 46-272
Passing 18-40-0 8-17-0
Passing yds 211 181
Punts-avg. 7-34.3 4-36.2
Fumbles-lost 0-0 4-2
Penalties-yds 4-28 4-40

INDIVIDUAL STATS


Rushing: BRYANT, J.Bell 9-23, Lessenberry 4-2, Reese 1-1; PINE BLUFF, Ashley 16-138, Hunt 15-106, Mack 2-16, Starks 5-14, Sergeant 3-11, Clements 5-(-13).

Passing (C-A-I-Y): BRYANT, Lessenberry 18-39-0-211, Hill 0-1-0-0; PINE BLUFF, Starks 5-10-0-140, Clements 3-7-0-41.

Receiving: BRYANT, Hill 5-66, J.Bell 4-6, Hunter 3-90, Powell 3-32, Howard 3-16; PINE BLUFF, Payne 3-105, Rice 2-24, Sergeant 1-21, Ashley 1-19, Mack 1-16.