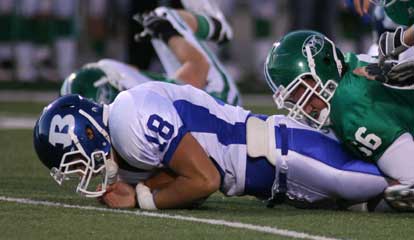 By Rob Patrick
Photos by Rick Nation
At the time, someone that came out onto the football field at Sheridan High School admitted, it was one of the worst breaks they'd ever seen.
Not that they'd seen a lot of them occur at a high school football game, particularly a broken leg.
Still, it wasn't pretty.[more]
Head coach Paul Calley later explained that it was a broken tibia. "It broke right where the patella tendon connects to the tibia and I think all that came unraveled."
He was talking about linebacker Collin Chapdelaine who was tended to for some time on the Sheridan field before being carted off to the hospital. On his way, however, he gave the fans in the stands and his teammates a thumbs up.
That was week two of the 2009 season.
Now, as the start of the 2010 season fast approaches, Collin Chapdelaine is back. In fact, he's been back for all of this month's pre-season work. A 5-8, 200-pound senior, Chappy, as he's called, will incredibly enough start the Salt Bowl against the Benton Panthers this Friday at middle linebacker.
"He's been very tenacious," acknowledged Hornets defensive coordinator and linebackers coach Steve Griffith. "Very commendable, in off-season, just working so hard. We had to hold him back a little because he wanted to get in there and work before his leg really was ready to. But he's worked really hard to get himself back on the field.
"He's doing a good job in there," Griffith continued. "He's not the biggest linebacker we've ever had but he's a very tough kid. He really likes to hit people and that's what you want in a middle linebacker. And he's learning more and more the patience you need in a middle linebacker, that 'I don't have to make every play on the outside. I'm going to stuff things in the middle and then work from inside out and be the guy that's there when the running back tries to make the cutback.' And that's where the big hits usually come from at the mike."
Chapdelaine is part of a core of seniors at the linebacker posts. He's backed up by Marcus Harris, the team's starter fullback. A physical player, Harris (5-10, 205) is new to the position.
A junior, Kaden Mills (5-8, 180) is also seeing time in the middle. "That where our depth is coming from, a middle linebacker," Griffith mentioned.
Hunter Mayall (6-0, 190) on the strong side (sam) is a returning starter. The top returning player in tackles, he was in on 63 last season, third on the team overall. He also had one of the team's four interceptions during the season and recovered a team-high four fumbles. He also was tied for second on the team in sacks with three and he blocked four kicks.
"He was on the field a lot last year at both outside linebacker and middle backer," Griffith said. "He's solid as the outside linebacker right now. He's giving our guys fits on screens and stuff when he's stretched out then he always does a good job filling hard on blasts when you see he's got that middle linebacker mentality. But he's got the ability to run on the outside."
Coming into the fall, the weakside (will) linebacker was a question mark. But the question has been answered.
"Jacob Brady (5-11, 175) has really come on over the last couple of weeks and improved his level of play," Griffith said.
Brady will work in tandem with senior Tyler Freshour (5-9, 160).
"Tyler will play some safety but he's also going to play some outside linebacker," Griffith said. "Those two guys together give us a pretty good one-two punch, I'd like to think. Fresh is probably a little bit better against the pass and Brady's a little bit better against the run but they're both improving on both sides of that. And, with Fresh there at will, Brady can also move over and play a little bit at sam. That's where he's always played until this year so he can give us some depth there."
Griffith mentioned that junior Parker Dunn (5-11, 170) and senior Joseph Stroud (5-8, 165) will provide depth on the strong side.
"And, on the weakside, we'll get depth from (junior) Cameron Price (5-9, 175) who's really come along nicely," he added. "He's been gone with baseball but we're looking for him to catch back up in the next week or so as he gets back into practice.
"Hopefully, that crew will come on and play well," he concluded.