Editor's note: This is the fifth in a series about the 2011 Bryant Hornets football team in advance of the season opener against Benton on Friday, Sept. 2.
By Rob Patrick
At the start of the 2011 school year a couple of weeks ago, it was announced by the[more] Bryant School administration that there were nearly 500 new students in the district. And since school has started, more have registered for classes throughout the district.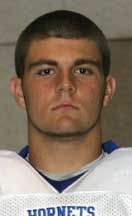 Another surge is expected when the new apartments at Hurricane Creek on Boone Road open up.
It's no news flash:
Bryant's still growing and so are the schools.
There's a major new building at the high school that will be opening up at the start of school in fall 2012, plus work is just underway on a new elementary school on south Reynolds Road near the airport. And there's more to come.
Parents continue to bring their kids not only for the quality education but to get away from the problems that continue to plague the school districts in Little Rock and Pulaski County.
Certainly, with any burgeoning population, there are problems that arise but there are also a lot of benefits too. Among them are the contributions many of the new students make to the athletic programs at Bryant. New football players, for example, have trickled into the program in recent years, most notably a young running back named Chris Rycraw who moved in from Mills University Studies High School and, over his junior and senior years 2008 and 2009, became the program's all-time leading rusher. He now totes the pigskin for Ouachita Baptist University.
This season, there have been some key additions too, including a pair of talented linebackers who will play key roles in the success of the team in 2011. Senior Marshall Everett moved in after an all-conference season at Pulaski Robinson and junior Tyree Reese moved in after playing at Little Rock Central as a sophomore.
"They're both weightroom guys, very strong," said Hornets defensive coordinator Steve Griffith who works with the linebackers. "Marshall is about 220 and runs well and Tyree is about 230 and runs very, very well. That's one of the reasons, we're going to a 3-4 look probably a little more than we have in the past. With two guys having that size and mobility, we like to get them on the field at the same time."
Everett plays the Mike or middle linebacker spot. Reese is the Bob or extra backer in the middle. Senior Kaden Mills (5-8, 210) backs them up along with helping out at defensive end.
"They have to be very physical players," Griffith asserted. "While they're not defensive tackles, they have to have that mentality but with the ability to run and move and be able to play things in the passing game as well. They have to be very physical, downhill football players and we believe they can be.
"When we go to our 4-3 look, our base, we'll have that same cast of characters except, normally, our Bob will move down and play defensive tackle, which is a concept we've used a lot in the past, back when we had Zach Sanders and (Michael) Vocque and some of those guys. (Shawn) Burchfield, a few years ago, moved down to play that extra defensive tackle spot. So it's not something really different than we've done in the past. We may just bounce back and forth between the two a little bit more than we have."
The starting outside linebackers will be senior Parker Dunn (5-11, 180) at Sam or strongside linebacker and senior Walter Dunn (5-10, 165) at Will or weakside linebacker. They'll be backed by Karon Dismuke and Ben Clark, who both play on offense at running back and wide receiver.
"Cameron Price (a 5-9, 185, senior), who's on injured reserve right now, we hope to get him back in the mix by conference," Griffith said. "He got some experience last year. We'd like to work that experience in.
"We will not be using a lot different technique than we've played in the past, especially against spread teams," he added. "Parker has paid his dues over the last few years and has learned progressively since the time he was a freshman. He has good speed, not great, but does a good job of getting himself in position.
"Walter's probably a little bit more athletic on the weakside," the coach continued. "He moved here from Magnolia last year and we had him at safety. We decided in the off-season to move him down to linebacker. He's a strong kid physically that we felt, even though he's not a big kid, he could step in there and play the outside linebacker.
"Ben and Karon are very athletic kids," Griffith noted. "The only thing holding them back is they don't get the amount of practice time because they are splitting time and spending most of their time with the offense. But we feel like we can get them to the point where they can be solid back-ups for us.
"And we've got some other guys that are working hard and, with some experience in the early JV games, could be able to step out there and give us some help on Friday nights as well."